The Various Types of Saltwater Fishing Boats for Serious Anglers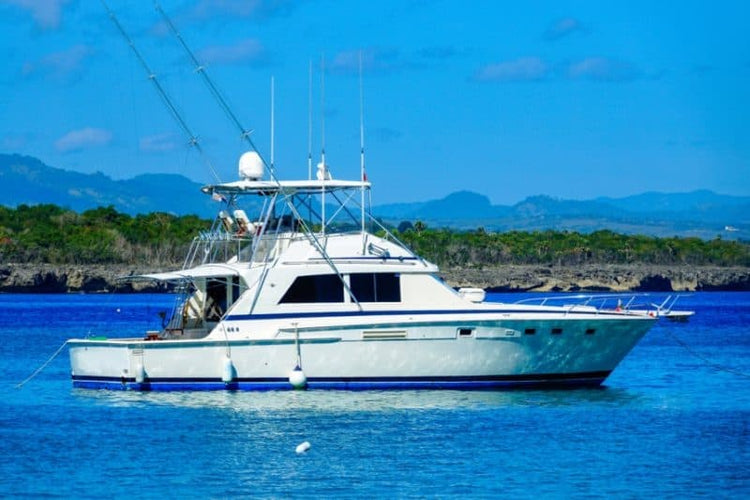 To do ocean fishing right, you need only two things: Knowledge of hot fishing spots and the saltwater fishing boat to take you there.
But if you're a newbie to ocean fishing, you first need to understand the types of saltwater boats available. Discover each saltwater fishing boat's main features and zero in on the one that's just perfect for you.
Features of a Great Saltwater Fishing Boat
Anglers wish to go farther and try harder to reach new spots where they'll find more fish, which is why saltwater fishing boats must be up for the task and prepared for rough use. No matter the type of saltwater fishing boat, here are a few features you absolutely need.
Stout Construction
It comes as no surprise. If you want a long-lasting boat, look for vessels with a solid stainless steel construction. Aim for fishing boats made of at least 316-grade stainless steel. Anything lower than this steel grade will begin corrosion after just a few trips.
Enough Fuel Capacity
Find a saltwater fishing boat to carry enough fuel. This way, you can chase the sweet spots and find better fishing spoils without worrying about running short on fuel.
A word of caution: Always remember the 1/3 rule. That is, 1/3 to take you to the sweet spots, 1/3 to return home and another 1/3 to keep on reserve for emergencies.
Ample Storage
Have ample room to store your fishing gear. Storage saves you the hassle of packing fishing rods, reels, tackle boxes and cutting boards after every fishing trip. Even these stainless clamp-on fishing rod holders (check price on Amazon) keep rods off the floor.
Raw Water Wash downs
Done correctly, fishing gets messy with blood, slime and bait. When you step on this mess, it's rather disgusting. A dependable raw water wash down and deck cleaner allows you to rinse your saltwater fishing boat before the chum dries up under the sun (and nobody wants dried-up chum on their deck).
Sunshade System
Avoid returning from your fishing trips with ugly (and painful) sunburns by staying shaded all day long. A sunshade system can be anything from a T-top, bimini or even hardtop bimini so long as it does the job.
Featured Boat Care Product
| | |
| --- | --- |
|     |  Boat Soap keeps your boat sleek and shiny from bow to stern. |
Check Price on Amazon - Better Boat's boat soap offers a quick and convenient way to rinse off the dirt and grime from a day of saltwater fishing. Simply suds up and rinse off with a hose and nozzle. It provides a slip-free and residue-free finish and won't harm the marine environment.  
Broad Types of Saltwater Fishing Boats
Apart from the make and model, you'll need to consider the type of saltwater fishing boat vessel. In most cases, you need to focus on your preferences and life style to arrive at the perfect boat.
Walk-Around Boats
For people planning to take their family on fishing trips, walk-around boats allow for movement. Walk-around boats provide a cabin that offers weather protection you and your family might need.
However, what appeals to anglers is its recessed side deck, which allows you to fish easily around the corner of the bow.
Offshore Fishing Boats
If you spend much time in the ocean and away from shores, offshore fishing boats are your boat of choice. These boats are usually fit to handle the rough seas and come with many features that make overnight stays comfortable.
Center Console Boats
The name draws from the fact that the steering console rests near the stern at the boat's center. Although they don't pack in galleys or heads, they do have very powerful engines, which help you reach fishing spots at lightning speed. Boston Whaler offers many center console boats.
Sport Fishing Boats
Sport fishing boats, like those from Willis Custom Yachts (formerly American Custom Yachts), come with many features that make them excellent companions for anglers.
You may find live wells and bait wells, enclosed cabins, fishing gear storage and powerful engines. Overnight stays, however, are difficult as these boats lack sleepers.
Pilothouse Boats
If overnight stays are something you want, you can find an upgrade with a pilothouse boat. These boats are not strictly meant for fishing and can also work for fun cruising trips.
Unlike sport fishing boats, pilothouse boats offer sheltered areas and sleeping arrangements to easily bring along an entire family.
Convertibles
Convertible saltwater fishing boats are one of the best available options for serious anglers if budget permits. Convertibles, like those from Viking Yachts, are huge and reach around 30 - 40 feet in length (sometimes longer).
Although you can find smaller alternatives with gasoline-powered engines, most convertible fishing boats run on twin diesel.
Expresses
Expresses range from 20 feet - 50 feet in length, often more, and are fit for both offshore and inshore fishing. Many anglers prefer expresses to convertibles because of their design, which allows the captain to be a part of the entire crew (and not an isolated entity).
However, since the helm deck takes up a lot of space, the cabins are typically smaller.
Consider Hull Design and Shape
The hull design is of cardinal significance when considering the various types of saltwater fishing boats. Unlike car purchases where the exterior make doesn't affect your driving experience, a boat's hull construction has a leading role in your boating pleasure.
What you need to consider is a hull's dead rise, which is the angle of the V from the bottom of the hull. Consider these various hull types: displacement, flat-bottom, semi-V, deep-V, cathedral, catamaran and specialty hulls.
Displacement Hulls
Displacement hulls refer to the amount of water that the hull displaces. When you apply the maximum force, displacement hulls skim and glide across the water surface. These hull types offer a comfortable ride but roll quite a lot when at anchor.
Flat-Bottom
In this fishing boat hull style, the hull's bottom is completely flat. This feature gives it good stability and weight-bearing capacity.
On the flip side, however, most flat-bottom fishing boats tend to get drenched, which makes them suitable only for protected waters and back bay areas. 
Semi-V Hulls
Semi-V hulled fishing boats are less flat than a flat bottom. However, in choppy waters, they offer a ride with enough stability and comfort that the whole family can enjoy without seasickness.
Deep V Hulls
Obviously, deep V hulls offer quite a dead rise. They form, well ... a deep V shape. Naturally, a boat with a deep-V hull offers less stability than the above-mentioned hull styles.
In exchange, however, it does provide a lot of power to cut through big ocean waves. As you might guess, large center consoles and walk-around fishing boats flaunt a deep-V hull design.
Cathedral Hulls
Cathedral hull designs essentially feature three V-shaped hulls that interlock, which is why it's also called a tri-hull design.
Cathedral hulls provide excellent ocean stability and make it easier for boats to come up on planes. However, these boat hulls do offer a bumpy ride on rougher waters.
Catamaran Hulls
Catamaran hulls are one of the most popular hull designs thanks to the super stability they offer at anchor. As a rule of thumb, faster boats need finer hulls.
One of the ways to make catamaran hulls perform better in terms of speed is to make them with slim hulls and not the wider alternatives. 
Power cats and Specialty Hulls
Built properly, power cats and specialty hulls offer rides smoother than average monohulls. However, they do have an unusual appearance and style and blow fine mist out of the tunnel.
Find Your Perfect Saltwater Fishing Boat!
The secret to buying the best saltwater fishing boat for your lifestyle is to understand the features, types and hull styles that go into each. Take this information into consideration.
Once you've figured out what's best for you and even your family, you'll be ready to buy that perfect saltwater fishing boat!