Underwater LED Lights for Boats to Light Up the Night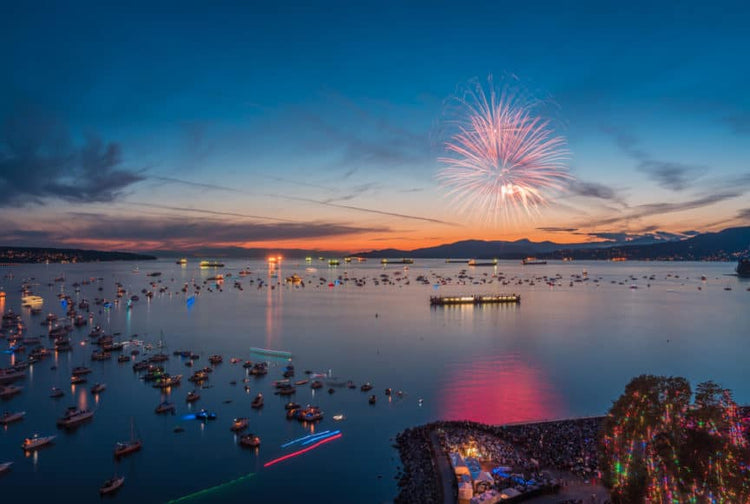 What do you do when the sun goes down? If you're out on the water and heading home, well, you're missing out.
Personally, thanks to installing some of the best underwater LED lights for boats, I can stay out all night. I can go fishing, jump in the water or simply keep cruising to my heart's content.
Adding LED lights to your craft (just like adding them to your dock) is an absolute must for serious summer boaters. Not only do they look cool, but they're affordable, environmentally friendly and only require a little bit of power to provide long-lasting shine.
Let me tell you a bit more about these lights, what features to look for and how you can buy them for your boat today.
Featured Boating Product
| | |
| --- | --- |
|      |  Cup Holders |
 Check Price on Amazon - Better Boat's boat/RV cup holders keep the party going with a place for every cup, bottle and can. They even fold up and out of the way when not in use. The set of four has adjustable arms to hold a variety of bottle sizes.
Common Uses for Underwater LED Lights
You might want to consider underwater LED lights for your boat for three main reasons: fishing, ambiance and safety. Let's discuss a bit about each.
Fishing
Using underwater LED lights to fish at night is a great way to attract fish for serious anglers. Green lights, especially, reach further distances and do an excellent job to attract zooplankton and other fish food (and, therefore, more fish!).
Whether you fish for fun or for sport, a green LED fishing light might just be what stands between you and the catch of the day when you drop anchor, line and chain and cast a line.
Ambiance
Make your boat look super cool with the perfect finishing touch by installing underwater LED lights. In the evening, they add a nice ambient glow and show off your boat's best angles.
The best part about LED lights is that they typically come with multiple color options. If you're not fishing that night, you don't have to go green. Instead, you could change it to blue or red. Either look particularly cool in the water, but the best part is you can choose a color to match your mood!
It's that easy. Honestly, I can't tell you how easy it was to install some simple drain plug lights, and how many people would often turn their head, exclaim how cool it looked, or asked how to get them onto their boat. It was eye-catching, and it also made night swimming a breeze.
Nighttime Safety
Speaking of night swimming, another important use for underwater LED lights is that they help improve nighttime boating safety. Especially out in busy lakes and ocean coves, you want to ensure you remain extra visible (whether you need help or want to avoid trouble).
Installing underwater lights creates a dispersed glow like a beacon, making other boaters to take note of your location and for your own party to get home safely and worry-free after a night of fun.
Mounting Options For Underwater LED Lights
Before I introduce you to some of the best underwater LED light options on the market, it's important to consider where you can install them so you have a better idea of what type is best for you and your boat.
Typically, the most common types are surface mount LEDs, drain plug LEDs and thru-hull LEDs.
Surface Mount: Great for smaller boats, these lights only require you to drill small holes. You can install them on the transom or on the hull, but your overall light will be limited due to their size.
Drain Plug: Screwing directly into your boat's drain plug, this type of underwater LED lights are the most impressive-looking. Plus, they take especially little effort to install.
Thru-hull: It's right there in the name! These lights are installed through the hull and are typically used when you need some serious underwater glow. Transom-mounted and involving a bit more in terms of installation, these are the kinds you need for fishing.
The first two options, surface mounts and drain plugs, are the easiest to execute, but are typically reserved for those who simply want some ambient lighting and maybe the occasional nighttime fishing. 
But if you take fishing seriously, consider the thru-hull option that offers a broader beamwidth. The beam width, which is basically the scope of the light, is essentially how far your underwater glow will go.
When you install your light through the hull, you gain access to a much wider beamwidth, like a target, to attract more fish to your surrounding area. It's like casting a fishing net with a beam of light!
Underwater LED Lights for Boats to Light Up the Night
Now that we've talked a bit more about how they work, which LED lights should you throw in your shopping cart? Divided into three sections - fishing lights, drain plugs and surface-mount lights - these are my recommendations for the best option to light up your life.
The Best Fishing Lights
Attract fish and get them on your line! Here's a whole host of green-light options for those who want to cast a net of light.
BASIKER Underwater Light (Green)
Check price on Amazon
BASIKER BS1 Marine LED Boat Light (1x1200LM 27LED), 10-36V, 316 Stainless Steel, IP68, Air or Underwater, Surface Mount Designed for Cruise Ships, Yachts, Boats, Sailboat, Pontoon, Transom (Green)

 

 
This stainless steel light is a great option for fishers of all stripes. It's a breeze to install, casts a wide beam and comes in green to help attract more and more fish.
Best of all, I'm impressed with the sheer variety of boats it can install on, making it an easy one-size-fits-all option for boaters.
The only suggestion I would note here is that you'll likely need more than one for optimal light output.
Brightness: 74 Lumen
Colors Available: Blue/Green/Red/White
Dimensions: 3.75" x 1.6" x 1"
VOFONO Light
Check price on Amazon
I really like this option because of how much light it casts, as well as the sturdy construction and the easy installation.
Used effectively above or beneath water, the green variation makes it perfect for fishing. All you have to do is install it along the transom and you'll be ready to start fishing in no time.
Brightness: 450 Lumen
Colors Available: Blue/Green/Red/White
Dimensions: 5.9" x 2.36" x 2.75"
Partsam Accent Light
Check price on Amazon
This product offers two for the price of one! This model is fantastic, with higher output and easy surface-mount design that's far simpler than a transom install.
I recommend this model for the casual fisher with a smaller boat.
Brightness: 9 LED
Colors Available: Green
Dimensions: 3.5" x 1.5" x 1.1"
TH Marine Light
Check price on Amazon
Just because you're on a budget when it comes to fishing doesn't mean you have to skimp on quality! This underwater light is a fantastic option for those who wanna get on the water ASAP to start fishing.
While it might not have the same power as other models at 180 Lumens, it still provides enough shine to get fish where you want them. One thing to note is that this underwater light should only be installed at or just below the waterline.
Brightness: 180 Lumens
Colors Available: Green
Dimensions: 3.5" x 1.5" x 1.2"
The Best Drain Plug Boat Lights
Drain plug lights are an easy option for those who want a simple finishing touch of mood lighting to add to their boat. Here are the best ones on the market.
Tidal Wake Plug N' Play Light
Check price on Amazon
These drain plug lights are an excellent example of how easy these lights are installed. With no holes and no wiring required, all you need is to replace your current drain plugs and plug it into a standard outlet (although it can be hardwired if desired).
An extra bonus is that it comes as a complete kit with everything you could need, which makes it even easier.
Brightness: 1,800 lumen CREE LED
Colors Available: Blue/Green/Red/White
Dimensions: Replaces 1/2" Drain Plug
NBWDY Boat Drain Plug Light
Wanna change the LEDs color at the tap of an app? With an additional app, you can adjust this drain plug light in real-time to any color, personalizing your midnight joy rides. On top of that, it's incredibly easy to install and can work for up to 50,000 hours.
Brightness: 840 Lumens
Colors Available: Multi-color
Dimensions: Replaces 1/2" Drain Plug
Jiawill Drain Plug Light
Check price on Amazon
Now, this Jiawill LED drain plug is a high-quality underwater light! Rough it on the high seas with features like shock resistance and marine-grade stainless steel construction.
This light also comes with overheat protection and a three-year warranty, ensuring it lasts for many years.
Brightness: 316 Lumens
Colors Available: Blue/Green/Red/White
Dimensions: Replaces 1/2" Drain Plug
The Best Surface-Mount Lights
Surface mount underwater LED lights are an easy option for boaters with smaller vessels. Simply install them on a transom or hull. Listed below are the best available today. 
Lumitec SeablazeX
Check price on Amazon
An extremely versatile underwater light, this surface-mount LED straddles the line between fish gazing and party ambiance with strobe and cross-fade modes.
It's powerful, performs well and can be used both on inboard and outboard motor configurations. While it might be a bit pricier than most surface-mounts, the puck is a marine-grade bronze alloy that stands up against saltwater corrosion.
Brightness: 4,000 Lumens
Colors Available: Blue-White
Dimensions: 4" D x 0.8"
Jiawill Underwater Boat Light
Check price on Amazon
Ths most prominent feature of this Jaiwill model is the shock-resistant material and shatterproof polycarbonate lens, allowing you to light up the water while cruising.
With a housing made of marine-grade stainless steel, this light is much more on the studier side to install on a trim tab.
Brightness: 2,853 Lumens
Colors Available: Blue/Blue-Green/Green/Red/White/Blue-White
Dimensions: 3.7" D x 0.67"
Jiawill Dual Underwater Boat Light
Check price on Amazon
This dual-style light creates just as much light with separate beam widths. While it may not result in the same level of coverage (which isn't ideal for fishing), it does create a stronger long-distance light that is perfect for entertaining.
Plus, it has all the same features like the above-mentioned Jiawill, with top-notch quality that is a true investment to your boat.
Brightness: 5,800 Lumens
Colors Available: Blue/Blue-Green/Blue-White/Red/Green/White
Dimensions: 5" x 3.15" x 0.67"
Lumitec SeaBlaze3
Check price on Amazon
Lumitec knows how to make good lights, and this is the more budget-conscious version for those who want powerful lights without breaking the bank.
I especially like these lights because of how sturdy they are as well as the over 1,700 lumens they cast relative to their size.
When mounted properly, they create a colorful wake that is sure to be the talk of the bay.
Brightness: 1,729 Lumens
Colors Available: Blue/Green/White/Light White-Blue
Dimensions: 4" D x 0.8"
Find The Best Underwater LED Lights Today
I hope this information I shared with you on the best underwater lights truly improves your boating experience whether you're out there looking for the big one, or simply spending time with friends and family.
Now, with some lights in tow, you're ready for the party to continue all night long!