Winter Boat Storage: 5 Steps to Keep Your Boat Snug as a Bug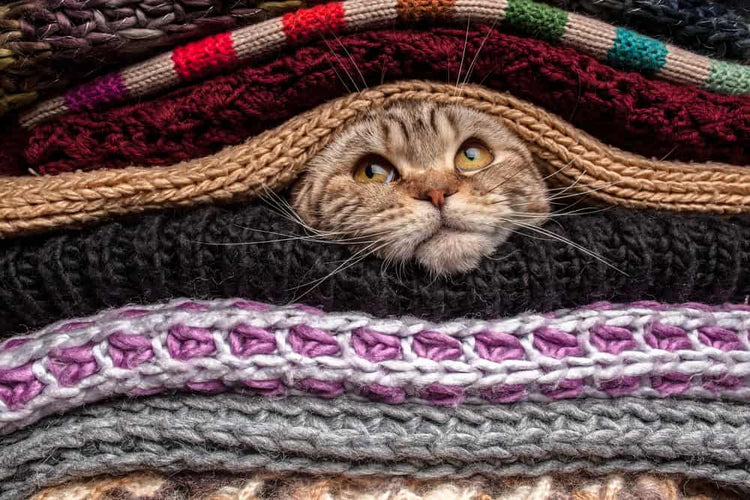 Autumn is a strange time for a boat owner.
The water still retains the heat of summer. But the chill in the air reminds us that the opportunities for boat parties and waterskiing are dwindling as quickly as the daylight hours.
For me, this is a great time to toss a few hay bales into the back of the boat and create a really cool hayride along a river. It's time to check out the fall foliage while boating along the banks.
Trying to find enjoyment boating in the fall is a kind of personal bribe. Really, I'm just steeling myself to get serious about protecting my lady from the harshness of cold winds, ice and snow.
Also, there's a little procrastination mixed in there. Who really wants to think about winter boat storage, boat covers and new expenses?
Boats seem to look so right in the water and so wrong on land (they look ungainly and almost uncomfortable). Maybe my impression is because they're more fun in their natural habitat. Even so, I know that proper winter storage is as important as anything else I do for my boat, including regular waxing or a good inspection come spring.
That's why, when the time comes, I take some very specific steps to keep my boat safe and sound all winter long.
Featured Boat Care Product
| | |
| --- | --- |
|     |  Dehumidifier Bags |
Check Price on Amazon - Better Boat's dehumidifier bags absorb moisture and odors to keep air fresh and mildew-free. They work great in cabins, closets, bathrooms and more. Simply discard the plastic wrapper, unfold and hang. 
Winter Boat Storage: 5 Steps to Keep Your Boat Snug as a Bug
1. Pick the Right Spot
Storing a boat starts with where instead of how. I usually keep my boat in the marina because it offers winter storage on land in the parking lot, which is free of cars during cold months.
That's the easiest solution because I don't have a trailer and can save on the cost of hiring a hauler. If you maintain your own boat trailer or are willing to hire a professional with the right equipment, you can consider options such as your own backyard or a rental unit in a storage facility.
2. Keep the Boat Dry
Cold in and of itself isn't as dangerous for a boat, but your boat could be in real trouble when temps below 32° Fahrenheit combine with water.
Ice forming in a harbor can do nasty things to a hull so, if you're like me and live in an area that gets to freezing temperatures, it's best to haul the boat out of the water. Once the boat's hull is protected, the next area of concern is her decks.
There are so many little nooks and crannies on a boat that you may not even notice the small vulnerabilities that Mother Nature can use to literally split the boat apart.
Water expands and contracts as it freezes and thaws, so something as seemingly innocent as a scupper can easily become a serious problem if water accumulates there because a stray autumnal leaf plugged up the drain.
The trick here is to cover the boat well and prevent water from settling where it would otherwise do damage. A good winter boat cover (check price on Amazon) will do the job nicely, and it will protect the deck from dirt mixed in with rainwater and snow, prevent damage from ice pellets and can even deter critters from finding their own protection from a harsh winter.
3. Shelter the Boat from Wind
No cover will do its job unless it stays in place. I have arrived at the marina to check on the boat only to find the tarp blown to the ground.
Not only was I short-changing myself but I was being rude to other boaters nearby, creating something of a nuisance and a bit of a hazard since that blue plastic became a sail with every breeze.
Shrink wrap is an attractive option but can be prohibitively expensive if you hire someone to install the covering.
It can also be a potential fire hazard if you don't know what you're doing in a do-it-yourself scenario. Do a real evaluation of your needs and you'll likely find that a simple cover will meet your needs so long as it stays where you put it, anchored with something like sandbags or maybe just tied wieill with a few milk jugs refilled with water to serve as anchors against high winds.
Consider the ability of other boats to break down winds and, if possible, request a storage spot that has some shelter if you're leaving the boat in the water at the marina.
If you store your boat on your own property, consider parking the trailer next to your house or purchasing a temporary structure (check price on Amazon) to cover her. Of course, you should make a quick trip to town hall and check to make sure there are no prohibitions against temporary storage, especially if you're part of a homeowner's association.
To paraphrase an old saying, check twice, store once. Then again, you can save money on a cover and put it toward a secure storage unit that keeps all weather at bay. If you're willing to do a little more homework, you can find a local group that has the space you need.
For example, some state fairs convert the animal barns and event spaces into winter storage facilities and provide a valuable service to the community.
Featured Boat Care Product
| | |
| --- | --- |
|     |  Repair Tape |
Check Price on Amazon - The best time to make repairs is when you're not actively using it. Better Boat's repair tape adheres to vinyl, canvas, tarp, leather, plastic and more. Use on Bimini tops, tents, umbrellas, boat covers, awnings and sails. It's waterproof, strong and flexible.
4. Remove What You Can
If you can find (and afford) heated storage for your boat, good for you, I'm envious. However, odds are, you'll leave her in the cold.
In this case, you should protect the more portable items in the boat by removing them and taking them to your garage, basement or attic. Soft items like cushions fight a battle with mold, wear and tear, but storing them in a dry, relatively even temperature space will be better than leaving them to the mercy of Mother Nature.
You can wash dock lines in a washing machine, just avoid putting any metal parts in the machine. Again, store these in a dry place.
Get the electronics like fish finders out of the cockpit. In fact, I bought a good photographer's bag, and I nestle the expensive pieces of equipment in there each time I leave the boat, even during the summer, to avoid tempting anyone with light fingers.
Check your emergency supplies, looking at the date on your flares and on the medicines in the first aid kit, condition of life jackets, etc. My local fire department was happy to get expired but still usable flares for their training sessions, and I asked Santa for some new ones.
5. Be Proactive
Winter storage for your boat is not set it and forget it. Things change while you're away so don't be gone too long or at least ask someone to help you keep an eye on your baby. That might be the employees at your marina or a fellow boater who stores his vessel near yours. 
Check on her to make sure her cover stays on, the critters stay away, and she's ready for you come spring. I make an event of these little trips, extending a visit to a winter boat show to include my own vessel so I can enjoy those new ideas straight from the pros and start planning on how my next summer will be even better.
I also check out my favorite weather site and plan a Sunday drive in a warm car to check on the boat and, when it works out, grab a bite to eat with other fellow boaters who can't wish summer to arrive fast enough. There is a kind of warm and snuggly feeling that can come from bedding down your boat.
I like to think that she deserves a good, long winter nap to get ready for the next round of summer fun. I can feel proud that taking the steps to store her just right will mean she's all the more ready to go for a great time when the winds of March die down and the brave flowers of April appear.