Be a Black Belt in Waxing With the Best Boat Wax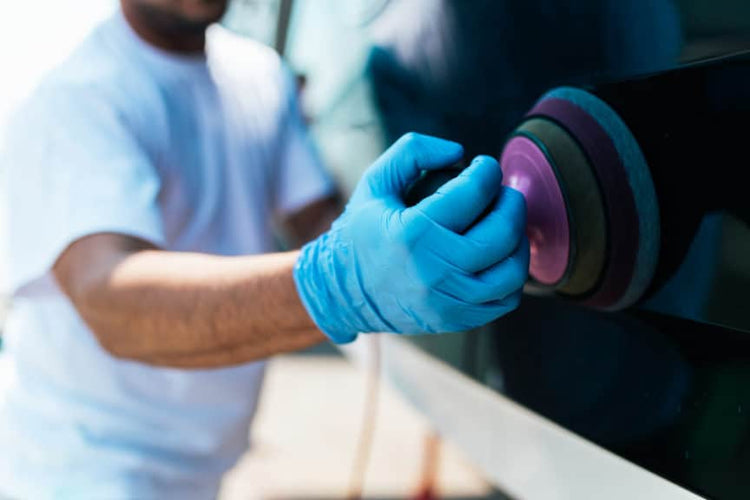 "Wax on, Wax off," said Mr. Miyagi, and he was right. If you want to preserve the look and freshness of your boat, you need to follow his teachings.
Wax doesn't just clean. Like other boat soaps and detergents you can buy for vessels, it also protects against the damaging effects of the sun's ultraviolet rays. UV fades gel coat and fiberglass, dulls wooden decks and saps the color out of painted surfaces. 
Boat wax also leaves a protective coating that repels water, minimizing the damage the sea brings.
So what are the best marine waxes available? Read on and I'll tell you. And to let you into a little secret: they aren't all marine wax. Some of them have their origins in the car industry.
How Often Should I Wax My Boat?
This is not a simple question to answer because the
regularity of waxing
depends on the amount of usage the boat gets. It also depends on the conditions you sail in, so ask yourself:
Are you in freshwater or saltwater?
Do you take your vessel in calm or rough seas?
What is the temperature of the water you navigate?
Are you in sunny and warm climes?
If you use your boat a lot, under any condition, you'll suffer more weather, sea and sun damage than someone who takes their vessel out three times a year when seas are at their calmest.
So, to recap, if your answers fall firmly in the heavy-usage camp, then attempt an above-waterline wax every time you take your vessel out to protect any painted surfaces.
This protects it from salt and sediment in the water, not to mention the damaging effects of the wind and sun. No matter how you use your vessel, the best advice is to fully wax it twice a year to maintain the optimum look and performance.
How to Wax a Boat
It's essential to perform a thorough waxing job for the maintenance of your pride and joy. It's worth taking the time to do it well because it means the boat will be better protected against the elements. Here are some simple steps you should follow:
Step 1:  Pull your boat out of the water. You need to get to every part of your hull, so securing the vessel to a sturdy trailer is imperative. Grab a hose and wash away saltwater and other debris. Then allow to dry.
Step 2:  Use soft rags soaked in a dewaxing wash to remove any traces of the old wax. This process shouldn't require heavy scrubbing as the solution will dissolve the old wax, leaving you to make gentle sweeping motions with the microfiber cloth.
Cover the entire hull to ensure nothing gets missed. Removing the older wax allows the new wax to coat evenly and creates a better seal to repel water and UV rays.
Step 3:  Wash the boat in a water and detergent solution. If you can use an eco-product all the better. It's safer for the environment and isn't acid-based, so it won't harm marine animal and plant life.
Once the boat is washed, removed of stains, water spots and any other blemishes, give it a final wash-down with a hose and nozzle to remove the boat cleaner's last remnants. Then allow the vessel to sun dry (you can use a squeegee to speed this process up).
Step 4: Use a boat polish to buff the surface to a high shine and use a buffing compound to enhance the finish. Any reliable car or marine product will do.
Begin at the transom and work towards the bow. You can either hand-buff your boat, although this will take longer, or use an orbital buffer with a super-soft pad. If you opt for the buffer, start on the lowest setting to avoid spraying polish or compound in all directions.
Step 5: Hose off the boat to remove any dust or debris from the polish or buffing compound. Squeegee and allow the vessel to dry.
Step 6: Apply the boat wax, using circular motions to ensure an even coat. You can use the orbital buffer if you want the job done faster, but some purists, me included, find the satisfaction of hand-buffing too hard to resist. Also, it gives you a great workout.
Step 7: After a short while, the wax will start to turn hazy as it dries, which is your cue for the second buffing. The wax will typically set in 10 to 15 minutes in full sunshine. Allow the wax time to set because this creates a robust protective seal on the hull.
Step 8:  Grab a clean microfiber cloth and start buffing in circular motions. You will see the color begin to shine through as you wipe away the hazy wax.
The 4 Best Eco-Wax Products
This Starbrite product is a boat wash and durable wax in one, saving you time and money. It's also biodegradable and contains zero phosphates or harsh chemicals.
It works by creating a polymer coating to protect against UV and water damage. It comes in 32 oz concentrated bottles. Just three capfuls in water cleans and waxes a 25-foot boat.
This waterless solution comes in a handy 16 oz hand spray or a 1-gallon bottle for larger projects.
Because this product is developed for the car industry, the makers state that one 16 oz bottle will clean and wax 4-7 complete vehicles, so if you apply that logic to your boat, you get an idea of the coverage.
It's a wash and wax in one and contains Brazilian carnauba wax for a deep shine.
This GoClean wax is non-toxic, silicone-free and plant-based so that it won't harm marine wildlife of eco-systems. This waterless wax comes in a 24 oz bottle and covers three to five complete vehicles, so you may need a couple of bottles to do your entire boat.
It's easy to use, contains no petroleum or toxins and also saves on using gallons of water to achieve that shine. Simply spray, wipe, and shine for a 15-minute finish.
This Aero waterless wax kit comes with a spray applicator and is eco-friendly. It contains no toxins, alcohol or ammonia, and is entirely plant-based.
It does include a 1-gallon wet wax bottle if you need greater coverage. The waterless bottle covers up to 36 cars and the wet bottle up to 57.
You also get four microfiber towels and a how-to guide, so waxing novices can achieve the best results.
The 2 Best Boat Wax Products
This marine boat wax comes highly recommended and is a firm favorite in the boating community. It comes in a 32 oz bottle and is applied using microfiber cloths, although you can opt for an orbital buffer if you want a faster result.
This is not an eco-product because it contains petroleum distillates and, unlike a lot of eco-waxes, it's not safe for enclosed spaces due to the fumes.
When applying the wax, it spreads thinly, so a little goes a long way. It means that a 32 oz bottle should see you complete an entire boat, depending on the size of your vessel, of course.
This 3M wax has an easy on, easy off formula and it creates that wet-look shine. It's multi-purpose so you can use it on your RV and your car, and it's suitable for fiberglass, gel coat and painted surfaces. 
It comes in a 9.5 oz container, and unlike the others featured, this is a paste rather than a solution or spray wax. Like the Ecosmart wax, this 3M contains carnauba, an ingredient known for its high-gloss and deep shine.
It isn't eco-friendly as it contains silicone to promote water beading and to resist water staining.
Editor's Choice
Check price on Amazon - Marine Polish with Carnauba Wax protects surfaces from corrosion, algae, UV rays, saltwater and more. The long-lasting high-gloss shine resists grime for glossy shine. It's safe for fiberglass, gelcoat, plastics and painted surfaces. Use a microfiber cloth to get a high-gloss shine. It does contain petroleum distillates.  
Final Thoughts
It seems that paying a lot extra for marine wax is a waste of time. Car wax does the same things as it protects against water, sun, fading and discoloration, so why spend the extra dollars.
The only time I would promote marine wax is if it is competitively priced or is an eco-friendly version to protect aquatic plants and wildlife. There are many products out there, but I thought I would highlight my favorites, as well as some eco-options, should you feel the need to get your boat to gleam by going green.
Whichever you choose, make sure you maintain your vessel so that it gives you pleasure for years to come. And remember: Wax on, wax off.
---