What Is a Deck Boat? Distinctive Characteristics for an Amazing Ride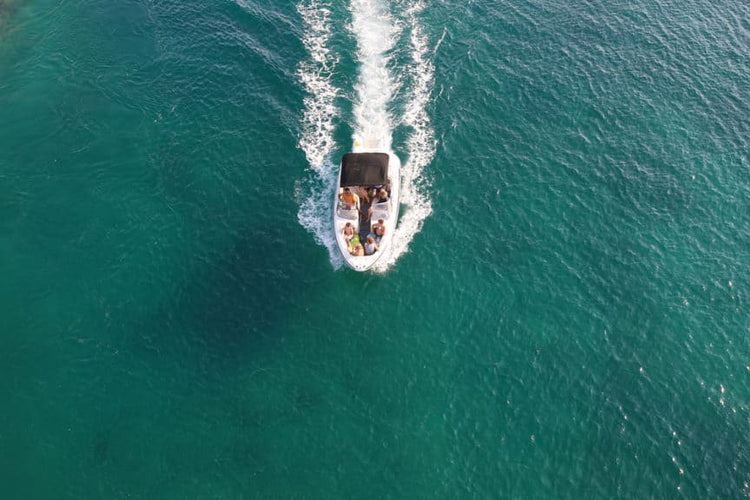 Deck boats are more than a boat. They're a lifestyle.
What is a deck boat to me? My deck boat is my refuge. It's my connection to nature and the way I connect with family and make new friends. In fact, it's so much more to me than a boat, and I couldn't be happier I invested in one.
That's why I want to introduce you to everything that makes a deck boat special (and what makes them stand apart from pontoons).
There are five key points to keep in mind when it comes to understanding what makes a deck boat one-of-a-kind. Let's run through each of these distinctive deck boat characteristics right here, right now. 
It's All About Size
What's the number one reason people turn to deck boats? For their size! Often compared to pontoon boats, deck boats are some of the best party barges you'll find on the market.
Consider the deck boats most basic elements: Imagine a bowrider-style boat and then stretch it out. Your average deck boat isn't going to look much different beyond this, as the boat itself is like a high-powered and agile version of a pontoon boat (without sacrificing space, comfort, speed and grace).
The average deck boat is about 6 - 7 meters (19 - 23 feet) long, but you can find ones shorter and even others stretching out to over 8 meters (26 feet).
While it's true deck boats have less space to mill about and mingle, in comparison to pontoon boats, they still provide ample opportunity for plenty of folks to get out on the great blue yonder.
Make no mistake, deck boats are big. After all, what's a deck boat if not big? It wouldn't be a deck boat!
Where Will Your Deck Boat Thrive?
Deck boats are excellent for entertaining, which means they're even better during "entertaining weather." When you're dealing with a boat this big, it helps to enjoy it in times when the weather is still, calm and not in danger of turning sour (particularly because it'll ruin the party).
Consider the bodies of water where you'll be enjoying your deck boat. A deck boat performs best in smaller bodies of water (like lakes and large rivers) and requires certain caution levels in smaller rivers, springs and places where you might bump into a rock here or there.
The last thing you wanna do is inadvertently damage your brand-new deck boat. Instead, ensure you need a deck boat in the first place. If you only spend time on small rivers or merely need something to get from point A to point B, a deck boat might not be for you.
Interested in enjoying the ride and spending time in medium-to-large-sized bodies of water? Then you're in luck! Deck boats are perfect for your lifestyle.
How Fast Do Deck Boats Go?
People enjoy deck boats because they enjoy showing their families a good time. Part of this is being able to hit the water without having to putt along like you're racing with turtles and guppies.
Instead, a deck boat has every opportunity to enjoy a powerful motor.
The truth is that deck boat motors are essentially up to you. While bigger models will definitely need adequate motors, you can choose from a wide variety of motors to suit your needs. Don't necessarily want to fly with the angels? You might want to consider a lighter engine.
The 2016 Bayliner 190 Deck Boat has a four-stroke outboard motor with a maximum 150 hp (horsepower). In fact, I highly suggest checking out the Bayliner brand for its reputation.
On the other hand, if you're in it to win it, a 2016 Boston Whaler 270 Vantage has a four-stroke outboard motor with a maximum 600 hp engine.
Sterndrive, outboard, two-stroke or four-stroke - the motor is really up to you. It depends on where you'll be riding and what activities you'd want to do with it.
While some models demand more powerful engines, your deck boat should have a little bit of oomph. But it doesn't have to cost you a pretty penny.
Featured Boat Care Product
 Check Price on Amazon - Better Boat's metal polish cleans, polishes and shines chrome, stainless steel and more. Use with a microfiber cloth to remove dirt, grime, salt, oxidation and surface rust. It's perfect for use on boats, appliances, motorcycles, kitchens and baths. 
What Are Fun Deck Boat Activities?
When we talk about motor speed, we're also talking about the fun you can have on deck boats.
Deck boats are great for activities like fishing. You might even consider buying a trolling motor. With a powerful motor, they're quite capable of water sports such as waterskiing, wakeboarding and tubing.
Don't forget the accessories. You can even purchase deck boat misting stations, which are refreshing and handy on those scorching-hot August afternoons.
How about cup holders or mounts for cutting boards or coolers so your drinks don't get shaken up before you're even able to take a sip? There are endless accessories you can install or take on your deck boat rides.
Deck boats are made for entertaining people and their accessories are made to accentuate and optimize this experience. Have fun with it!
Don't forget, though, that with great fun comes great responsibility. If you're the deck boat captain, you need to take responsibility for everyone along for the ride. That means laying the ground rules, encouraging safe behavior and not taking risks that can put people in danger.
Which Deck Boat Brands Can You Trust?
There's a variety of deck boat manufacturers, but which ones can you trust? A deck boat isn't just a deck boat, no matter who makes it. 
Lots of craftsmanship, care and detail go into building each one, so make your purchase count. Ensure your deck boat's purchase is one with a trust-worthy brand.
Here are the most reputable deck boat manufacturers to help your dollar go as far as possible:
Bayliner: One of the bigger names, it also has the largest selection of boats.
Boston Whaler: More luxurious models that have made a name for themselves when it comes to fishing.
Chaparral: The flashiest of the bunch, Chaparral deck boats are hard to miss.
Princecraft: A really great "starter" deck boat, these do a little bit of each well.
Regal: Speed, speed, and more speed. Regal is your brand for winning races.
If you want to ride in style, go with brands that have been proven over time. After all, wouldn't you want to spend a little bit more for a safer, stronger and more luxurious ride? I know I would.
Investing in a deck boat is just like investing in anything else. If you go with a brand name, you're paying for the comfort of knowing you have the best product on the market. The world of boating is no different; you most definitely get what you pay for.
So What Is a Deck Boat?
Deck boats are equal parts performance, pleasure and fun out on the water. When you're considering purchasing your very own deck boat, you want exactly the right mix of each of their characteristics. After all, why buy a boat at all if it can't live up to its full potential?
Hopefully, we introduced you to a lot more information about deck boats, and how you can brush up more and more on what it means to call one of them your own.
Happy travels and still waters ahead!
---