14 Best Gift Ideas for Pontoon Boat Lovers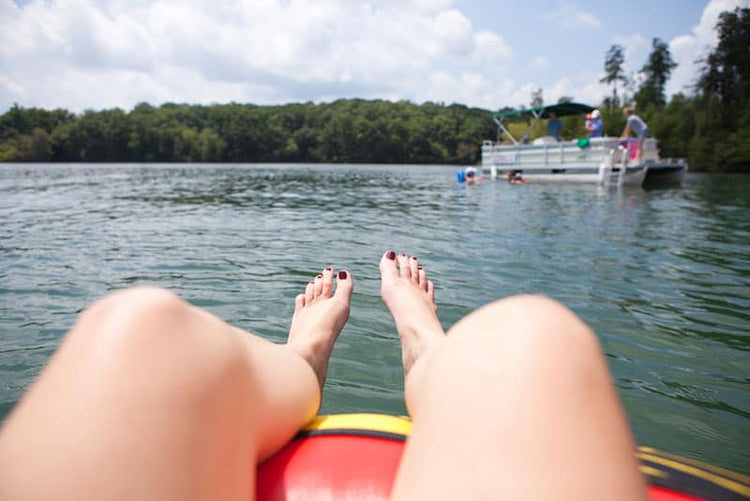 Looking for a nice gift for your favorite tooner? We know those boating friends and family can be tough to shop for. The only thing that really seems to catch their attention is boating stuff, and there's so much of it out there.    
Shopping online or in local boating shops, it can be hard to tell what's high quality or low quality. Beyond that, it's hard to know what your loved one will actually be excited to receive.
Here are some recommendations they're bound to appreciate.
1. Wet Suit
If you boat around cold water during parts of the year, a wet suit is a really nice gift for a pontoon fan. This premium men's wet suit only costs $65, gets awesome reviews and looks great.
When buying a wet suit, the first consideration is what you want to have covered. I find that the short sleeves and shorts style is most popular because you can use it both when it's cold or also when it's pretty hot outside.
A wet suit not only keeps you warm on the water, but it also dries quickly, is a safety feature because it protects the body from hard slaps on the water, and prevents the uncomfortable rubbing of life jackets on the body.
2. Maps for their Fish Finder
If your loved one has a fish finder that has GPS, then get them a mapping card! You can choose
Navionics+ if they have a Lowrance
, or else choose
Lakemaster
if they use a Humminbird.
A mapping card is really nice to have for boating because it shows you the depth of each of the areas of the lake. It prevents running aground, which can cause serious injury and damage to the boat when you find a sudden shallow area.
It's also really nice to have for fishing because a good fisherman can look at the maps and know where some likely hotspots are for fishing.
Aside from that, most good mapping cards also show you where the nearest beach-side restrooms and the marina are. If you ever boat at night and are concerned about finding your way back in the dark, a mapping card is essential.
3. Diving Board
This is a NIIIIIiiice present. Think "wife of the year" or "rich wife of the year." It's pricey, but the lillipad diving board for pontoon boats is tough to beat in terms of awesome presents for pontoon boat captains.
4. Boating Decor
One fun idea would be to decorate a bathroom or even the garage area where you keep your boating stuff with a little nautical inspiration. This captain's steering wheel would be a handsome addition to your pontoon boating decor.
5. Boat Shoes
I have a strange love for my boat shoes, despite the fact that I generally could care less about fashion. If your loved one is more of the sophisticated (also known as "old guy") type, then he'll surely appreciate these waterproof leather loafers.
If he's more of the sporty (not old) type, then these Addidas ones are an awesome choice (and my personal preference--sorry old dudes).
6. LED Light Kit
If you want your pontoon to have a little style at night, it's tough to beat an LED light kit. The install is done in just a couple of hours and you'll have vibrant under-deck lighting illuminating the water under you as you cruise along in the evenings. This kit comes with everything you need for the install.
7. New Stereo
If your pontoon boat has a built-in stereo, but it's an old-school stereo without Bluetooth (so you can't play music wirelessly from your phone), this is a fun and simple upgrade.
Simply buy a new stereo of the same size on Amazon and the install can be done in 15 minutes.
If you don't currently have a stereo in your boat and you have to wire the speakers and such, this would be a much more involved upgrade.
This marine-grade stereo fits a standard-size opening, is water resistant and includes Bluetooth to play music wirelessly from your smartphone or tablet. If you need a circular one to fit a gauge-style opening, then this is a good choice.
8. Under Armour Fishing Shirt
When you're out fishing on your pontoon boat, you want to have breathable fabrics so you don't get too hot, but you also want nice pockets and a shirt that won't stay soaking wet if it gets dipped underwater. At least, that's what I want.
This Under Armour fishing shirt looks fantastic and is made of durable fabrics. I want one.
9. Raised Boat Registration Numbers
We're all picky about our boats, and boat registration numbers have never looked very attractive. Until now.
These raised boat registration numbers look as good as possible ... almost like a factory look. You can pick them up for $40 on Amazon.
10. Tide Indicator Shark Watch
I love Shark watches! When I lived near the ocean, I had Shark watches that would last through years of abuse. They're incredibly durable and waterproof.
This one shows high and low tide times for those who use their pontoon boats near the ocean or very large bodies of water.
11. Captain Hat
For the captain of the pontoon boat, a handsome captain's hat is a must. It's part of a captain's self-esteem.
12. In-Deck Campfire Kit
This is such a cool idea. If your loved one wants to do something unique with the 'toon and doesn't mind a little project to install, this kit will allow you to install a campfire pit right on the deck of your pontoon boat. Awesome! 
13. The World's Best Tackle Box
If the person you're buying for is a fishing fan, then look no further than this Plano tackle box. It's HUGE! When I first bought mine I thought I'd never fill it, but sure enough, I did.
Before this tackle box I had fishing stuff all over the garage and never had with me what I needed when fishing. With a pontoon boat where there's usually lots of storage, you have the luxury of using an oversized tackle box to keep things organized.
14. Captain's Life Vest
Many captains don't wear life vests. On a pontoon boat that feels like a huge barge that sits up high on the water, it can feel unnecessary if you aren't jumping in and wakeboarding or tubing. 
Most of the time, this is perfectly fine, but at some point in your lifelong boating venture, trouble will rear its head and you'll wish you had your life vest on.
A great solution to this that encourages pontoon captains to wear a vest is a waist pack manual inflatable life vest. It's small and discreet, but a quick pull of the rip cord and you're safely floating.
15. BONUS - Bag or Bucket of Boat Gear
| | |
| --- | --- |
|                     |   |
Check Price on Amazon - Boaters can always use new boating gear and cleaning products. Get creative and fill a bucket with boat soap, a sponge set, dock lines, fenders and whatever you can think of. Toss in a scrub brush, a few boat erasers and a set of cup holders. They'll love it!