Airhead Hot Dog Towable Tube In-Depth Review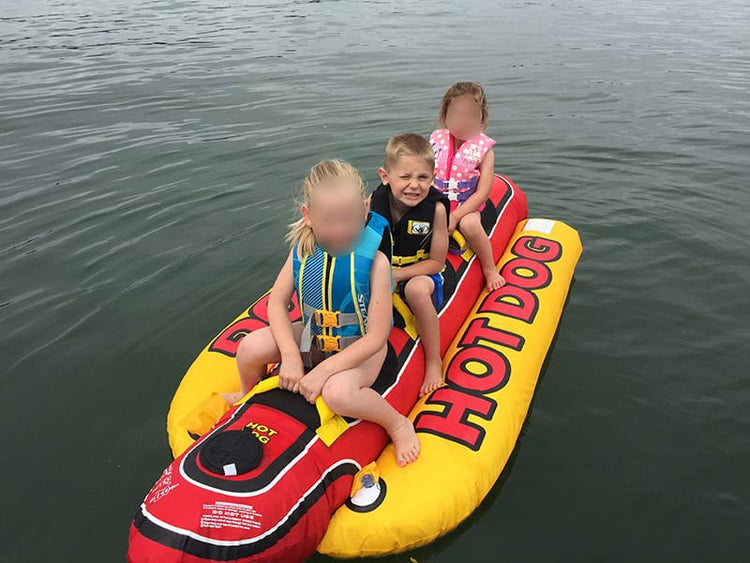 My son and two of his friends on the Airhead Hot Dog. This is the three-seater version. Airhead also makes a five-seater version of this tube. This picture shows three kids on the tube, but teens and smaller adults will fit just fine.
I got the Airhead Hot Dog HD-3 Towable Tube as a Christmas present this last year from my awesome brother-in-law and wanted to write a review of the tube for anyone who might be searching for the perfect tube.
The Airhead Hot Dog is somewhat of a legend in the towable tube space. You'll see them all over the place on lakes across the country because it has become a very popular design - not only for its unique shape, but because it works so well for a wide variety of boaters. 
Who This Tube is for
I think the boaters who will enjoy the hot dog the most are those with smaller kids (10 and under) because it's a stable tube that keeps kids out of the water unless they want to get adventurous (we ranked this tube high on my "best tube for kids" post).
It's also a great tube for those who want to put multiple people on a tube without slowing down the boat too much (which also means you'll spend less on gas). This is a remarkably inexpensive tube given the size and quality, so price-conscious boaters will also be happy with this tube.
I think this is an excellent all-around tube for many boaters. The only category of boaters that it just isn't a good idea for are those who are very adventurous and want to get the maximum adrenaline pumping. It just isn't that kind of tube. 
Featured Boat Care Product
Check Price on Amazon - Better boat's mildew stain remover helps remove stubborn mold and mildew stains from upholstery, vinyl, fiberglass, plastic, tile and canvas. Simply apply, let sit and then rinse with a hose and nozzle. 
Advantages of the Airhead Hot Dog
I really like that the design of this tube. It allows riders to sit down and straddle the tube and stay a little bit up off the water. It makes for a unique ride that gives the rider the feeling that they're going faster than they really are. It makes newer riders feel safer at the same time. 
I'm really impressed with the build quality of this tube. The seams are all stitched very well, the fabric seems like it will last a long time and it looks cool too.
I was surprised to see that a tube at this price point has nice neoprene pads under all of the knuckle grips and also on the three (or five depending on the model) seats. That makes for a much more comfortable ride because it keeps riders from getting "canvas burn" on their hands when hitting a series of bumps.
My favorite thing about the Airhead Hot Dog is that the longer design makes it easy to get up to speed even when you have a full boat of people and three or five riders on the tube.
In a pontoon boat, that can really cut down on the overall speed of the boat, but the water dynamic design has much less drag, which makes it work really well for pontoon boats or any boat that has a hard time getting up to speed.
Another major advantage is the number of riders that can fit on this tube. If you get the above model, it can fit three people. However, here is the longer Airhead Hot Dog version that seats five.
Some Disadvantages to the Airhead Hot Dog
My main complaint with this tube is that only the "meat" part of the dog (the center) has a boston valve (a valve that keeps the air in when you take out the pump).
When you inflate the side tubes (the buns), you have to quickly pull out the pump and put the cap on ... inevitably losing air. After about four hours of use, the sides needed to be re-inflated.
Not a deal-breaker, but I definitely would have paid $2 or $3 extra for the tube if Airhead would have put good valves on all three sections of tube. I also wish the cap for the Boston valve were attached to the tube with a string. I'm always nervous I'll lose it.
This is a great tube for kids, teens and smaller adults, but it isn't a good bet for larger adults because the leg space is kind of cramped. Another concern with the size is that it's pretty easy for heads to bonk into each other on this tube.
I wouldn't recommend this tube if you want a crazy fast and adventurous ride. While it's a good safe tube at slower speeds, I'd be concerned about going very fast on this one.
Like all tubes, you'll have to be careful how the weight of the riders is distributed. Because this is a long tube, you'll want to put the lightest weight riders in the front so the front of the towable doesn't get pushed underwater. If you have only one rider, put the rider in the middle or back.
Care and Maintenance of the Airhead Hot Dog Tube
As with most water toys, and even your boat, you'll want to protect your investment. Use Better Boat's Vinyl Protectant Spray It prevents fading and cracking and restores color to dull vinyl.
If used in saltwater, rinse it off with a hose and nozzle and de-salt concentrate to keep it from getting a build-up of salt.
Where to Find the Best Price
You can find this towable in lots of retail stores. At the end of the season you may see this tube go on a good sale. Personally, however, I buy all of my towables on Amazon. Here is a link to this towable tube on Amazon so you can check their current price.
I buy from Amazon because it gets to you in one or two days, and you don't have to pay sales tax in most states, which usually saves about $10 on an item like this. Dicks Sporting Goods and Cabela's both carry this tube online, but their prices are both quite a bit more than Amazon at the time of writing.