The Best Pontoons for Fishing and Ideal Fishing Features to Install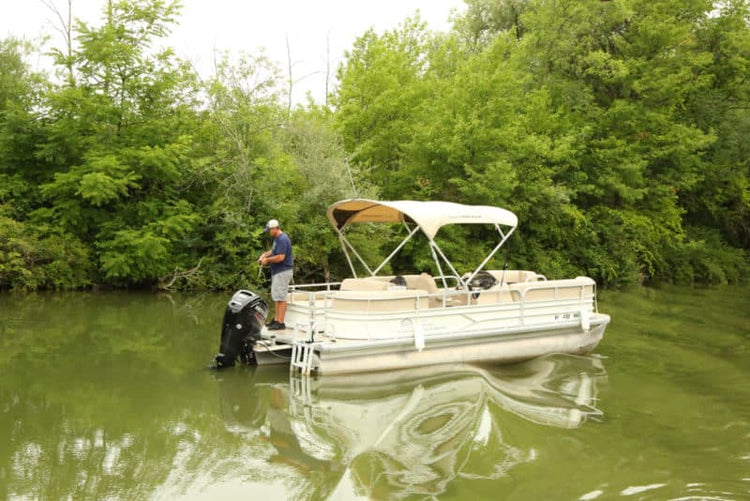 More than 70% of the Earth is comprised of water. And you're itching to explore it all and the abundance of fish that live in it. Fishing is one of the most popular marine sports of all, largely because it brings us so close to nature and wildlife. Plus it's just so darn relaxing.  
There's no better way to relax and fish than in a pontoon boat. After all, this is a unique boat offering stability, style, space and comfort.
There's plenty of space for fishing gear, boat fenders, lines, rod holders, cup holders and friends. Whether you take pleasure in harpooning, gill-netting, bottom trawling or using open nets, pens, cages and traps to get your catch of the day, it goes without saying that you'll need a sturdy boat to aid you in your quest. 
In addition to being a great all-around boat electronic navigation charts (ENCs) and fishing maps will turn a pontoon into the ultimate fishing boat, allowing you to plan your routes and find fish with ease.
That's getting more into the features end of things. Let's start with the pontoon brands that have the best options for fishing.  
The Best Pontoons for Fishing
The process of finding the best pontoon for fishing will be made simpler if you buy from a reputable brand. Ideally, you should buy directly from a brand so that you can take advantage of their warranty options and feel confident about your investment.
Each brand will present buyers with contrasting characteristics, therefore, the one you choose ought to reflect your fishing wants and needs. Below are a handful of well-known brands that offer warranties on their fishing pontoons.
Sylvan - Offering "head-turning luxury," Sylvan has been building pontoon boats since 1948. Sylvan has introduced a vast array of fishing pontoons to its range, including the Mirage Fish with lockable rod storage, the 8520 Cruise-n-Fish with a Humminbird Piranha Max4 Fish Finder and the 8522 Party Fish with a depth gauge.
Bennington - This boat brand is considered to be one of the best pontoon brands on the planet. If you're looking for the best pontoon for fishing that features fishing pedestal chairs, an in-line engine and outboard steering control, opt for the Bennington SXP Series 16 SFXP. This brand also stocks many other fishing pontoons with various floor plans in their SX Series.
Harris - An award-winning brand, Harris Boats strives to reinvent pontoons with advanced design. The Harris Cruiser 220 accommodates 11 passengers and features a rear workstation. With its bow loungers, pedestal mount fishing seats and 115 HP motor, it's ideal for angling activities.
SunChaser - A respectable brand offering a lifetime +6 warranty, SunChaser is proud to present anglers with the SunChaser 8520 Classic Fish EXP. This could be considered the best pontoon for fishing, what with its impressive dual rod holders, integrated tape measure and stern fishing station. Alternatively, choose the SunChaser 8522 Cruise-N-Fish, Oasis Fish 2018 or Geneva Fish 2018.
Starcraft - If you're searching for the best pontoon for fishing that guarantees value for money, Starcraft could be the brand for you. One of their most notable fishing pontoons is the Starcraft EX 20 F4, which features a 200 HP engine, pedestal mount fishing seats and livewell accessories for convenience.
Lowe Boats - You can peruse a wide selection of Pro-Grade Deep V Fish Boats at a Lowe Boats showroom, such as the FM 1810 Pro WT with MotorGuide W75 (60"/75#/24V) Wireless Trolling Motor and the FM 165 Pro WT with Lowrance HDS-7 Gen2 Touch Fishfinder.
Sun Tracker Boats - Claimed to provide the "Best Factory Warranty in the Pontoon business," Sun Tracker's fishing boats include the SportFish 22 DLX with four-stroke command thrust, and the Fishin' Barge 24 DLX with navigation lights and a wraparound sport console.
Avalon Boats - The year 1972 saw the first ever pontoon being manufactured by Avalon. Fishing pontoon boat models include the LS Fish with USCG navigation lights, the GS Fish with rear fishing center and the Catalina Fish with livewell and rod holders.
What Features Should a Pontoon Fishing Boat Have?
Pontoon boats that have been designed with fishing in mind may not necessarily look different from your typical pontoon boats at first glance. Most fishing-focused features will be subtle.
Nevertheless, what might not look like much can actually make a significant difference in how well an angler is able to find and catch fish.
To ease the process of actually finding the best pontoon for fishing, first gain a better understanding of the specific features you ought to be keeping an eye out for.
A rugged fishing machine will combine various angling amenities, such as:
Autopilot Features: A self-steering device of this kind will allow you to focus on fishing while relying on the autopilot technology to steer according to preset turn patterns with optimum control. If you know how to install mechanical devices, you can order a system like Garmin's GHC 20 Autopilot Control System (check price on Amazon) and set it up yourself.
Swiveling Fishing Chairs:  When fitted to the bow, chairs with a swivel feature will rotate 360 degrees and provide you with a clear view of the waterways. A slick swivel chair, like the ever-popular option offered by Wise might be a little pricey, so it's better to negotiate that cost into your original boat purchase negotiation.
Tilt Steering: A pontoon will turn effortlessly on the water with a tilt steering mechanism.
Portable Coolers:  Fish and bait can be kept fresh throughout the duration of your voyage if they're stored inside a portable cooler. The strongest and most durable out there, the choice of boaters who fish like they mean it, is the Yeti cooler (check price on Amazon). You might also want to have a dedicated livewell on board if you're going to be fishing all the time.
GPS Track and Chart Plotter: Plan voyages around pre-marked fishing hot spots with these innovative features. This can go hand-in-hand with your autopilot control system.
Fuel-efficient Engine: The engine type/size fitted on the best pontoons for fishing will vary. However, the typical rule for propulsion work is 4-6 HP per ton. Alternatively, consider a solar-powered pontoon.
Hydraulic Hauler: Improve your inshore and mid-shore skills by navigating a pontoon that's equipped with powerful line hauling equipment.
Full Windshield: The cockpit, captain and passengers will be shielded from choppy waters and salty spray thanks to the shelter of a windshield.
Docking Lights: The best pontoons for fishing will have docking lights mounted to the hull surface. These lights make nighttime docking a breeze. Shoreline Marine (check price on Amazon) can hook you up with some affordable yet quality lighting. 
Sturdy Anchor:  A solid boat anchor that can secure firmly in position on mud, sand and rocks will prove extremely useful for sport fishing. No matter where you're going fishing, you're going to drop anchor. Make sure your pontoon is fitted with a sturdy anchor.
Cutting Board: While not a necessary feature, a cutting board can come in handy on a fishing boat. You'll be able to get everything sliced and filleted before getting back to shore. This Better Boat cutting board attaches to the rod holders for a level work surface and has three sections to store knives, lures, hooks and more.
The Best Tips for Your Pontoon Fishing Boat
You don't necessarily have to use an exorbitantly-priced fishing lure to reel in the big ones (like the $1 million diamond-embellished lure crafted by MacDaddy Fishing Lures, for example). 
Rods, reels and lines aside, becoming a better angler is dependent on your trawling skills and, of course, the type of vessel you're navigating.
That's why it's so important to invest in the best pontoon for your fishing adventures. Apart from that, you'll need to invest some time and energy into your sessions on the water.
Practice makes perfect, so do make an effort to research fishing hot spots in your area whether online or just by chatting with local folks at the marina.
Once you've got some ideas of where to go, use a GPS system to track popular fishing areas on a map. Should you be planning on setting sail during winter or at a time when the seas are rough in your location, make sure you know how to handle your vessel when the water gets rough.
Make sure you don't leave home without a boat emergency kit. After all, preventative measures will ensure your safety when cruising around.
What's more, a pontoon can double up as a party barge, so you can socialize with your fellow anglers after a day out at sea or on a freshwater lake. Going down the "build-your-own" route might be a worthwhile decision if you have certain specifications in mind.
---