G3 SunCatcher Pontoon Boat Review (From an Owner)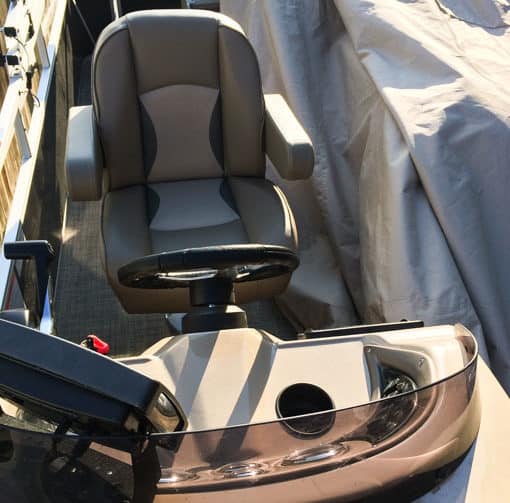 My personal pontoon boat is a G3 Suncatcher V22RF. Since I own a G3 pontoon, I feel like I have a good handle on what G3 offers and also some of the drawbacks to the line. In short, I love my G3 Suncatcher.  
I haven't had any significant reliability concerns. Although a few minor things have happened which is to be expected with any boat.  It has great features, the boat layout is fantastic, the trailer is well made and it looks great. I'd buy another G3 'toon in a heartbeat!
I purchased my G3 from a lot and it was already built on spec, so I can't offer any insight into the ordering process and customizations done when ordering new.  
I wondered if I'd regret not waiting the agonizing months for a custom boat to be built and shipped, but in the end, I'm glad I didn't.  
The boat I got from the lot was everything I could have hoped for and I wouldn't change a thing. But that's only my experience.
So, in this post, I want to provide you with more information so you can make an informed decision before you plunk down what for most people is most of a year's salary on a new G3 Pontoon.
Reliability
Yamaha makes a great engine--perhaps the best in the business. Just that part of the equation adds significantly to the reliability of the boat.  
However, G3 boats are lower in price than many competitors, so let's take a look at some of the differences you'll see between a G3 SunCatcher pontoon and a pontoon from a more expensive manufacturer.
First of all, some of the models of G3 SunCatcher pontoon boats don't have underskinning. Personally, this isn't a concern for me in the environments where I boat. However, if I lived in a more humid environment such as Florida, then it would be a significant concern.  
Underskinning does two things:
 It protects the wood deck from rotting.
 It makes for a smoother ride because the water splashing up from the metal 'toons doesn't hit the cross members. G3 Pontoons are certified by NMMA, which means they meet or exceed pretty strict quality and safety standards which are set forth by the American Boat and Yacht Club as well as the Coast Guard. Before I purchased my boat, I saw some Youtube videos of people having trouble with G3 pontoons.
I watched the videos over and over and fretted about my decision. But in the end, I decided that you can't determine that a whole fleet of boats are bad because of one online review.  
I'm really glad that I didn't let that scare me because my G3 pontoon exhibits none of these issues. The logs are surprisingly sturdy and I've had no significant durability concerns.
Price
In general terms, G3 'toons are slightly less money than some of the competition, at least on the lower-end models. The higher-end X and Elite Series boats can be just as expensive.
My personal 22' 2015 G3 Suncatcher V22RF cost about $28,000 including a trailer, 115hp engine, etc. The cost was about $31,000 out the door with 6% tax, title, fees, etc.
Differences in SunCatcher Pontoon Lines
SunCatcher offers three series of pontoon boats: the elite series, the x series and the v series. Each of them offers a different set of standard features and matching price points.
Elite Series - As the name suggests, the Elite Series is the top-of-the-line pontoon from G3. In the Elite Series, you'll see plush high-back seats with headrests, suede-like fabric, tri-logs with big engines and accent lights.
You'll also find in-deck storage, coolers, bars, built-in GPS and all sorts of features depending on the model you choose.
X Series - The X Series offers an array of optional features similar to the Elite Series with fewer standard features and not as luxurious of finishes.
V Series - My personal pontoon boat is a "V series" boat. It doesn't have the fancy features of the higher-end boats, but it's hardly bare bones either.
I'm a pretty frugal person, so to me, it wasn't worth the increased price to step up to the other series of boat. I'm very happy with my pontoon.
On the V Series boats, you can expect to see transoms that cannot handle the higher horsepower engines (over 115hp).
My  V-series pontoon has a 115hp engine and for my needs, it's plenty fast enough to pull skiers, tubes, wakeboarders, kneeboarders and anything else I want.  
The only limitation is that you get a slower ride when the boat is full to capacity of 11 people. Still, it's fast enough to pull a skier even with the full boat.
The V Series boats still include a nice Alpine stereo with Bluetooth, but the speakers are too weak if you like to really rock out. They get louder than I like to listen to my music, but if you're an audiophile who likes booming bass, you'll want to upgrade the speakers.
Furniture
The furniture that comes on your boat depends on the model and line of pontoon you choose. Obviously, the furniture shape and positioning will change depending on the type of layout you select, but the quality of the furniture changes as well.
On the more expensive Elite series boats, the fabric feels less "plasticy" and feels instead like soft suede, but it's also extremely durable. You'll also notice more finishing touches in the higher series boats that make the furniture appear more customized and high-end.
On my pontoon, which is from the less expensive "V" series, the furniture is well built and includes durable fabrics. However, the furniture is far less luxurious than many other boats. An example of this is the captain's chair, which looks quite wimpy and doesn't even have a headrest.  
Another issue I've noticed is that the hinge on the two seats closest to the bow is weak and strains significantly when opened up wide.
Performance
Sometimes I laugh when I hear people talking about the performance of pontoon boats. The truth is that pontoons don't really perform at all. They plow through the water at a decent speed and turn very slowly.
That fact aside, some pontoons do better than others. Modern high-end pontoon boats with dual engines and a third pontoon are significantly more dynamic.  
I don't think the performance of the entire line of G3 pontoons will be any different than other brands. However, you'll certainly find differences in performance according to which features you select.
Despite the fact that pontoons are far less hydrodynamic than v-hull boats, they're still capable of giving a skier or tuber the ride of their life. That's what we pontooners love - the versatility and comfort of our floating islands!  
Engine and Steering
Want to start a bar fight? Walk into the marina and yell "Merc or Yamaha?" 
There are three great outboard manufacturers: Yamaha, Mercury and Evinrude. Each brand has its strong points and its proponents as well as its drawbacks.
Personally, I love Yamaha as a company. Their innovation in their new engines in cutting down on weight is significant, and their track record is second to none. 
If you go out and compare the footprint of a comparable Yamaha to a Mercury, you'd be shocked at how much smaller it is.
I don't think you'll be disappointed with any new engine as they're all competitive, but I'll have you know that the free blue Yamaha ball cap that comes with your boat looks great. That was almost worth the $30,000 itself. Actually, not. But I still wear that hat.
Warranty
Be careful when checking the warranty on newer Yamaha outboards. Yamaha has recently been overhauling some of its engines with new designs that are significantly less weight and more fuel efficient.  
Since my new 115hp Yamaha on my 2015 pontoon boat was a new engine design, Yamaha is only giving a three-year warranty instead of the five-year that they usually offer. Personally, I found this reduced warranty to be quite a put-off. 
If they aren't sure it's reliable, why are they putting it on my boat? This was a significant factor to me when choosing my boat, but in the end I overlooked it and I'm glad I did because I love my boat.
Featured Boat Care Product
| | |
| --- | --- |
|     |  Metal Polish cleans and polishes chrome, stainless-steel, aluminum and other metals to a gleaming finish. |
 Check Price on Amazon - Keep your 'toons sleek and shiny with Better Boat's Metal Polish. It removes tarnish, oxidation and surface rust to protect and revive cleats, pontoons, hardware, rails and more. A microfiber sponge set works wonders to polish metal pontoons.
A Brief History of G3 Suncatcher Pontoon Boat Company
Yamaha acquired Century and Skeeter boat companies (now known primarily for their fiberglass hull bass boats) in 1995.
 At the time, Skeeter made both fiberglass and aluminum hull boats, so Yamaha acquired G3 boats in 1997 and G3 became their aluminum arm, and Skeeter focused on fiberglass exclusively.  
Another reason for the division was that Yamaha did not want to damage the Skeeter brand by creating less expensive fishing boats, so it used the G3 name for this line. 
G3's Suncatcher Pontoon boats are produced in the U.S. at its facility in Lebanon, Missouri, which has been dubbed the "aluminum boat capital of the world" by its Mayor.
You can watch the following video to get a factory tour of G3's facility and to understand some of their values as a company.