11 Luxury Furniture Pieces for Your Pontoon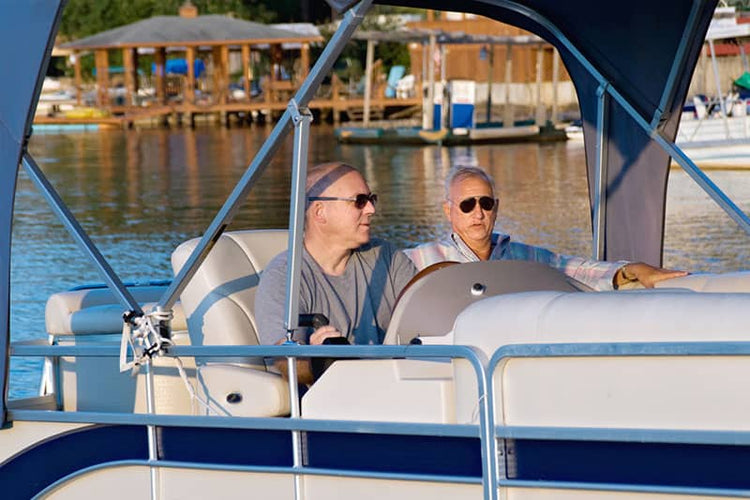 Purchasing luxury pontoon furniture is a dream come true for many of us. High-end furniture isn't just for you. Your friends and family will love it too. 
Who can resist a decked-out deck? It'll make them instantly feel more comfortable on the water and help them become more interested in getting out for a day of boating. I understand everyone can't afford a full spread of luxury furniture, so there are two ways to go about this.
One is finding nice pieces that are affordable while still feeling like a luxury. After all, the most expensive, high-end pieces aren't always the right ones for your 'toon.
The other is to find top-of-the-line luxury items. That way, when you finally can make that big investment, you know you're getting the best. But even then, nobody ever wants to pay more than they have to, right? My prerogative is to track down both.
Ultimately, retrieving pieces that won't break the bank and still have a luxurious appeal is the ideal situation you're looking to make happen. I love finding affordable pieces that enhance pontoons and give off a vibe of pure opulence.
Buying specific pieces online is much faster than going to a boating store and looking for a series of seats that aren't guaranteed to be in-store. I've had extreme difficulties looking for particular pieces in stores, as the likelihood of finding the sought-after item is practically impossible.
If I go online, I can find what I'm looking for with a few clicks within minutes, and there's no hassle. So, I'm here to eliminate the problems you can encounter while shopping for specific luxury items.
Here are ten types of luxury pontoon furniture that are well worth investing in and a few of my recommendations for each.
Luxury Boat Covers
Putting on a cover can be a pain (though boat cover support poles can help that situation). Many pontoon owners neglect to buy a sufficient cover due to the time constraints they have in their lives. Applying a cover is strenuous and tedious. You might think, how can a piece of fabric to cover a boat be luxurious in any way?
| | |
| --- | --- |
|       |  Boat Cover Support Poles |
Check Price on Amazon - Better Boat's boat cover support pole prevents water, ice and leaves from accumulating in your cover. Telescoping poles are adjustble from 23.5" to 56" for a customized fit. 
This particular MSC pontoon boat cover is made of marine-grade polyester canvas. It's made for highway travel and designed for long-term storage. The cover's flexibility helps with fitting other accessories on your pontoon that wouldn't otherwise fit.
You can even leave it on while trailering and hauling your pontoon, which is a huge matter of convenience. There are numerous colors available that will complement your particular pontoon and give it a more pleasing look overall.
Luxury Pontoon Seating
Having bad seating on a pontoon can be the major difference between enjoying your boating time and feeling like a bad time was experienced by all. Investing intelligently in the proper seating is a factor your guests will consider.
If you're thinking about driving solo, then the seats won't matter. But if you want people on your pontoon with you, then don't cut corners by purchasing cheap seats.
These stylish luxury pontoon boat seats by Wise are a smooth dream for an avid boater. The impeccable durability, lift seat cushion, storage compartment, comfortable high-grade foam and stylish marine vinyl all make up a long-term investment that lasts years.
Luxury Sleeper Seats
Having a sleeper seat on your pontoon is a convenient way to remain stationary and enjoy the breeze. Lay back, sip a nice drink (alcoholic or not) and take a quick cat nap in the sun.
Being able to lie down after a long trip and relax on your pontoon is a true luxury. It also creates another space for storage of things like dock lines, anchors and boat fenders, which comes in handy.
Having multiple places for storage isn't only extravagant, but it provides a plethora of options that help your organizational pursuits.
This 36" pull-out sleeper seat by Wise has a 100% plastic frame construction with a molded base for enclosed storage. Create a bed on your pontoon boat that your guests will love.
It features heavy-duty aluminum and stainless steel hardware. This quality sleeper pontoon seat utilizes space while providing a great place to rest or work on your tan.
Luxury Pontoon Tables
Retrieving the correct table for your pontoon can be daunting and almost implausible. The decor has to match the essence of the pontoon. There are a number of different styles that can accommodate numerous pontoons depending upon what kind of design you're looking to create.
First, many of us wish we had more surface area (where you can set down bottles and drinks) as well as storage space. Give yourself the luxury of having both with this Boat Outfitters storage station.
You'll finally have space for drinks, a cooler, paper towels, silverware, a cutting board and other useful odds and ends.
Luxurious tables have a flashy finish that catches the eyes of the guests you have on your pontoon. This Wise rectangular pontoon table (check out the Amazon pricing here) looks simple, but it makes a luxurious world of difference when hosting with its four cup holders. 
The high-impact injection-molded plastic gives the table stability. The quick-release mounting pedestal allows the table to be moved around different places on your pontoon.
If you're looking to buy a table with matching seats, it doesn't get any better than this gorgeous Wise set. The upholstery can be customizes when you purchase via Amazon.
This wonderful tool truly improves the luxuriousness of your pontoon a beautiful Docktail Bar, which will hold your cocktail ingredients, snack foods, cups and plates ever-so-conveniently.
Want to take your table out on the water? Yes, you heard me correctly. Bust this awesome inflatable table out when you're spending a day offshore to play card games, have some cold drinks and enjoy a lovely conversation while feeling the nice cool water on your legs.
Luxury Pontoon Carpets
Boat carpet glue is a necessity to ensure the carpet is properly laid down and cemented. Don't be cheap on spending and researching for the correct adhesive. You need glue that will last numerous seasons and be able to survive the wear and tear of meteorological patterns.
The material luxury pontoon carpets are made out of makes it easier to clean than a cheap carpet. Paying the cost has its benefits.
The luxury pontoon carpets from Infinity Fabrics will add ambiance, flair, style and grace. Coordinating the correct colors and finding the right sizing is very important.
Luxury Pontoon Lighting
Investing in the correct lighting is a crucial element that could be the divine difference between life and death. Navigating the water is a smoother journey with some wall mount navigation lights.
The sooner you're seen on the water, the better. Whether it's during those late night trips or early morning trips, you'll be secure with a set of navigation lights.
Luxury Pontoon Deck Kits
Carpeting and glue are essential pieces to possessing a fancy pontoon. Buying them individually is an option that should be avoided, if you aren't looking for anything specific. They have a variety of different carpeting that will accentuate the features of your pontoon.
Replacing your flooring is done easiest with a deck kit (like this fabulous, all-inclusive option). Don't skip out on creating the best-looking pontoon possible by adding these unique features. All of your guests will end up thanking you for a lovely time on the water.
Luxury Pontoon Stereo Systems
What's more enthralling than relaxing on the ocean waves while listening to the soothing melodies of your own choice? There isn't any comparable feeling. So, a stereo is an indispensable item to have aboard on your pontoon.
There are many different kinds of radios you could purchase, but this marine-grade Boss stereo system is the one I recommend most often as it's both high-tech and sturdy.
Entertain your guests with the sounds and octaves of great music that will shake the waves in the ocean.
Luxury Steering Wheels
Steer your pontoon in style and comfort, and you'll be admired by all the other boaters out there.
This Pactrade Marine steering wheel has a patented design that's sleek and comfortable. The soft grip is non-magnetic, meaning that your compass won't be compromised.
Show other pontoon owners what you're capable of by not only steering accurately and precisely, but by possessing a style that stands out.
Luxury Pontoon Ladder
This five-step, heavy-duty pontoon ladder gives easier access to your pontoon. It has wider steps than most ladders (5-1/2" depth x 16" width per step), which allows you to board like royalty.
The ladder is very simple to deploy on the water. There aren't any issues when it comes to movement. It includes all mounting gear and has a three-year limited warranty and a capacity of 350 lbs.
Docking has never been easier with this finely-crafted ladder.
Luxury Horns
The right horn sitting on your deck or captain's stand isn't only aesthetically pleasing. It can even be a life-saving method in times of turmoil and treachery.
This stainless steel horn resists rust and corrosion like a charm.
Of course, having an electrical deck mount horn is another choice. Still one more option are
trumpets
, one of the most elegant, popular and timeless  options in boating history. They shine in stark contrast when compared to others.
 Acquiring all of these pieces of furniture will guarantee that your guests leave happy and satisfied with only good things to say about you and your 'toon. The decor and ambiance will create everlasting memories that will leave an indelible print.