13 Awesome Pontoon Boat Accessories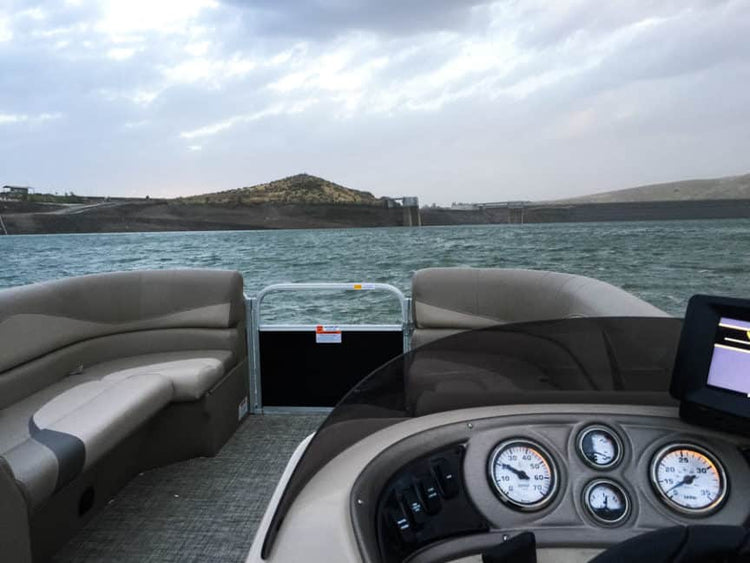 One of the best features of owning a pontoon boat is the 1.25" standard size railing all around the boat. It's perfect for mounting accessories to customize your rig. Things like drink holders and rod holder cutting boards can be used to serve, store and keep those fish guts off of the deck. 
WHY YOU SHOULD TRUST US
BetterBoat was started because we love boats! We are a community of true boat lovers and we share everything we learn about boats as we go. Our goal is to help fellow boat lovers, beginners and experts alike, by reviewing and sharing the best boat products available on the market.
You can trust that all products that we review and share have been tried and tested by our boating community. Thank you for checking out our blog. Happy boating to all of you!
I'm always looking for cool pontoon boat accessories. In this post I'd like to share a few of my favorites.
Editors Choice: Boat Hooks
Check price on Amazon The super handy Better Boat boat hook makes easy work of grabbing dock lines, catching mooring balls and pushing off on docks and pilings. They've even been known to rescue hats, towels and other unlucky items. It can be purchased separately or as a package with the screw-on extension rod included. Rods come in three, six or nine-foot lengths.  
1. Under-Deck Lighting
Check price on Amazon
Marine-grade lighting under the deck of your boat isn't something you'll want every time you're on the water. When you do stay out until late, it's an incredibly fun pontoon boat accessory. Plus, it's super cool!
The water under the boat lights up with vibrant color from the lights as you cruise around the lake and really adds to the atmosphere. The nice thing about under-deck lighting is that it doesn't mess with the lighting you already have on the boat (rope lights, accent lights, etc.). It can also attract fish, so that's a bonus for the anglers in the group. 
Having vibrant colored lights on the boat may be fun for a party, but it can be a little annoying for the rest of the time. Usually, just the little accent of colored light under the deck gives a fun feeling and still allows you to see normally.
The best time for under-deck lighting is the Fourth of July (in the United States) or other times when you're watching fireworks on the boat at night. Installing marine-grade LED lighting is incredibly simple--even for a guy like me who is not handy at all!
LED lights are definitely the right choice for this pontoon boat must-have because of their brilliance and low-heat. They're a safe and easy install as long as you follow the directions. Using other types of lighting can drain your battery, but LEDs draw an incredibly small amount of power. Click the link above to get a kit with everything you need.
Cost: $300
Time: 30 minutes
2. Fencing-Mount Barbecue Grill
Check price on Amazon
There are a variety of options for adding a barbecue to your pontoon or tritoon even if you didn't buy it with a barbecue station. Most of the options out there are mounted on a pontoon boat accessory pole that fits in the same hole where you put a drink table (standard size).
These work okay, but it means more stuff to carry around. We all know that space is paramount on any boat, and a toon can be tight when you're loaded up with people.
The coolest grill around is a simple bracket made by Arnall. It attaches to the fencing and then you can use any portable camping stove with it. The bracket is cheap and gets great reviews from customers. If you don't already have a portable camp stove to attach it to, Arnall recommends this complete kit with the brackets and the stove.
3. Bungee Dock Lines
Check price on Amazon
Haven't quite figured out your marine knots for docking the boat securely. Or do you want a much quicker way to connect at the dock?
Invest in some bungee dock lines for a few dollars and be done with it. This pontoon boat must-have is much quicker and more convenient. It allows for a little play as the waves move the boat without rigidly strapping it to the cleats.
I like the bungee dock line from Airhead because it also has foam pieces on it that prevent it from rubbing up on the boat and causing any chafing on the toons.
4. Corner Bumpers
Check price on Amazon
The most likely place for your pontoon to be damaged is at the dock as people moving around and waves push the boat up against the dock. Also, it's common for pontoon boats to get dented in the corners of the deck if you don't get your angle quite right as you approach the dock.
Along with boat buoys, a great preventative measure is to purchase rubber bumpers for the four corners of your boat. It's almost perfect protection, but there's a caveat: they look kinda ugly.
I'd love to see Taylor Made make a thinner version of these bumpers in black or silver. When purchasing, be aware that there are two versions of these bumpers: one for more square cornered boats and one for more round cornered boats.
Cost: $30 each
Time: 20 minutes
5. Controllable Lighting from Your Phone
Check price on Amazon
I'm a technology nerd. I admit it. If it's wireless and has a chip in it, I want it. Maybe that's why I really like the idea of these cool accent lights for the interior of your boat. They allow you to change the colors with an app on your phone.
If you haven't already bought this pontoon boat accessory from reading that part of the description, I'll add the feature that is sure to tip the scales. It syncs to your music! So, if you're playing music from your phone, the lighting will beat to the rhythm of the music. Awesome. Of course! Necessary? Absolutely not. That's why I want it so bad.
6. Emergency Light
Check price on Amazon
You might as well accept the fact that if you boat in the evening, you'll eventually stay out a little too late and find yourself making your way back to the dock in the darkness. If your boat doesn't have docking lights, or if your lights aren't very bright, it can be pretty scary.
I think the perfect solution for this problem is a cigarette lighter powered spotlight. Just plug it in and you're ready to navigate safely.
This pontoon boat must-have is incredibly bright and has great reviews. It also uses a special bulb that makes it impervious to shock, so you don't have to worry about it rattling around in the boat storage for a year before you actually use it.
7. Rail-Mount Rod Holders
Check price on Amazon
There are a million rod holders on the market and they are all pretty similar, but this one is specific to pontoon boaters. It's made to mount on the rail of your pontoon's fencing.
I like these rod holders because they come out from the boat a little so you aren't bumping into the rods as you walk around the stern area of the toon.
It's inexpensive, made of durable metal with no plastic and gets great reviews. The only caveat is that I wouldn't use these for saltwater fish or salmon as they aren't sturdy enough. They'll be fine for kokanee, walleye, trout, panfish, bass and just about anything else.
While you're in a fishing state of mind, check out the cool Better Boat rod holder cutting boards.
Cost: $15
Time: 10 minutes
8. Cell Phone Dry Case with Lanyard
Check price on Amazon
Last week, I was boating with my brother-in-law who accidentally forgot to take his expensive cell phone out of his pocket when he waded into the water to launch the boat. Ouch.
While boating, you want your phone handy to play music on the stereo system, take pictures and control your wireless trolling motor or the lighting mentioned above. It also means that sooner or later you're sure to ruin a phone in the water. It's inevitable, but it doesn't have to be a complete loss.
This cell phone case is unique because it allows you to use the phone normally through the plastic while not worrying about getting it wet. It's easy to slip the phone in and has a convenient lanyard to tie to your PFD or swimsuit.
Next time you ruin a phone, you'll hate yourself for not spending $10 on this easy solution.
I put one in my boat's console. That way, as soon as I step into the boat to get it prepped for launch, I put my phone in the case first.
9. Monster Swing Tow Bar
Check price on Amazon
Most pontoons aren't exactly built for performance, but that doesn't mean you can't get a good ski or tube ride out of a pontoon or tritoon boat. To do it well, however, pontooners need every advantage they can get for a fast and smooth ride for the skier or tuber.
The monster swing is expensive, but this pontoon boat accessory gets the rope above the motor and wake to reduce drag. It also has a pulley on the bar that slides around to add smoothness to the ride even with pontoon boats that can't turn as sharply.
Frankly, I think it's strange that so many of the pontoon boat manufacturers are still manufacturing boats without a ski tow bar, but it's the fact of the matter.
10. Belt Pack PFD
Check price on Amazon
Many captains foolishly don't wear a PFD. They can be uncomfortable, but they should be used. The perfect solution is a small and discreet belt pack PFD.
Many experienced boaters are moving to this style of PFD when in the captain's chair for that added bit of safety. I like this belt PFD because it actually looks decent. I'm not on the water to make a fashion statement, but at the same time I don't like looking like I'm wearing a 1980s fanny pack.
11. A
didas Climacool Boat Lace Shoe
Check price on Amazon
An all-around pontoon boat must-have has to be a comfortable pair of shoes that you can wear riding the boat, in the water launching at the dock, hiking around on shore or even riding the tube. It makes for a much more comfortable day at the lake.
I love the look of the Adidas boat shoes. Tons of drain holes at the bottom keep your feet dry, but they also wear like a normal shoe so you can keep the same shoes on from the moment you leave the house until you're back home again.
12. LilliPad Diving Board
Check price on Amazon
Do I really need to provide anything to talk this one up? A boat diving board! On your BOAT! Insanely awesome.
Sometimes towing people on a tube can get a little dull, so pulling out a full diving board is a fun way to get the party started again and get the kids' imagination pumping.
If anyone balks at the price of $1,300, just tell them it's for the kids.
Cost: $1,300
Time: 1 Hour
13. Pontoon Fire Pit
You can already fish, ski, cruise and camp on your pontoon boat. Now, you can also warm up by the fire. This kit allows you to put a fire pit right on the deck of your 'toon!
What I don't understand about this pontoon boat accessory is how it doesn't melt the vinyl seating and other vinyl parts on the boat, but apparently it doesn't. A fire pit in the pontoon definitely sets your boat apart with something incredibly unique.
Cost: $1,300
Time: 2 Hour