SUP, 'Tooners? The 6 Best SUP Racks for Your Pontoon, Reviewed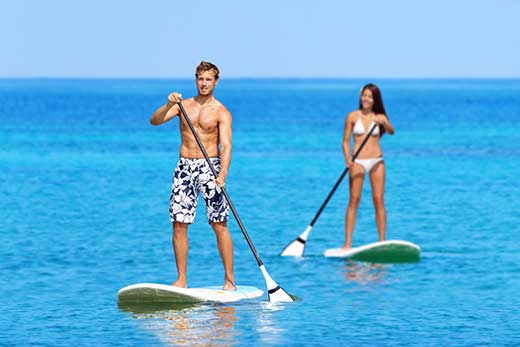 Stand-up paddle boarding (SUP) has become a very popular sport. And who doesn't love a good paddle sport with their trusty ol' mini telescoping paddle?
Not only is it excellent for strengthening your balancing skills but it can be a very peaceful and tranquil way of treading water. There are many reasons you might want to bring along your paddle board for a boat trip or excursion with friends. That's where SUP racks for pontoon boats come in.
If you go pontoon camping, a paddle board is a great way to get from point A to point B without having to crank the pontoon engine or pull up anchor and lines.
You can use it to explore tighter creeks and riverways that a pontoon can't squeeze into.
Even though SUP racks are very narrow and can conveniently fit on your pontoon boat's deck, it helps to have an exterior mount that can carry your board instead and free up space. That's the reason why you might've spotted these at local boat shows like I have.
As a pontoon owner, you're all too well aware of those square railings. Everything you hang from them or attach to them has to be square-clamped or square-mounted.
The same goes for the stand-up paddle board racks for pontoon boats.
Option #1: SurfStow SUP Rax Paddle Board Mount
Check price on Amazon - Our favorite comes first. SurfStow makes a variety of racks for powerboats and cruisers.
They also make these specific carriers for 7/8-inch to 1 1/4-inch square railings. This paddle board storage system is manufactured with aluminum alloy that's made to last in marine environments, saltwater included.
It has heat-pressed foam to keep your SUP from getting scuffed up. It's pretty stylish too, isn't it?
Designed to carry boards of any shape or size, the racks securely hold whatever SUP you own in place with shock cords. If you need to carry two boards along, the Surfstow SUPRAX series also makes a dual board add-on (check price on Amazon).
No need to worry about this being square or round. Just attach it to the underside of the mounted pontoon boat paddle board rack.
Option #2: SW Paddle Board Rack for Pontoon Boat
Check price on Amazon - If you're looking for a bargain, and you don't mind making a few adjustments yourself, this might be the affordable pontoon boat SUP rack for you. The more negative reviews of the rack indicate weak screws provided in the package. Apparently, they bend or even shake loose.
There are also some complaints about the foam padding appearing like it won't last many seasons. If you decide to go with this one, do yourself a favor and use better screws and bolts where you can. If the foam begins to crack and decompose or tear off into bits, you can replace that as well.
Option #3: COR Board Racks Padded Storage Sling
Check price on Amazon A simple pair of tie-down straps works great for a pontoon railing. You can fasten these right onto your 'toon's rails. The only disadvantage is the lack of foam support.
If you don't like the idea of your paddle board banging against the side of your pontoon and scratching up the siding, get creative and attach a foam noodle for protection. Just be sure the noodle is made out of closed-cell foam or it'll absorb the water and be less useful.
Option #4: The Dock Doctors Mounted Roller
Check price from The Dock Doctors - I also mentioned this roller in Paddler Meets Pontoon, but I want to bring it to the attention of SUPers. I like it because of the versatility. It can really handle anything: kayak, paddle board, canoe, you name it.
The thing I like best is that it easily mounts on the edge of your dock. If you've had a bad injury, it will save your back, your knees, your shoulders and anything that could sprain or have an old injury flare up. Not to mention, it helps to reduce the impact on your dock.
Option #5: MAGMA Standing SUP Rack
Check price on Amazon - I really like this pontoon boat paddle board rack because it can be used for any type of water toy. Not only is it great for holding stand-up paddle boards, but it can also hold a kayak and even longer floats. It's a convenient place to slide your floats in so they can dry.
This rack installs on your dock or any flat surface. Just make sure to mount the brackets with enough room between them in order to hold both your longest and shortest items.
The polished stainless-steel rack comes with only one singular pair of straight arms that act as the base. The arms are nice and cushioned with UV-resistant polyethylene foam to protect your toys from getting scuffed.
Plus, there's added strength in the anodized aluminum elbows to hold the weight of your crafts. To stack multiple watercraft though, you'll need to purchase additional arms.
These can be purchased as a straight arms (for kayaks) or curved arms (for SUPs) depending on what you plan to have them support.
Option #6: Dock Edge Kayak/SUP Rack
Check price on Amazon -This simple dock rack has really thought it through. Unlike the Magma rack, it's bolted down by one support pole on each side.
If your dock walkway won't allow a 36-inch arm to overhang and block your footpath, this rack might be just what you need. Just flip it around so the arms are over the water.
It has adjustable locking straps and locking hooks that hold the SUP boards securely in place. The powder-coated steel square tubing lasts in both freshwater and saltwater environments. It's MIG-welded for extra support.
If you need to remove it for any reason, the dock mount features a removable bolt which detaches the racks. However, unlike the Magma, it has less structural support fastened to the dock. With a 48-inch height, it's really only made to hold two watercraft.
Even if you wanted to stack more, you can't purchase additional arms. So if you only own two stand-up paddle boards, it's perfect. If you foresee a new SUP addition, you might want to reconsider.
Featured Boat Care Product
| | |
| --- | --- |
|     |  De-Salt Concentrate removes corrosive saltwater from boats, gear, dive equipment, fishing gear and paddleboards.   |
 Check Price on Amazon - Better Boat's de-salt concentrate is 100% biodegradable and won't harm the marine environment. Suds up and spray down with a hose and nozzle to remove saltwater deposits. Use with a flush kit to inboard/outboard engines. 
A Few SUP Safety Tips for 'Tooners
Install Your SUP Rack Properly
The first thing you need to decide is where to install your paddle board rack on your pontoon boat (or elsewhere).  Don't accidentally mount the racks only to later discover they obstruct the pontoon gate door.
Just take a little extra time to plan, and maybe check with the manufacturer to see if they have any installation recommendations.
If you want to be able to simply drop your paddle board in the water at a moment's notice, you might find that securing the board with straps makes it less constricting and easier to dismount, but this also means that you could be fighting the straps once you want to stow your board away.
Unlike a kayak, a paddle board can more gracefully slide into place with harder unbendable racks, and you won't have to fight to get it in place.
Watch Your Overhang!
SUP racks don't overhang too much over your pontoon boat's beam. After all, a paddle board is much flatter than a kayak. But I've seen some boaters say they leave their rack on (and sometimes their SUP too) as they haul their 'toon back and forth.
You might be able to get away with this if you're on local streets that you know by heart, but I wouldn't recommend this if you're traveling long distances. You can still take out a road sign and tear off the racks themselves with a tree branch, damaging the pontoon's railing in the end. Remember that your pontoon's beam will be wider while you're underway.
Unlike kayaks that have deeper hulls, SUPs are narrow and probably won't create much of a blind spot. On the flip side don't forget that they're there!
Don't attempt to pull into a marina or dock on the side the racks are located. It could end in disaster for your boat or someone else.
Check for loose straps and re-tighten the bolts. Overall, just pay attention to general wear and tear. You wouldn't want the pontoon boat's SUP paddle board rack to dismount and slide a paddle board into someone.
Remember: If you're traveling long distances and visiting unfamiliar lakes or coastal waterways, clean not only your pontoon but your paddle board with cleaning products like de-salt concentrate or boat soap.There could be invasive species looking to hitch a ride.
If you're a stand up paddler, I hope you find this list useful. If you have multiple paddle sports toys, including kayaks, take a look at my other post on the topic of kayak racks and mounts for pontoons.
Happy paddling!