Drop Anchor! Strong Anchor Rope to Steady Your Boat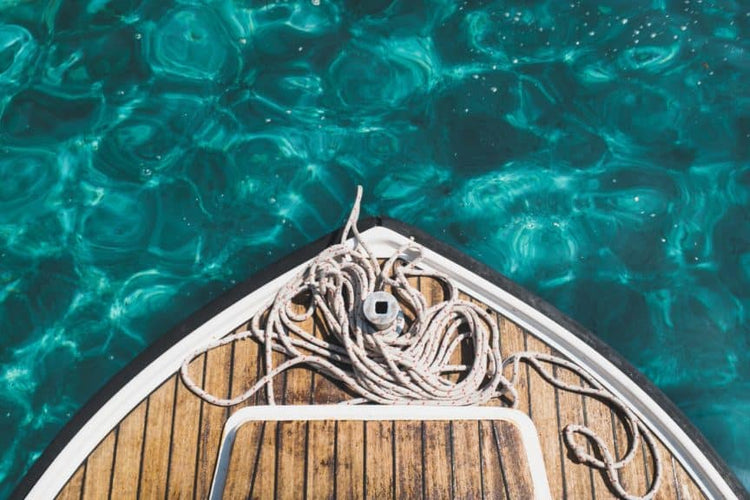 Picture the scene: You're happily cruising along, taking in the views and thinking "life doesn't get much better than this."  
Suddenly, your engine cuts out and the current drags you along. Without propulsion, you have no control of your vessel. Time to deploy the anchor!
At this point, congratulate yourself for taking time to forward plan every eventuality. As you know, as boaters, we have to expect the unexpected.
But when you drop anchor, the anchor line is a crucial element in what could be a dangerous situation. Making sure you've purchased a strong anchor rope is no simple task. In fact, it's just as crucial as choosing the right anchor and chain.
With numerous varieties and qualities of line, as well as lengths available, it's hard to know where to even start in your search. So I wanted to examine precisely which makes the ideal option for you when it comes to choosing a strong anchor rope.
What Anchor Rope Thickness Is Needed?
First, consider the length and weight of your boat. Knowing the dimensions is crucial because anchor rope has a maximum weight tension. If exceeded, it could mean the rope snaps altogether to leave you drifting on the current.
Most cabin cruisers range in length from 25 ft to 45 ft long (although they can be much larger), and most yachts start around 23 ft and can be any size above that.
But never fear, there's a simple formula to determine your thickness of rope: For every nine feet of boat length, you need 1/8 of an inch in rope diameter.
So, for this exercise, let's assume you have a 26-foot vessel, which means that you should be looking at an anchor line thickness of 3/8 of an inch in diameter.
Still unsure what thickness to get? Check the manufacturer's specifications before purchasing. They publish strength to weight ratio guidelines on their websites to make your choices easier.
And if after all, you're still unsure, over compensate and buy rope with at least 1/2 to 3/4 of an inch in diameter. Unless you have a craft that's super-sized, this should be ample to keep you attached to the anchor in an emergency.
What Anchor Rope Length Is Needed?
A lot depends on the depths of the water you travel, so it's essential to plan ahead and get to know the maximum depths before you go.
Many GPS systems have preloaded charts and maps to show this. If you're old school, paper charts do the trick.
Once you determine how deep the waters are, here are some simple formulas you can use.
Formula by Depth
Multiply the deepest part of the waters you travel by eight to give an idea of the rope length you'll need. So, if you're on a stretch of river with a maximum depth of 20 feet, you'll need a line measuring 160 feet.
It seems disproportionate when you consider the length in relation to the depth, but the rope should be stretched almost horizontal to avoid a dislodged anchor.
Your anchor works best as a grappling hook, gripping the bed of rivers, lakes and seas. Otherwise, it would be ineffective without a long enough line to properly fix you in place.
Formula by Length
A second formula to determine anchor rope length is to based on your boat length. If you have a 20-foot vessel (roughly 6 meters), you need a rope length of 20 feet.
For a 40-foot craft (12 meters), a rope length of 40 feet should suffice. Logically, following this simple guideline, with a boat that measures 60 or even 80 feet, your rope should equal that length.
And don't forget to allow for an extra couple of feet for tying the rope on. If it were my choice, I would look at both formulas and select a rope somewhere in between the two recommendations. 
The Different Types of Anchor Rope Material
Anchor lines have to be durable and robust, so it comes as no surprise that most anchor ropes are constructed from either polypropylene or nylon.
Other materials like hemp, manila and polyester are available, but in the main, polypropylene and nylon are a sailor's preferred choice.
So what are the advantages of both?
Polypropylene
Advantages
Lightweight: Easy to handle and kind to your hands
Load resistant: Can take heavy weight loads, so makes an ideal anchor rope
Floats: Again, perfect for anchor rope
Rot-resistant: Water can rot some ropes, but polypropylene is hardwearing
Solvent resistant: Resistant to acid as well as solvents
Disadvantages
Poor UV resistance: Polypropylene rope doesn't stand up well to UV rays
Poor abrasion: With all the punishment an anchor rope gets, abrasions are likely to occur
Nylon
Advantages
Abrasion-proof: Nylon is incredibly hard-wearing, which makes it ideal for anchor rope
UV-Proof: Unlike polypropylene, nylon rope stands up to the sun's effects
Strongest rope: Nylon has the highest load weight of any rope
Elasticity: Nylon stretches up to 40 percent
Rot-proof: Synthetic material is effective at combatting rot, mildew and moisture damage
Chemical resistant: Nylon doesn't react with chemicals like acids and solvents
Disadvantages
Heavy: Way heavier than polypropylene, which means it doesn't float
Prone to friction: When heated through friction, it's prone to melting
More expensive: On the whole, nylon ropes are more costly
Drop Anchor! Strong Anchor Rope to Steady Your Boat 
Polypropylene Anchor Ropes
Attwood Solid Braid Anchor Rope
Check price on Amazon
This polypropylene rope has a diameter of 3/8 of an inch and a total length of 100 feet. And with a breaking strength of 250 pounds, this makes it an ideal anchor rope for smaller vessels like row boats and ribs.
Construction: Braided
Material: Polypropylene
Sea Sense Hollow Braid Anchor Rope
Check price on Amazon
With a safe load limit of 63 pounds and a maximum breaking strength of 580 pounds, this 1/4-inch anchor rope is designed for boats under 16 feet kept in protected waters.
Pontoons, deck boats and small PWC like jet skis are the ideal match because they tend to be anchored in lakes.
Construction: Braided
Material: Polypropylene
Bang4buck Anchor Rope
Check price on Amazon
This polypropylene anchor rope comes in either 3/4-inch thickness with a 200-foot length or a 1/2-inch twisted braid with a maximum length of 100 feet.
With maximum breaking weight of 12,592 pounds and an anchor thimble professionally spliced, this is definitely an anchor rope to consider if you own a speed boat or small yacht.
Construction: Twisted Braid
Material: Polypropylene
TRAC Outdoor Anchor Rope
Check price on Amazon
With a breaking strength of 700 pounds and a diameter thickness of just 5 millimeters, this TRAC anchor rope is perfect for speed boats and deck boats.
Construction: Braided
Material: Polypropylene
Nylon Anchor Ropes
Extreme Max Anchor Rope
At 1/2 an inch in diameter and 150 feet in length, this nylon, double-braided anchor line has a maximum breaking strength of 4,380 pounds, which makes it ideal for the average size deck or
pontoon boat
.
Construction: Double-braided
Material: Nylon
Norestar Braided Anchor Rope
Check price on Amazon
This Norestar nylon, double-braided anchor rope comes in diameters ranging from 3/8 of an inch for 27-foot boats up to 3/4 of an inch for 54-foot boats.
The 3/4-inch line has a breaking strength of 19,100 pounds, which means if you own a Pearson 39 sailboat, this is the anchor rope for you!
Construction:Double-braided
Material: Nylon
Miami Cordage Braided Anchor Rope
Check price on Amazon
This anchor rope comes in multiple variations of thickness and lengths from 1/2 an inch at 50 foot, up to 7/8 an inch and 600 foot.
This nylon anchor rope's thickest diameter has a breaking strength of 28,100 pounds, making it the ideal choice for large monohulls like the Swan 38. 
Construction: Double-braided
Material: Nylon
Editor's Choice
Better Boat Anchor Line  
Check price on Amazon - Better Boat Anchor Line is made of ultra-strong double-braided nylon. It's UV and abrasion resistant, flexible and won't fray.
With a diameter of 3/8 inches, this 100-foot rope has an 840-lb. working load and a 4,035-lb. breaking load for superior strength and durability.
It has a stainless-steel pre-spliced thimble and the unique feature of a reflective rope woven in with the regular rope. This makes your anchor line visible to other boaters.
Construction: Double-braided
Material: Nylon
 Get the Proper Anchor Rope for Your Boat
Whichever rope is the right choice for the waters and the size of your vessel, make sure to get the best for your money. You may never need to use it, but if you do, you want an anchor rope you can rely on in an emergency.
Featured Boating Product
Check Price on Amazon - For all-in-one ease, Better Boat's anchor kit comes with a fluke-style anchor, chain and anchor line. Choose the 8.5 lb for 15 to 24-foot boats or the 13 lb for 20 to 32-foot boats. It's suitable for fresh or saltwater use.   
My last bit of advice would be to opt for nylon ropes if you plan to sail in warmer climates due to their superior weather and UV resistance.
If you drop anchor regularly, remember that polypropylene rope is kinder on hands, has less tendency to stretch, better resists mold and mildew and floats.
So there you have it!  A rundown of the strongest anchor rope options, including a guide on what thickness and length to buy. Now it's over to you to choose wisely.
An anchor is only as good as the line it's attached to. Think anchor, think rope!