Anchor Down: The 5 Best Boat Anchors to Secure Your Vessel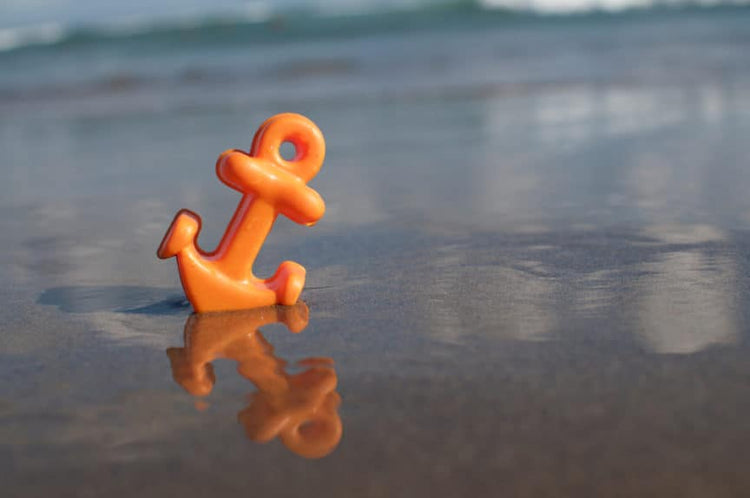 Whether it's a kayak, liveaboard trawler or pontoon boat, there's one thing every boat needs: an anchor and boat anchor line (Well, also a motor, but you get the idea).
Half the fun of boat ownership is all of the activities you can do and places you can visit. But doing these activities often requires anchoring, unless you want your boat to drift away as you snorkel with Nemo.  
The best boat anchor types reviewed here not only allow for fishing, diving and exploring small islands, but also provide safety, stability and ease of use. If you've slept overnight out on the open water, you'll appreciate the safety factors and staying power of a good boat anchor.
Must-have Features of the Best Boat Anchors
Obviously, a boat anchor needs to be heavy enough to hold your boat in place. But here are some other features that constitute a reliable and trustworthy boat anchor:
Durable material (galvanized steel / Grade 316 stainless steel / lightweight aluminum)
Compact storage
Rustproof
Non-magnetic
Adjustable shank or fluke angles
Factors That Determine the Type and Size of Boat Anchor to Use
When
choosing a boat anchor
, several factors need to be considered:
Size of the Boat: This one is pretty straight forward. Bigger boats need heavier anchors to hold the boat's weight in place. A small boat like a bass or jet boat needs a lightweight one.
Type of Waterway: You need a different size anchor depending upon whether you're in the open sea, on a small lake or cruising in a rushing river.
Type of Bottom:  Whether it's mud, sand, grass or rocks, the floor's sediment plays a major role in the type of boat anchor you need. For example, a sand or grass bottom would require a lighter anchor than one needed for a rocky bottom.
Wind and Weather Conditions: Consider the weather where you mostly go boating. If there's usually a heavy wind, you need a heavy-duty boat anchor and chain that stays secure!
Keep in mind that each factor needs consideration in connection with the other. For example, don't simply choose a type of anchor based on your boat's size. If you have a big sport fishing boat, but you always boat where there's a sandy bottom, you won't need as big of an anchor as you would with rocky bottoms.
Additionally, more than one anchor on board is a great idea!
Types and Styles of the Best Boat Anchors
From boxes and claws to flukes, grapnels and mushrooms, I was surprised at the variety of types and styles of
boat anchors
available. Here's a quick description of some of the most common boat anchors.
Kedge: That classic anchor you see in movies and as tattoos (think Popeye's forearm). However, while it's still used for large ships, the kedge anchor is highly impractical for the recreational boater.
Box Anchor (check price on Amazon): This type actually looks a bit like a box. It's good for pontoon boats, cabin cruisers and sport boats as well as offshore fishing boats up to 40 feet. Box anchors set quickly and adjust their position as the wind and boat move.
Fluke Anchor / Lightweight or Danforth (check price on Amazon): The fluke anchor is one of the most commonly used anchors. It has two sharp pieces, or flukes, that dig into the bottom. (Like a dolphin's fluke.) It stows flat and is excellent for small to mid-sized boats and pontoon boats. It's great for rivers and lakes with sandy or muddy bottoms, but not good in rocky or clay bottoms.
Grapnel Anchor (check price on Amazon): The grapnel anchor has a center shaft and four pieces that dig into the bottom for a great hold. One really nice feature is that the points aren't sharp to cause injury or scratches on your boat. It's used in lakes and rivers and folds up to stow flat.
Mushroom Anchor (check price on Amazon): The mushroom anchor is hard to miss. It's shaped like, you guessed it, a mushroom. It's used on rivers and lakes and is great for PWCs like kayaks, jet skis, Jon boats and even water toys like inflatable trampolines! It's best used in calm conditions. It stores easily and all you have to do is toss it over; no fussing with edges that don't dig into where they're supposed to.
Plow Anchors (check price on Amazon): Also known as Wing or Delta, the plow anchor is one of the most common types and shaped similar to a tractor plow. It can be either hinged and non-hinged, and it's good for almost any bottom, even hooking rocks! Plus, it makes a great anchor for a windlass.
The 5 Best Boat Anchors to Secure Your Vessel
From bass boats and cabin cruisers to trawlers, sport fishing boats and pontoon boats, every water-going vessel needs staying power. Even jets skis use anchors! Read on for an in-depth look at some of my top picks. 
Editors Choice
Check Price on Amazon - Better Boat's anchor kit comes with a fluke-style anchor, a chain with shackles and nylon line. It's made of hot-dipped galvanized steel, has a pre-spliced eyelet and provides a secure hold in high tide and harsh winds. Anchors are available in 8.5 lb. and 13 lb. to hold boats from 15 to 30 feet. 
Fortress Marine FX-37 Anchor
Check price on Amazon
The Fortress Marine Anchor FX-37 is made of lightweight but strong aluminum alloy. It's rustproof and has superb holding power. The points are sharper than heavier dull-edged anchors to set fast and go deep.
As it is easy to store, I find this type of boat anchor is great to have on board.
Manson Galvanized Supreme Anchor
Check price on Amazon
The Manson Galvanized Supreme Anchor sets in varying sediment and water bottoms immediately. The dual operation shank allows it to be used in rocky bottoms. Plus, it's reliable and has high holding power.
Greenfield 515-R Mushroom Anchor
Check price on Amazon
Made of cast iron, the Greenfield 515-R Mushroom Anchor is perfect for small boats, canoes, kayaks and jet skis under 16 feet. It can be used as a drag anchor when fishing in currents or as a secondary anchor to accompany heavier anchors on larger boats.
Designed for soft bottoms, this mushroom anchor is perfect for securing inflatable water toys in front of docks.
Slide Anchor Box Anchor
Check price on Amazon
The Slide Anchor Box Anchors sets in most bottom conditions. It's also easy to retrieve when you're ready to go, and it folds flat for easy storage. A great anchor for offshore boats up to 40 feet and cabin cruisers up to 32 feet.
Slide Anchor Spike
Check price on Amazon
The Slide Anchor Spike is a great choice for tying off on land from the bow of the boat. It comes available in both galvanized and stainless, but I would lean toward galvanized in case you ever need to stake beneath waters.
You can even use two of them to hold a tritoon on windy days with choppy water.
Additional Accessories for a Boat Anchor System
The Rode is what attaches to the anchor to toss it out or pull it up. It's either all rope, all chain or a combination of rope and chain.
Three-strand anchor rodes (check price on Amazon) are great for small boats. They're usually made of nylon and are lightweight, inexpensive and stow easily. Stowability is a factor to consider if you don't have an anchor windlass.
If you have a bigger boat, you'll want to go with a stronger rope/chain combo anchor rode (check price on Amazon) like an eight-strand. Eight-strand anchor rodes are more shock and abrasion resistant than the three-strand variety.
Anchor Windlass (check price on Amazon) A manual or electronic windlass is a great option (and an arm lifesaver) for a heavy anchor. It's basically a machine that pulls the anchor out of the water (and likewise, lowers it into the water).
Anchor Down a Boat Anchor?
Between the wind, the waves and the current, any boat is a moving vessel. And a top-quality
boat anchor
is an investment worth making. Have you picked out the best type of boat anchor for your boating life from this review?
---