Lone Star Lake Love: The Best Boating Lakes in Texas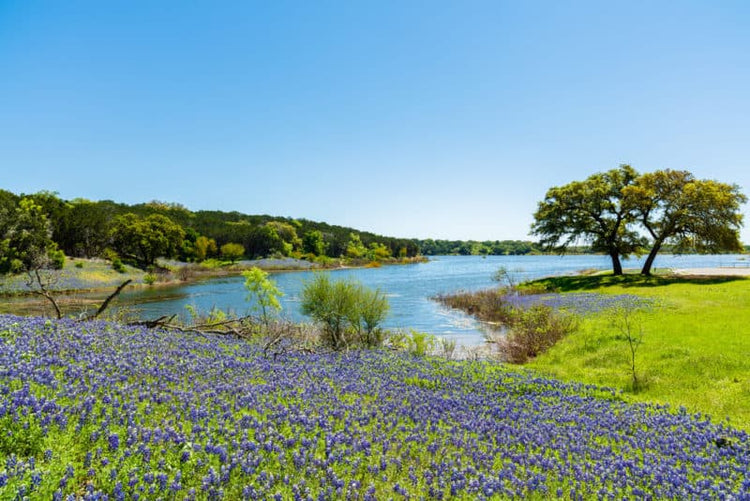 When it comes to boating, nobody messes with Texas!
While you might not think immediately of Texas as a great place to boat, I'm here to tell you otherwise. It is, in fact, one of the best places in the country to head out on the water.
Why? Well, a big part has to do with the weather. At the end of boating season, when most are flushing engines and winterizing their boats, Texans can enjoy a few more months.
In climates with generally warmer conditions, like Texas and other Southern states, it's easier to be consistently out on the water. The water is also typically warmer (and more pleasant to swim in). 
In the off-season, there's less of that summer rush. You avoid waiting hours in line simply to launch your boat. Don't get me wrong, Lone Star State Texans still love getting out on the water, it's just less hectic. I've been on other waters where summer's reserved for only a couple of months.
The Best Boating Lakes in Texas
In a state with so many options, where do you start? Texas has loads of lakes, with many of them being reservoirs, but it takes a certain magical combination to make this best-of list. 
When it comes to the best boating lakes in Texas, it's good to start with some classic tried-and-true options. That way, your time on the water isn't all for naught.
Based on their size, depth and what to expect when you're out on the water, these are my picks for the best boating lakes in Texas.
After exploring Austin, the state capital of Texas, why not check out some absolutely amazing bodies of water nearby?
Lake Austin is especially convenient because of its proximity to the downtown core (as opposed to Lake Lady Bird, which doesn't allow motorized boat traffic).
The majority of boaters you'll find on Lake Austin are those with pontoon boats, due to a healthy amount of rentals in the area.
What I'm going to suggest, though, is a different kind of boat. The best kind of boat for Lake Austin, in my honest opinion, is a bow rider. Bow riders have plentiful space, but are a bit more nimble when navigating the people who like to traverse Lake Austin.
Honestly, all you gotta do is glance at a map to see how beautiful it would be to boat on Lake Travis. From glistening blue waters provided by its limestone bottom to its massive amount of space (271 miles of shoreline, to be exact), this lake is both majestic and convenient for boaters of all stripes.
Due to its size and twists and turns, the best way to experience Lake Travis is by speedboat. Really, it can be any kind of boat with a bit of get-up-and-go in its motor. Whether you wanna feel the wind in your hair or jump on your trusty wakeboard, you can't go wrong with a speedboat on Lake Travis.
Need a getaway like a low-key fishing expedition? Look no further than Lake Granbury.
Situated southwest of Dallas, this lake's a bit narrow as lakes go. But this is what makes it perfect for fishing.
Other boaters, who seek wide open-waters for speed, tend to stay away from these thinner lakes. Large-mouth bass, catfish, crappie, white bass, striped bass and sunfish ... you'll find them all here and in large supply!
This lake is the kind of place where you can toss out an anchor, kick back, relax and take some time for yourself. Lake Granbury is also surrounded by the kind of picturesque Texas landscape you've likely dreamed about.
We had to include Lake Lewisville. Not only is it beautiful, but it's super accessible for anyone looking to make the trip.
Located in North Texas, near Dallas, you'll find 29,000 acres of crystal clear waters and loads of wildlife (as well as ample fishing).
If you simply want a relaxing day out on the water, whether on your deck boat or your pontoon boat, you can't go wrong with Lake Lewisville. After a long day, you can just as easily bust out your jet skis as your rods and reels. It'll be sure to make your day that much better.
The choice in how you relax on the water is up to you, which is what makes Lake Lewisville one of the most versatile and best boating lakes in Texas.
The first feature you're likely to notice about Lake Texoma is its size. It's absolutely huge!
One of the United States' largest reservoirs, Lake Texoma sits directly on the border of Texas and Oklahoma. For this reason, it's the kind of place that suits boaters of all kinds.
Due to its size, Lake Texoma is great for sailboats. You're likely to find more tall sails fluttering in the breeze than any other type of boat, although you'll definitely find your fair share of pontoons and fishing rigs. Why? Because Lake Texoma also offers some of the best fishing in the region, too.
Often considered "the best lake in East Texas," Lake O' The Pines makes up 16,919 acres surrounded by pine trees and is an underrated gem. Being here truly makes boaters feel like they've escaped from it all.
This is another great example of what makes Texas boating great: You can feel so far away from the hustle and bustle, while still having the creature comforts of the big city.
The best part about Lake O' The Pines is just how under-the-radar it is (for now). That's why a nice, large deck boat would feel at home on these waters. You have so much room, you can truly relax in style and enjoy your time without having to deal with hundreds of other boaters.
Situated along the United States and Mexico border is Lake Amistad. Just about anyone who's ever visited will tell you how spectacular it is. The beautifully-steep canyon walls will simply take your breath away. Not only that, but Lake Amistad is a renowned spot for fishing and boating all year round.
Lake Amistad is the perfect spot for a fishing trip, or to simply find a cove and jump right in. The open waters here make it one of the most family-friendly lakes in Texas. 
Featured Boat Care Product
Check Price on Amazon - Better Boat's anchor kit comes with a fluke-style anchor, a chain and anchor line. It keeps your boat secure in sand or mud and fresh or saltwater. The anchor is made of galvanized steel and available in an 8.5-lb. or 13-lb version for 18 to 24-foot boats. 
Get Out On The Water Today
Ready to tackle any number of these best boating lakes in Texas? I hope this collection helped you feel a bit more inspired to explore a bit more of what this Lone Star State has to offer.
Texas is beautiful. There's also plenty of space, friendly folk and delicious food! On top of all this, the weather's almost always beautiful, which makes boating much more pleasurable and the boating season much longer.
If you live and boat in colder climates, perhaps planning a road trip down south should be on your horizon. Whether you plan a visit in spring, summer, winter or fall, chances are you'll find an opportunity to grab your tackle, toys and tubes, and the whole family for some fun out on open waters.
As they say, everything's bigger in Texas. And this definitely includes your boating options.
---