Cool Factor: Discover the Best Floating Coolers for Lazy Summer Days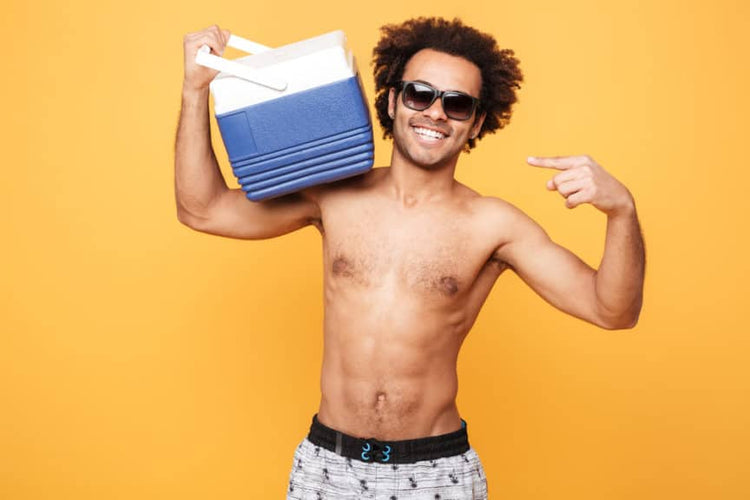 Wish you never had to leave the water to wet your whistle? I've found the solution! 
Life on the water was always fun, but it was missing something. That is... until I discovered an amazing summer boating tip.
I mean, wouldn't it be convenient to reach for refreshing, ice-cold beers and sodas without ever leaving the water? Of course it would!
And in this post, I'm going to discuss floating cooler features and introduce some of best floating cooler models you can buy so that on lazy summer days, the only finger you have to lift is to pop a tab or cap.
Why You Need a Floating Cooler
Who doesn't love something that floats? A floating cooler has a whole host of benefits you can use when you're out on the water.
Convenience: If you've dropped your galvanized steel anchor out in the water and are looking to relax, there's nothing worse than having to hop back up out. If you have a floating cooler close by, it's that much easier to get refreshed.
Portability: Just like a regular cooler, a floating cooler is super easy to carry around (most of them weigh no more than 10-15 pounds).
Affordability: The price point is perfect, particularly the inflatable variety, which means that everyone can enjoy the luxury.
The Cool Factor: Floating coolers are typically made with insulation, helping keep beverages cooler and preventing leaks all along the way.
| | |
| --- | --- |
|      |  Wax Applicator Set |
Check Price on Amazon - Better Boat's wax applicator set includes three microfiber wax applicators, two foam wax sponges, a plastic handle, two large buffing cloths and a storage bag. Use to apply polish, wax, sealant, cleaner and even auto wax.  
The Most Important Floating Cooler Features
So, when it comes to the absolute best summer coolers, you need to consider how these floating coolers are designed and which ones are the best.
Built-in Cooler: The built-in style is where the cooler is built into the floating mechanism. While it's a bit more cumbersome (as one piece that can't be taken apart) it's also sturdier. An inflatable raft-like floating device that simply supports any average cooler has the potential of tipping and plunging everything, drinks and all, into the watery depths. It also has a harder time keeping ice cool if left open or out in the sun.
Size and Weight: Obviously, the lighter the better, but no more than 15 pounds (empty) is ideal to carry around and to keep in the water. Anything heavier and you might have to go fishing for your cooler if it got ripped or deflated.
Capacity Typically, 20-30 quarts is a sweet spot, enough for around 12 drinks, ice and maybe a snack or two (or, if you fish, a place to keep your catch on ice).
Assembly/Inflation: Hard-cased coolers obviously require no assembly, whereas inflatable versions need a pump. Most don't come with them, though, so having one you can trust is important (more on that later). Hard-cased versions are typically sturdier, albeit more expensive. Inflatable coolers are the exact opposite; cheaper yet prone to rips and tears. 
Cool Factor: Discover the Best Floating Coolers for Lazy Summer Days
To make this list of the best floating coolers truly comprehensive, I broke it up into two styles. First, let's cover some of the best hardcase floating coolers. Then, we can launch into the inflatable style.
Here are the best coolers to consider for your summer boating adventures.
Hardcase Floating Coolers
Byers 1700 Big Bobber Floating Cooler
With its own built-in handle, I was surprised at just how light this hard case cooler was. This is definitely one of the most convenient options for those who like to stay hydrated, with the ability to hold around 12 cans.
It works just like a fishing bobber, bobbing to stay upright in choppy waters.
Size/Weight: 14 x 14 x 15.8 inches / 4.5 lbs.
Capacity: 12 cans plus ice
Extra Features: Built-in handle, stylish design
CreekKooler Floating Cooler
Check price on Amazon
As a kayaker, I'm a huge fan of this option. This cooler is perfect to pull along on your journeys and is designed to hold up well in both still and choppy waters (particularly on lakes) while paddling along.
The four cup holders are a convenient touch. Overall, you can comfortably fit both ice and drinks in its container. It has 48 hours of cooling retention.
Size/Weight: 39.5 x 21 x 12 inches / 19 lbs.
Capacity: 30 quarts
Extra Features: Tight lid, tow-behind handled straps
Yeti Roadie 20 Cooler
Check price on Amazon
Definitely on the pricier side, Yeti is one of the premier cooler manufacturers in the country. A little known fact about them? They float.
That's what makes the Yeti Roadie one of the best floating coolers on the market. It's airtight and able to float without worrying about getting water in or out.
Size/Weight: 19 x 13.75 x 14.25 inches / 15 lbs.
Capacity: 20 quarts
Extra Features: Extra-thick insulation, heavy-duty latches
TRC Recreation Super Soft Folding Cooler
Check price on Amazon
This floating cooler is another fantastic pull-behind option for kayaks and smaller boats. With durable vinyl coating and thick foam to keep up to 18 drinks cold, the heavy material is especially helpful and makes this cooler feel particularly sturdy while
paddling
in the water (especially in rough waters).
Size/Weight: 23 x 17 x 9.5 inches / 6 lbs.
Capacity: 18 beverages with ice
Extra Features: Cup holders, neoprene layer
Inflatable Floating Coolers
Intex Mega Chill II Floating Cooler
Check price on Amazon
I'm a big fan of this cooler. For the price, it's a great deal as far as inflatable coolers go. It has a solid vinyl construction with built-in cup holders for convenience.
This is a great option for any boater, especially if you're looking to stop and splash around for a little bit.
It's also multi-functional, with an open ice chest large enough to put your own cooler inside. It also comes with handles and a repair kit for hole mishaps.
Size/Weight: 48 x 38 x 24 inches / 7.4 lbs.
Capacity: 48 quarts
Extra Features: Cup holders, safety grips
Bestway H2OGO! Glacial Sport Cooler
Check price on Amazon
I really like this model for a day at the lake. On the taller side, it performs well in calmer waters, but the depth of this cooler truly keeps beverages cool. It also includes safety valves to protect against sudden rips or other accidents.
This is a fantastic floating cooler for those who love to entertain out on the water.
Size/Weight: 34.6 x 26.4 x 20.5 inches / 2.75 lbs.
Capacity: 50 quarts
Extra Features: Safety valves, cup holders
Summer Waves Infinity Cooler
The more stylish choice for the outdoorsy type, this "Mossy Oak" camouflaged inflatable cooler is a hit with fishing enthusiasts. Complete with cup holders and three air chambers to keep it cool for many hours, this floating cooler is perfect for a whole day out on the water.
Size/Weight: 38 x 33 x 17.5 inches / 3.9 lbs.
Capacity: 3 12-packs and 20+ lbs. of ice
Extra Features: Repair patch, cup holders
World of Watersports Heavy Duty Floating Cooler
Check price on Amazon
You'll never lose track of this eye-catching floating cooler. While it looks more suited for a pool party, the vinyl construction and insulation are perfect for an afternoon on the water. It also comes with a grommet, which makes it easy to attach to a dock or the boat while you're
anchored out
.
Size/Weight: 38 x 33 x 17.5 inches / 3.9 lbs
Capacity: 30 quarts
Extra Features: Cup holders
Must-have Floating Cooler Accessories
Once you decide on the best floating summer cooler for you, consider some accessories to make it faster to fill and easier to repair. This might include:
Air Pumps: This is essential if you want a lower-cost inflatable model, especially so you can enjoy the water that much longer, instead of blowing it up yourself. I recommend the JIFAR air pump
Repair Kits: Most repair kits like this O'Brien Tear Aid Patch Kit (check price on Amazon) come with a repair patch or two. It's important to have these around, just in case your cooler comes in contact with a rock, fishing hook or even a bottle opener.
Get Your Floating Cooler This Summer!
I hope this list has helped you discover and narrow down the best floating summer cooler for your needs. You have tons of cooler options when it comes to storing refreshments and beverages. But a floating cooler is a fantastic idea that's sure to take your boating to the next level.
Now go enjoy the lazy days of summer!