13 Exceptional Southern Lakes for Boaters to Explore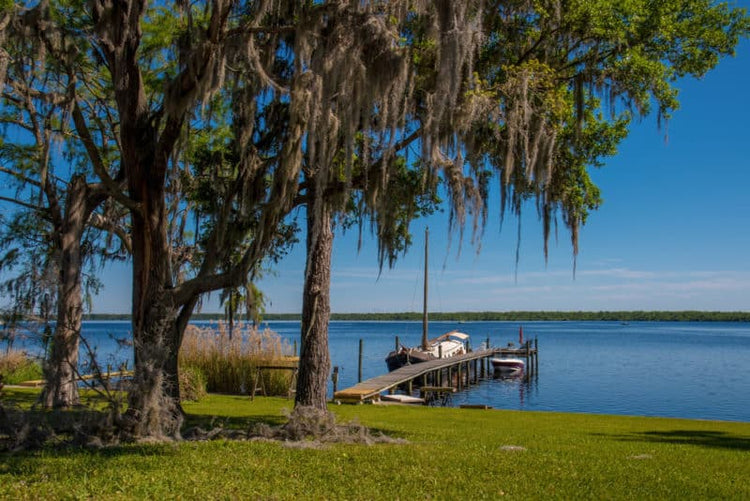 Come on down, the water's fine! Honestly, there's nothing quite like boating in the south. Georgia, Florida, Texas, Arkansas, Louisiana and more—they all have their own unique culture of boating that makes them hard to miss out on.
Not only that, but the beautiful weather (almost all year long in some states) makes it perfect for a trip at any time. I've spent a lot of time boating in the south, specifically in the Sunshine State.  
I can tell you that it's an experience like nothing else. There's such a vast assortment of lakes and they're all so unique. You can travel the entire region and see something new in each state.
13 Exceptional Southern Lakes for Boaters to Explore
When it came to thinking of some of the best lakes, I definitely needed to consider a few factors. Sure, size and popularity are important, but if you want to really enjoy your time boating you need to have something special.
That's why this list includes some other factors: The kinds of activities you can find, maybe the types of fish that inhabit the area, or some of the unique things that make each of these lakes truly breathtaking. These lakes aren't just great, they're unforgettable.
Beautiful West Virginia is known for its scenic landscape and its down-home charm. That's why the best place here to go boating has to be Sherwood Lake in Greenbrier County. It reflects so much of what makes West Virginia so endearing.
It's a great spot for smaller boats or those who simply like to take things a bit easier.
The Best Part: Take a look around! When you're at Lake Sherwood, the ambiance has to be the best part. It's peaceful and simply more relaxed. If you're more of the low-key type, you're going to love it here.
2. Philpott Lake, Virginia
I really love a lake with a lot to offer when it comes to sights. That's because when you're dealing with smaller bodies of water, it helps to be wowed by what's around you.
Philpott Lake in Virginia is no exception. Right at the base of the Blue Ridge Mountains, this southern lake's mountain landscapes will take your breath away.
The Best Part: Philpott Lake is great for water sports. This is an ideal location for those who like to go water skiing and tubing, and it's a great swimming location for those who simply like to jump in.
Interested in a weekend of fishing? High Rock Lake might be one of the best places in the country for bass.
Tucked away near Lexington, North Carolina, and stretching over 300 miles of shoreline, this is the spot you need to enjoy if fishing is up your alley.
The Best Part: It's not just about fishing! Families with young children, or those looking to entertain, can definitely find something to do up at High Rock Lake. Due to its size, it's a great spot for pontoon and deck boats, too.
4. Lake Hartwell, Georgia & South Carolina
Right on the border of Georgia and South Carolina, locals from both states will tell you that Lake Hartwell is one of the best lakes in the area (maybe even the country).
Encompassing 56,000 acres, one of the most popular activities at Lake Hartwell is fishing. Bream, catfish, small mouth bass and striped bass can all be found in this lake's generous waters.
The Best Part: Lake Hartwell is a summer destination for locals and tourists alike, but the vast amount of space means you can enjoy a peaceful day exploring the different creeks and islands that make up the area. It's scenic and peaceful, while still being equipped with lots of opportunities to fish, water ski and even more. It's the whole package!
One of the most defining aspects of the south has to be the mountain ranges of North Carolina, Tennessee, the Virginias and Kentucky. Did you know, though, that tucked away in those mountains can be astonishingly beautiful lakes?
Dale Hollow Lake is the perfect example of that majesty, situated amongst beautiful cliff faces and perfect for boaters!
The Best Part: If you're going to be visiting Dale Hollow Lake, you'd better be prepared for a day of adrenaline! This lake is perfect for water skiing, tubing and just about anything that requires a bit of extra horsepower. If you're out with the family and looking to feel the wind in your hair, this is one of those southern lakes you can't afford to miss.
Just like Kentucky, Tennessee is known for the beautiful Appalachian mountain range, which is why one of the best areas for boating in this southern state has to be Norris Lake.
Tucked away right in the foothills, anyone in the Volunteer State will tell you that Norris Lake is the perfect summer hideaway for boaters who appreciate the finer things like crystal clear waters and excellent fishing.
The Best Part: It has to be the beautiful cliff faces and natural wilderness that surrounds the area. When you're spending the day at Norris Lake, it's easy to forget your troubles and give in to the calm waters of this glistening reservoir.
Featured Boat Care Product
| | |
| --- | --- |
|     |  Boat Soap keeps your boat sleek and shiny no matter where you are in the world. |
Check Price on Amazon - Better Boat's boat soap removes dirt, dust and grime from the bow to the stern and the hull to the flybridge. Use a boat hose and nozzle to get a spick and span clean. It's 100% biodegradable, rinses away residue-free and won't harm the marine environment. That's a win/win for everyone. 
7. Lake Burton, Georgia
Folks who live in Atlanta know that Lake Burton is one of Northern Georgia's best-kept secrets. All it takes is one look to know that this is kind of place that you can spend the day without worry.
Perfect for boaters who are more into leisure, I can already imagine bringing a pontoon or a deck boat here and just spending the day catching some rays and enjoying the landscape.
The Best Part: If the mountains don't get you, the sunsets might. And if those don't work than the famous Fourth of July celebrations that take over Lake Burton are reason enough to come on down.
For a state where you're never more than 60 miles from the beach, you might assume the majority of Florida boating is either done on the Atlantic Ocean or the Gulf of Mexico.
Lake George has to be one of my favorites ever for a leisurely day out on the water. The shallow and brackish lake itself is fed by the St. John's River, which actually has its own unique collection of springs (Silver Glen Springs) within shouting distance from Lake George. 
The Best Part: Besides the springs, which are perfect for tossing out an anchor and jumping in for a quick dip, Lake George is a fantastic place for stretching out and enjoying an easy day out on the water. It's a great place for families and children because the water's never so deep that it feels threatening for novice swimmers.
Divided by the Tennessee River, Joe Wheeler State Park is a dream in Alabama. You can go fishing for fresh catfish, take your sailboat out for a spin or simply enjoy the ambiance of one of the state's most distinguished state parks.
The Best Part: The fishing at Joe Wheeler State Park is top notch, but there's also a selection of beaches to dock and let the kids have a little bit of fun. It's a very family-friendly locale for boating families. And the southern weather means there's rarely ever an off day!
While Missouri is a Midwestern state, it was once part of the Old South and still considered southern by some. When you're in Missouri, you have to visit Lake of the Ozarks.
It's more of a rite of passage than anything else down south, and the most unique feature about this lake has to be its shape. This reservoir almost looks appears like a river on a map, which makes it great for a leisurely boat trip - without feeling like you're stuck in one place all day long. It's a great place to take the family!
The Best Part: While you can definitely come here during the summer, the Lake of the Ozarks is especially beautiful in the fall. Thanks to its winding shape, it makes for a truly stunning adventure as you enjoy the changing of the leaves. It's almost like you're all the way up north in a place like Vermont while still being on the water!
First things first, Lake Ouachita is Arkansas' largest lake, so you know it's got to be the destination for boaters across the state. Featuring 40,000 acres of water, this lake is especially beautiful because it's completely surrounded by the Ouachita National Forest.
While it might lack in amenities like restaurants and shops, you can instead focus on what matters most: boating.
The Best Part: Swimming, skiing, fishing - you can run the whole gamut of activities on Lake Ouachita! The thing that most folks will tell you about this lake is just how tranquil it feels, even though it's one of the state's biggest attractions, it still feels like a private getaway all its own.
It wouldn't be the south without Louisiana. In keeping with that, Lake Martin is a body of water that truly encapsulates how it feels to boat in this state.
What you'll find here is a swamp bayou like no other. The Cypress Island Nature Preserve is filled with loads of wild animals (including alligators!) and lush wildlife. This is a sightseeing trip you won't want to miss.
The Best Part: Lake Martin really encapsulates a sense of adventure and wildlife. If you're more in the mood to explore and discover more about your country, then taking the trip down to Louisiana needs to be at the top of your list.
13. Caddo Lake, Texas & Louisiana
This might be something of a double dip as it includes both Texas and Louisiana. But Caddo Lake is known for encompassing so much of what makes the best southern lakes so special.
You have a wild sense of exploration, amazing plant life and animals, loads of public boat ramps, fishing opportunities galore, and a state park close by to add a sense of ambiance to the whole affair.
The Best Part: It has to be the fish! If you don't have your own boat, Lake Caddo offers many opportunities to rent low-key fishing boats to catch yourself a bass, crappie or sunfish. It's the perfect place for fishing all year long!
Explore The Best Southern Lakes Today
I can talk about lakes in the south until the cows come home, but the real way to experience it is to visit them for yourself. Whether you need to have a relaxing day with the family, want to go on an adventure, or simply want to feel that sense of exploration and immerse yourself with wildlife.
What I want to emphasize is this: Not only are these lakes perfect for a wide variety of activities, but each is like their own hidden gem loved by locals. When you come here, you get the chance to immerse yourself in the local southern hospitality culture and become part of a tradition that people have loved for generations.
Ready to get started on your next boating excursion? The Southern United States is a great place to start with its wide assortment of lakes that will make your next trip one to remember.
Pack your bags, prepare your rig, toss off the dock lines and get ready to have some fun!