Different Strokes: The Best Kayak Paddles for the Smoothest Ride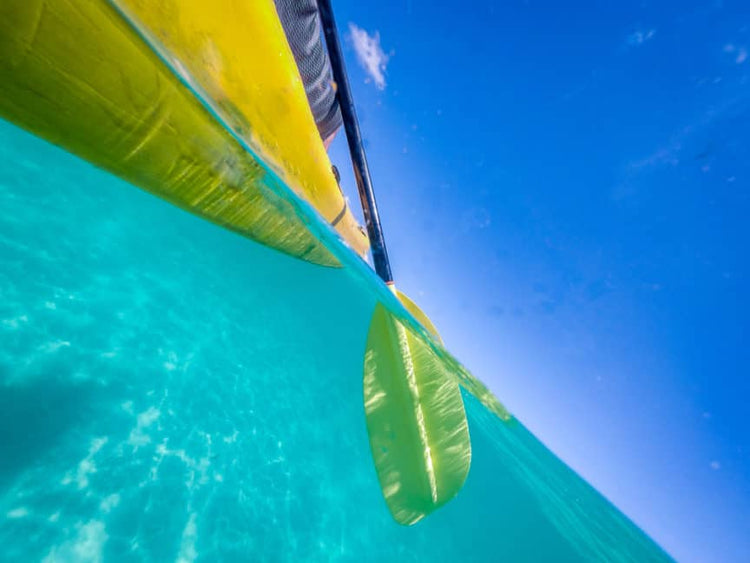 Did you know a paddle can make or break your kayak's performance?
I meet plenty of folks who take great pride in their kayaks. Adventurers who boast even rocks couldn't scratch their kayak. Fishers who are adamant their vessel doesn't make a single ripple. And boaters who claim they splice water like a hot knife through butter.
Rarely, though, do people brag to me about the quality of their kayak paddles. Most consider kayak paddles as a handy accessory, simply an add-on for their overall kayaking investment. This assumption is what makes them a severely underrated tool.
In this post, I want to talk a little bit about paddles and how they're constructed.
Lastly, I'll break down five of the best kayak paddles you can invest in today.
What Features Make the Best Kayak Paddles?
Your kayak's performance can be greatly improved with a well-suited paddle. But what makes the best kayak paddle for you? Let's start by discussing some major features:
Blades
Bar/Shaft/Ferrule
Material Weight
Overall Length
If you look at kayak paddles, you might take much consideration into these four features, but their simple engineered designs are truly the key to an effortless paddling experience.
The Best Kayak Paddle Blade Shapes
Blades come in all shapes and sizes. However, it's important to hone in on certain considerations. To cut to the chase, consider a blade with these main components:
Asymmetrical: Shorter on one side than the other, this design is better able to cut through the water.
Dihedral: Like a speed bump through the middle, a dihedral blade better manages water flow.
Another big-picture consideration is going to be whether you need narrow or wide blades. For that, I would consider the purpose of your trip.
Narrow Blades: Better for long-haul trips. On a fishing trip or spending time on a lake/smaller body of water, you want finesse. Therefore, narrower blades help you make way (without startling away fish in the process).
Wider Blades: Best for short bursts of power or making a quick trip downriver.
There's also a question of angles. If you have kayak paddles at a higher angle, they need to be able to reach the water effortlessly, while lower-angle paddles need to hit the water at the right angle (without dipping too deep and causing you to flip over entirely).
The Best Kayak Paddle Shafts and Ferrules
When it comes to your paddle's shaft, this is more about the style of your stroke. The two main choices are:
Straight Shaft Paddles: Exactly as you would imagine, a straight shaft is simply one long line.
Bent Shaft Paddles:  Kinks and depressions to allow various hand positions.
Some folks tell me that a bent shaft is perfect for reducing wear and tear on your body, as it's much more comfortable.
On the other hand, some folks say it feels weird and causes an unwanted change in their stroke. Really, it's all about comfort and how you feel using them.
Traditionalists like a straight design, while bent is more appealing to the contemporary white water kayaking crowd.
Another handy feature to mention is that most paddle shafts can be broken down into convenient and storable pieces, typically two to four. This makes it easier to break down and ensures both compact and safe storage.
The Best Kayak Paddle Materials
A general rule in kayaking circles: the heavier your paddle, the shorter time you're out on the water.
Consider the materials used for your kayak paddles. Lighter materials will definitely cost you, so you also might need to consider a combination of materials to meet your minimally acceptable level of comfort.
Here are the primary materials available for the best kayak paddles:
Plastic: A bit of a catchall term, plastic kayak paddles are where you will find affordability. However, these are the paddles you'll likely find at any kayak rental dock. They're super utilitarian and easy on the wallet, but it won't do your stroke any favors. 
Fiberglass: Somewhere in the middle, fiberglass is a great and practical option for a bit more price-conscious folks. They're good in the water and are what I typically carry on my paddling adventures.
Carbon fiber: Want to feel fancy? Carbon-fiber blades make excellent paddles as they're super light. Choose carbon fiber when you want to zip along the water. When true performance matters, carbon-fiber paddles are what you need, regardless of their price tag.
The Best Kayak Paddle Length
How do you know if a paddle is right for you? It's all about proportions. Taller paddlers and wider kayaks require longer paddles.
Most paddles offer their own size specifications, but it helps to know both your personal measurements and those of your kayak. From there, you can get a general idea of what paddle length is good for you.
Based on a person's height and kayak width, here's a basic breakdown of the paddle length you need:
Under 5 ft | 210 - 240 cm
From 5 ft - 5 ft 6 in | 215 - 240 cm
From 5 ft 6 in - 6 in | 220 - 250 cm
Over 6 ft | 220 - 250 cm
Aim somewhere between 220 to 250 centimeters for the sweet spot for most all heights. That said, if you're unsure at all where to start, it helps to err on the side of shorter. If your paddles are too long, for either you or your boat, you simply won't get the same power and you'll be in for a miserable ride.
The Best Kayak Paddles for the Smoothest Ride
Carlisle Magic Kayak Paddle
Check price on Amazon
This kayak paddle is a great middle-of-the-road option for the casual paddler who wants to get the most out of their kayak without breaking the bank.
Built to last with fiberglass construction, it also features an asymmetrical blade shape that propels your vessel through the water with ease. I'm also a big fan of the spoon-like wide blade design, which makes it much easier for folks newer to kayaking to generate power effectively.
Shaft Style: Straight
Pieces: Two
Length: 220/230/240 centimeters
Key Feature: Fiberglass construction
Werner Camano Premium Kayak Paddle
Check price on Amazon
This is one of the absolute best kayak paddles with a dihedral blade design. I fondly recommend this Werner for fishing, in particular.
It's a lightweight carbon fiber blend with a traditional design that offers adjustable ferrules to get a custom feathered angle for your experience.
Shaft Style: Straight
Pieces: Two
Length: 220 - 240 centimeters
Key Feature: Dihedral blade
AQUA BOUND Sting Ray Kayak Paddle
Check price on Amazon
Now, this paddle is a prime example for kayakers who enjoy larger bodies of water. Featuring top-of-the-line construction, it offers carbon-reinforced blades and a fiberglass shaft.
It also breaks into two pieces, which can be easily feathered in 15-degree increments to suit your paddling style without wearing yourself out.
Shaft Style: Straight
Pieces: Two
Length: 210 - 240 centimeters
Key Feature: Carbon fiber
Airhead Kayak Paddle
Check price on Amazon
This is the best kayak paddle when it comes to being affordable without sacrificing quality. Featuring an asymmetrical design as well as fiberglass blades, this paddle will help stabilize any user's stroke.
One handy feature for casual kayakers is that it easily breaks into four pieces, making storage a breeze (without worrying about potential damage or simply taking up too much room).  
Shaft Style: Straight
Pieces: Four
Length: 220 centimeters
Key Feature: Compact storage
AQUA BOUND Tango Kayak Paddle
While some traditional paddlers are fans of a straight shaft design, like me, others enjoy a bent shaft kayak paddle. And one of the best kayak paddlers with a bent shaft is this Aqua Bound Tango.
The overall design makes it super comfortable to kayakers of all kinds, which is due in part to lightweight fiberglass blades and a sturdy carbon shaft.
Shaft Style: Bent
Pieces: Two
Length: 230 centimeters
Key Feature: Fiberglass construction
Extra Accessories for Your New Kayak Paddle
Find the best kayak paddle for you! And when you do, consider a few accessories to bolster its performance: 
| | |
| --- | --- |
|     |  Telescoping Paddles are handy for an emergency if you happen to lose a paddle. It has a high-impact plastic blade and a durable aluminum shaft with a T-grip handle.  |
Check Price on Amazon - Better Boat's mini telescoping paddle is an excellent item to have on hand. Portable, lightweight, durable and compact, it telescopes from 18" up to 35". Along with air horns and first aid kits, it's a great idea to keep one on board your boat, kayak, canoe, jet ski or dinghy. 
Get Paddling Today!
Kayak paddles can truly make or break your experience on the water. But by paying close attention to length, shaft style and materials, you're sure to find the best kayak paddle for you.
No matter your needs, a proper kayak paddle makes a world of difference.