The Ultimate Low Down On Sit-On-Top vs. Sit-In Kayaks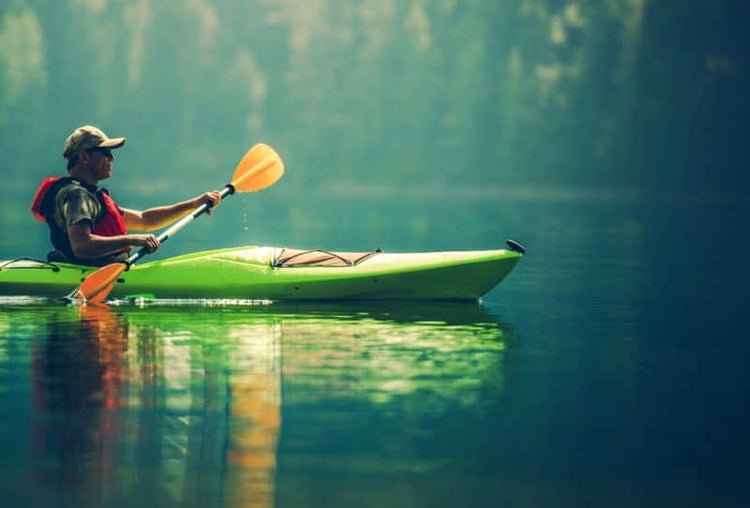 Ah, that age-old question: Which is better, sit-on-top or sit-in kayaks? It's a particularly wrenching debate for me, as I own both types - Both a sit-in touring Old Town Castine 140 (check price on Amazon) and a sit-on-top Ocean Kayak Malibu Pedal (check price on Amazon) rest beside my house.
I have nothing but high regard for both these specific yak brands and, in general, for the two different kayak styles.
Okay, maybe "wrenching debate" is hyperbole. But when it comes to sit-on vs. sit-in kayaks, the question isn't which type is inherently better, it's simply a matter of which kayak's better for you and your needs.
To help you decide, we'll look at all the positives as well as the few drawbacks to both sit-on-top and sit-in kayaks.
A Good Look at a Great Vessel: The Sit-In Kayak
Sit-in kayaks have existed for centuries and remain wildly popular today. The Inuit and other natives of far northern regions used them to hunt and travel.
Today, adrenaline junkies use sit-in yaks to charge down white water rapids. Heck, some people even use sit-in kayaks as part of their daily commute to work!
For our purposes, we'll be focused on touring solo sit-in kayaks, not on the shorter river yaks meant for running rapids or on tandem sit-in kayaks, which are relatively rare.
Sit-in kayaks are excellent boats for all sorts of recreation. They allow for easy distance travel and often have plentiful storage space, which allows paddlers to use them during multi-day river camping trips or along the coast.
As they're also swift and nimble, sit-in yaks make for some great exercise, providing plenty of arm, chest and core workouts. And of course, they're great for cardio exercise, too.
Sit-In Kayak Advantages
Sit-ins offer many advantages and are great for lots of reasons. But here are five of their main highlights:
Great for distance travel: You can log the miles thanks to how swiftly these boats move once you've mastered the art of paddling (hint: use your core).
Easy to maneuver: Turn a nimble sit-in kayak on a proverbial dime, making them a great choice for use in busy bays or harbors.
Lots of storage space: Most sit-in touring kayaks offer boaters plentiful dry storage compartments built into the hulls. This is helpful for things like snacks, drinks, cell phones, sand anchor spikes, lines and more.
Inherent stability: Once you're seated in a sit-in yak, you'll feel stable and balanced at once. Tipping over or falling out takes serious work. but it can be done, so be careful anyway.
Lightweight construction: Most modern sit-in yaks are made of blow-molded plastic, making them lightweight enough for one person to move around out of the water, especially with a foldable kayak cart (check price on Amazon).
Sit-In Kayak Disadvantages
All this good stuff and more aside, sit-in kayaks are not the right vessel for everyone. Here are three reasons you might want to look at sit-on-top yaks instead:
Inadequate for fishing: A sit-in kayak's cockpit limits the range of motion needed for proper casting and reeling. Not to mention they're also not conducive to storing fishing rods and tackle boxes. 
Hard to launch: Unless you have a dock, or better yet a dedicated kayak launch, getting down into sit-in kayaks is much harder than simply hopping atop a sit-on. Launching from a beach requires wading out a ways, and dropping in from a river bank or off a larger boat poses some risk of ending up in the drink.
Hop On Top: The Sit-On-Top Kayaks
There's plenty to love about sit-on-top kayaks, but perhaps my favorite point to make is the sheer diversity of this type of vessel.
Some sit-on kayaks can hold two or even three paddlers. There are sit-on-tops designed expressly for fishing.
Paddlers can even find sit-on-top kayaks with foot-driven pedaled propellers made for zipping and cutting through the waters. Some sit-on kayaks are great for photographers, hunters and, of course, people just looking for a fun outing.
Rather than rambling on as I easily could, let's look at five highlights of the sit-on-top kayak.
Sit-On-Top Kayak Advantages
Sit-on-top kayaks are perfect platforms for people who wish for enjoyment from all sorts of aquatic activities, especially with a buddy or two.
Ideal for multi-person use: Sit-on kayaks can support hundreds of pounds of weight. Many are rated safe for 500 or more pounds, so they're great for tandem use.
Easy customization: Many great sit-on kayaks can be modified to suit your wants and needs, with accessory mounts for fishing poles, GPS devices or cameras, rudders and even motors.
Great for fishing: Sit-on kayaks allow an excellent range of motion during casting, trolling and reeling. Many sit-on yaks are specifically molded for anglers and even have built-in rod holders that do much of the work for you. A variety of angler kayaks (check prices on Amazon) are available for kayak fishing.
Easy to board: With a sit-on-top kayak, there's no cockpit to lower down into. Instead, you just hop on, which makes mounting from the dock, beach or even a pontoon boat easier and swifter.
Pedal and rudder options: Many sit-on kayaks have foot-driven pedals and hand-operated rudders. An installed rudder means more speed, greater control and an excellent full-body workout.
Sit-On-Top Kayak Disadvantages
Well, you knew this was coming. Let's just be honest with ourselves, because while
fun in the sun
in most ways, sit-on kayaks have their drawbacks just like anything else.
Not great in rough water conditions: Woe be it to the person who tries to run whitewater in a sit-on yak. In fact, even relatively light ocean chop or swift river currents can make a paddler atop a sit-on yak second-guess his or her choice of vessel for the conditions.
Very heavy out of the water: I'm a decently strong 6'2 guy, however even I still struggle to move my pedal yak from the side of the house to the driveway, and then lift it onto my car rack. Whereas with my sit-in kayak? I can carry that one a hundred yards and launch away without breaking a sweat. Okay, some sweat.
Featured Boat Care Product
Check Price on Amazon - Better boat's boat soap cleans your boat, kayak, RV and even pots and pans to a sparkling finish. It quickly and efficiently washes away dirt, mud, grease and grime. Rinse off with a hose and nozzle for a residue-free and non-slip finish.
Which Should You Choose: Sit-On-Top or Sit-In Kayak?
At the end of the day, the right kayak for you is the one best fitted for your frequent water sports activities.  
If you're a camper who ventures out on multi-day paddling trips, you're gonna sway toward a sit-in kayak.
If you're a fisherman who needs the bells and whistles of rod holders, you're gonna want a sit-on-top yak.
If you're going to kayak commute, get a sit-in.
If you wanna bring the kids along, a tandem sit-on kayak is the best way to go.
And if you just can't make up your mind ... well, hey, get one of each like I did!
While a good kayak isn't cheap, with proper care, maintenance and cleaning with boat soap, vinyl protectant and a top-notch de-salt concentrate, it should last many years. It's worth it.