Whip It Good: The 7 Best Boat Whips to Secure Your Vessel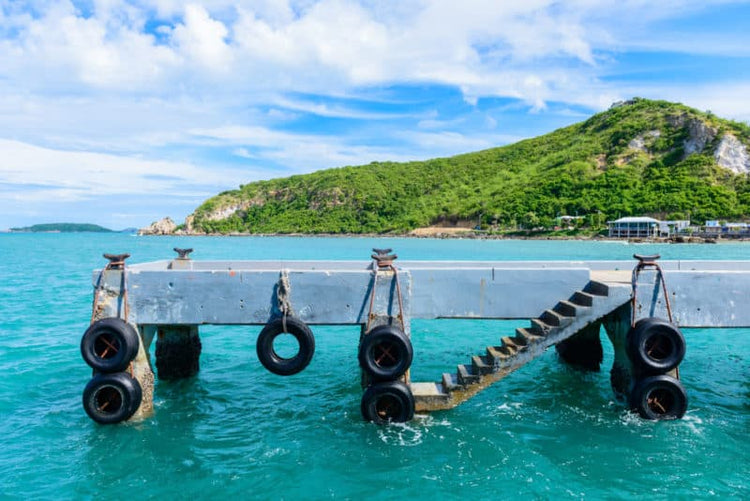 Desperate for a more secure way to keep your boat protected from scratches, dents and dings while at the dock? Davit systems and boat lifts, while both excellent options for protecting your investment, give most boaters some sticker shock.
And yet you kinda want more than just padded dock bumpers, boat fenders and boat springs and dock lines.
Well, have you considered a boat whip system? Unlike davits or lift systems, boat whips are a fairly inexpensive alternative for boaters who want to secure and protect their vessel. It also offers a more stable "safety zone" that works better in certain conditions.
If you want to know more about these handy boat whips, here are some tips and seven boat whips you can purchase today.
What Is a Boat Whip?
You've probably seen boat whips at some time along a dock. You might've even mistaken them for a fishing pole (Or maybe that was just me). That's because boat whips, also known as mooring lines, consist of a line (or marine rope) that's hooked onto a flexible pole, which is then mounted on the dock.
You'll see two of them: one for the bow and one for the stern but some larger vessels may have a third boat whip to secure the middle.
A boat whip's spring tension allows them to keep a boat safely secured and away from the dock, creating a "safety zone" where it could get scratched or damaged.
Featured Boating Product
| | |
| --- | --- |
|     |  Boat Fenders |
Check Price on Amazon - Better Boat's boat fenders provide reliable protection from damage from docks and other boats. A ribbed design prevents rolling and improves strength. 
Benefits of Boat Whip Systems
A boat whip system is a great choice for lakes, protected marinas, canals and low wake zones. A quick word of advice, though: If your anchorage space is in really rough waters, a boat whip system may not be the best way to go.
Additionally, they may not hold well in hurricane-strength winds.
Here are a few benefits of the boat whips system:
Easy to attach to the boat and un-attach when you're ready to go
Provides protection from high winds and other boat wakes by keeping the boat from straining dock lines bumping against the dock
Inexpensive alternative to boat davits and lifts
Strong and unobtrusive (doesn't obstruct the view like a boat lift)
Vertical storage when you're out for the day
Types of Boat Whip Systems
While they all basically provide the same services, there are a few different types of boat whip systems. The differences lie in the materials used in construction and the way they're used.
Standard Boat Whip
Your standard boat whip system has a flexible fiberglass pole and spring lines. The base attaches to a dock, and the spring lines attach to the boat. 
Steel Boat Whip
Another type of boat whip system has steel arms with line and a steel base. It attaches to the dock and boat the same way as a standard boat whip system.
Boat-mounted Whip
Instead of being attached to a dock, a boat-mounted mooring whip (also known as a towing whip), attaches to the stern of a boat. These boat-mounted whips can be seen on larger yachts to carry your dinghy or even on smaller vessels to transport along a jet ski. Used more for towing, you'll see them more on bigger yacht-like vessels.
Regardless, I think they're a great way to tow a small tender, dinghy or jet skis along with you. It frees up deck space and eliminates the cost and maintenance of installing a boat davit system on the back of your boat.
Parts of a Boat Whip System
Boat whip systems are fairly simple in construction. They consist of a base, a spring-action pole with a roller tip and rope.
Base:  You'll want to find a base that has a built-in cleat. Just like a dock cleat, it's so much easier to tie up the rope in those fancy nautical twists.
Spring-Action Pole:  The spring-action pole is usually made out of fiberglass. It needs to be super flexible to be able to bend with the wind and tides.
Rope:  The line, or rope, used with a boat whip system should be double-braided. This is what connects the boat to the whip and holds it in place.
Roller Tip:  The roller tip is the gear-like mechanism that the line threads through to attach to the boat. It keeps the line moving to allow the boat to rock away from the dock, yet keeps a strong hold on it.
The 7 Best Boat Whips to Secure Your Vessel
Taylor Made Products Premium Boat Mooring Whip
This sturdy boat whip system consists of solid fiberglass poles and an aluminum-magnesium base. It comes as a set of two and is perfect for fresh or saltwater use in moderate to heavy wake areas and tidal areas.
The uniquely designed rocker arm bases automatically return poles to a vertical position when not in use. It's also available in 14 and 16-foot lengths for boats up to 46 feet in length.
Dock Edge Ultimate Mooring Whip
The Dock Edge Ultimate Mooring Whip has a roller tip, a tie-off cleat and a cushioning rocker base that absorbs forces from wakes, tides and wind.
Two rocker bases allow the whips to retract away from wakeboard towers and flybridges rather than banging into them. Attached are the whip, spring lines and one-hand tensioners.
It's available in 12, 14 and 16-foot lengths for boats from 21 to 33 feet and up to 20,000 pounds.
Taylor Made Products AMRT-99079 8 Ft
The Taylor Made Products boat whip has solid fiberglass spring-action poles and a roller tip.
The CAD-designed whip base is injection-molded from high-impact reinforced plastic. This provides durability and extreme strength.
It's sold as a pair and includes all hardware. It's great for boats up to 20 feet and under 2500 pounds, as some conditions may be too rough for it to hold.
Dock Edge Premium Mooring Whips and Arms
Dock Edge Premium Mooring Whips and Arms, made of reinforced cross-wound fiberglass, are strong and non-obstructive for your viewing pleasure.
They mount on a durable cast aluminum and powder-coated base and have built-in tie-off cleats and a roller tip. Everything you need to install is included.
A plug-and-socket system make it easy to uninstall for over-wintering or moving of the boat.
General Marine Products Mooring Whips With Vertical Swivel Position
General Marine Products Mooring Whips have a base that swivels so you can customize positions either vertically or at an angle. The vertical position keeps it from interfering with antennas, rigging, flybridges or people walking on the dock trying to board.
It has a stainless steel multi-directional line pulley with a nylon roller. It works well with small and large boats up to 40 feet.
General Marine Mooring Whips
This is my pick for large boats. Designed for boats over 35 feet, including boats up to 65 feet, this boat whip system does double duty.
It has four one-inch fiberglass poles, each 14 feet in length, that swivel to a vertical position and drop lock into place. This prevents obstruction of the path of the boat or the dock walkway.
The two bases sit side-by-side (holding two poles side-by-side) for double holding power. It's made of powder-coated marine-grade aluminum and comes with two bases, four poles and four sets of lines.
Superyacht Marine Store
Superyacht Marine Store, which is based in the UK but can ship to wherever you are, sells fiberglass mooring whip poles and stainless steel flush-mounted bases that are designed for mounting on the back of a boat.
The pole combo comes with a roller tip, a cleat and the mooring whip line. The poles come in two pieces, which makes it easy to store when not in use.
The base is sold separately and can be mounted on the deck, a swim platform or the rub rails. The bolts, nuts and washers are included.
Other Boat Docking and Mooring Accessories
BOT ROP Retractable Docking and Mooring Line
The BÅT RÅP Retractable Docking and Mooring Line is a unique alternative to a traditional cleat. It installs on the dock, or even on the boat itself, for a permanent mooring solution.
As cutting is involved in this option, you'll want to be sure it's the option for you. It does come with a cutting template.
It has a stainless steel lockable latch to keep your line safe from sticky fingers at the dock. The cover has a solar-powered LED light for convenient after-hours docking.
A retractable line gives you customized docking and keeps the rope inside for trip-free use as well as protection from water, weather and other elements.
The Tide Adjuster Switch allows you to lock the line in place or let it extend and retract with the water.
Better Boat 1/2-Inch Dock Line
Dock line is one thing boaters can always use. Made of durable marine-grade double-braided nylon, this dock line is ultra strong and doesn't kink under heavy loads.
The smooth surface helps to protect your boat's finish. It's conveniently designed with a heat-treated eyelet on one end and a straight end on the other. 
Ready to break up with dock cleats and hook up with a boat whip system? Whether you're deciding between a boat lift, a davit or a boat whip system, it's a good idea to look at all of the possibilities.
Hopefully this has helped with the decision process. See you on the water!
---