The Complete Guide for an Unforgettable BVI Boating Vacation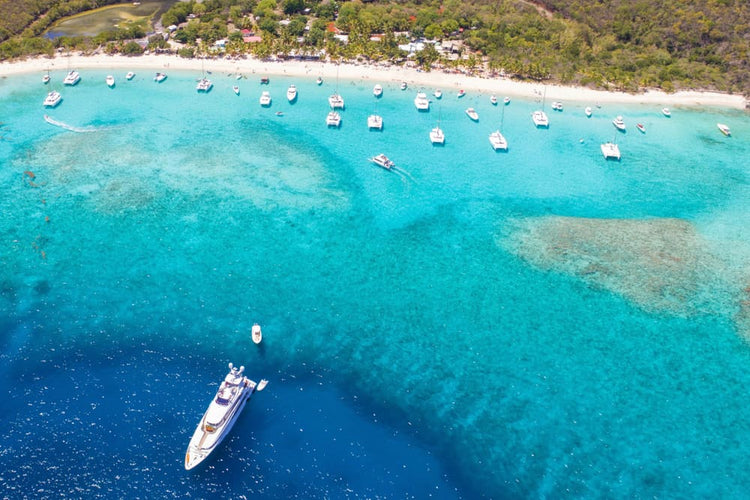 Tropical cocktails, white sand beaches, floating restaurants and colorful reefs. The British Virgin Islands, more commonly referred to as the BVIs, makes one unforgettable boating vacation!
A cluster of 60 islands and cays in the eastern Caribbean, these stunning gems are a British Overseas Territory located in the Leeward Islands of the Lesser Antilles.
With a current population of approximately 30,000 residents inhabiting only 15 of these islands (the majority on mainland Tortola), it leaves dozens of available unspoiled beaches and reefs for divers, snorkelers and boaters to freely explore.
But with so many places available to visit, where should you take your boat? And if you're not headed down there in the boat you already own, how do you find a boat to get there?
The Complete Guide for an Unforgettable BVI Boating Vacation
Why BVI Boating, Not Resort Lounging?
Staying in a resort is a fabulous way to enjoy the British Virgin Islands! But when each cay, islet, beach and reef has its own unique character, this pristine volcanic archipelago is a prime destination for island-hopping.
It's possible, of course, to visit the multiple islands and sites without a boat, but you need to plan day trips by ferry or plane - all of which are a hassle.
Therefore, renting or chartering a boat is the best way to experience everything this beautiful destination has to offer.
When to Plan a BVI Boating Excursion
Boating in the BVIs is an incredible experience no matter when you choose to visit. However, like most places around the world, there's a high and low season. Low season coincides with hurricane season, officially June 1st to November 30th.
Possibly the best and most affordable time to visit is in late October and November when hurricane threats are coming to an end.
Prices skyrocket (by about 40%) during the winter season along with the crowds, but the weather is mild and the water is clearer than in the summer months, so it may be worth paying a higher price point.
Also, March hosts the BVI Spring Regatta, which is a great event for avid boaters to enjoy.
Where to Rent or Charter Boats for a BVI Boating Trip
There are various options for renting or chartering boats in the British Virgin Islands. While most people choose catamarans (their shallow draft navigates easier around reefs), you can charter other recreational boats to get around as well, like monohull sailboats and powerboats.
Two of the most popular and trusted places to rent are on either Boatsetter.com or at The Moorings on mainland Tortola.
1. Boatsetter.com
Think of Boatsetter like the Airbnb of boats. The site provides easy access to thousands of boats and captains across the globe, including the BVIs.
According to Boatsetter, rental prices per week for these vessels range from:
Monohulls (sailboats) - $2,000 to $8,000
Catamarans - $5,000 to $15,000
Motor Yachts - $10,000 - $100,000
These prices, of course, don't include a captain or crew members. If you're an experienced boater, these costs can be reduced by hiring a crew and manning the helm yourself.
If you need to hire a captain, that'll cost approximately $200/night (depending on the season), plus you're responsible for providing meals. Keep in mind, however, that hiring a captain is an excellent way to enjoy boating without the stress. Their knowledge of the area is often a great asset.
Sites like Boatsetter.com not only match you with a perfect boat to explore the BVIs, but also match renters with captains.
2. The Moorings
The Moorings is another great boating rental option. It's located on mainland Tortola at The Mariner Inn and Marina.
At this location, you can rent various boat vessel styles and also hire crews. If you chose to captain your vessel, you're required to attend a briefing that lasts approximately 60 minutes.
While awaiting departure, renters can enjoy the marina's shower facilities, The Moorings Village with shopping and dining options or just sit back and relax at the newly-renovated pool. 
5 Great BVI Boating Locations
There are dozens of wonderful locations throughout the BVIs to either anchor or moor your boat for the day or night.
With approximately 60 islands and cays to choose from, picking the right place to tie up can be a daunting task. These are my top suggestions:
1. Great Harbour, Peter Island
A must-see for any BVI boater is to set anchor or hook a mooring line at Peter Island. From there, you can hop a dinghy over to Willy T's, a floating bar and restaurant in Great Harbour.
The original Willy T's was anchored at Norman Island but was destroyed during Hurricane Irma. Its new home is off Peter Island.
It's named after William Thornton, a BVI native and best known for being the architect of the United States Capitol Building.
The new 2018 Willy T's is a replica of the previous 100 ft steel shunner, but slightly larger. Here, patrons can enjoy tasty island treats while jumping on and off the boat's stern to escape the heat.
2. Bight Bay, Norman Island
Norman Island is one of many uninhabited destinations. Pristine beaches and stunning cliffs make it a perfect place to appreciate the scenic beauty of the BVIs.
You can easily spend a day diving or cave snorkeling just below the cliffs of Treasure Point, or stop for an ice-cold brew and tasty meal at Pirates Bight Restaurant & Bar.
3. The Indians
Slightly north of Norman Island is perhaps the best snorkeling and diving area in the BVIs: The Indians. Part of the National Parks Trust, The Indians got their name because of how their silhouette resembles a Native American headdress.
It's comprised of four rocky pinnacles that rise approximately 50 feet above and below the water's surface. There are beautiful coral gardens and an underwater cavern with a 15-foot tunnel.
There are plenty of mooring buoys, so no need to take out the anchor, line and chain. Simply hook up to the mooring and enjoy the thousands of colorful fish and beautiful reefs.
4. White Bay, Jost Van Dyke
Willy T's is not the only bar worth visiting on the BVIs. Another bar that's earned the right to be considered a top tourist attraction is the Soggy Dollar, which is home to the infamous "Painkiller" cocktail.
The Painkiller, created at the Soggy Dollar in the 1970s, is the Caribbean island's signature drink. This refreshing concoction is made with dark rum, pineapple, OJ, cream of coconut and fresh nutmeg.
It doesn't get much better than sitting on the beach off White Bay with a delicious Painkiller in hand!
5. The Baths, Virgin Gorda
Perhaps the most iconic mooring location in all the BVIs is The Baths on Virgin Gorda.
The Baths are a collection of massive granite boulders that create beautiful caves and molten rock pools, which offer a place to snorkel, spelunk or simply sunbathe amongst the beautiful volcanic boulders.
After spending a few hours exploring, hop back on the boat and head to the opposite side of Virgin Gorda and stop for dinner at The Bitter End Yacht Club.
Land Ho: Take a Break From BVI Boating and Explore Tortola!
Boating the BVIs is an incredible experience, but I'd be remiss not to mention the great things to do on mainland Tortola.
Top of the list would be the rainforest-filled Sage Mountain National Park. Established in 1964, it boasts 96 acres of beautiful forests and hiking trails at an elevation reaching almost 2,000 feet above sea level.
Not interested in hiking? Head to Road Town, the capital of the BVIs, and visit the J.R. O'Neal Botanic Gardens and enjoy the near three acres of indigenous and exotic plants.  
If history is more your thing, make a trip to the 1780 Lower Estate Sugar Works Museum. There, you can learn about the history of the British Virgin Islands, and if you're lucky, maybe even get to see a pop-up art exhibit.
| | |
| --- | --- |
|   |  Boat Soap cleans everything from the bow to the stern and beyond. Hook up a hose and nozzle and rinse for a residue-free finish. |
Check Price on Amazon - Better Boat's boat soap keeps your boat clean, shiny and residue-free from bow to stern. It's 100% biodegradable and won't harm the marine environment. Use on everything from railings, hardware and consoles to decks, furniture and even pots and pans..  
BVI Boating Final Thoughts
Boating the BVIs is an ideal trip for any boating enthusiast. The next time you plan a Caribbean vacation, consider a BVI boating excursion through these beautiful, tropical islands.
Boating allows individuals to explore each island's unique character, which is an experience that will undoubtedly beckon you to return year after year.