5 Incredible Destinations for Canal Boat Holidays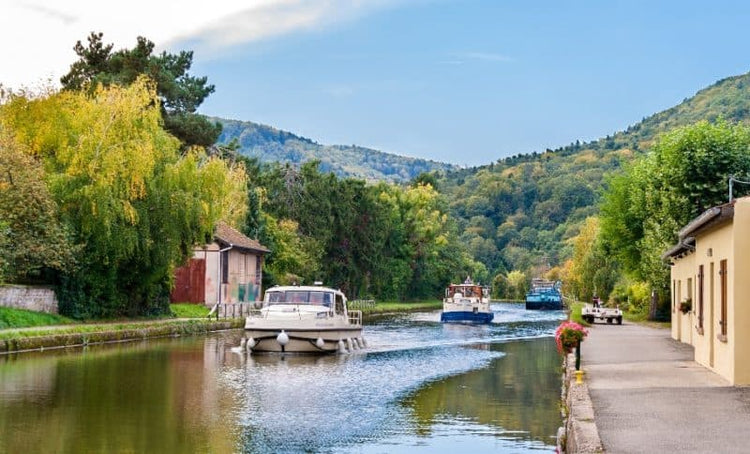 Want to cruise rural countrysides from the comfort of your own canal boat stateroom? If you want an unforgettable holiday adventure, a canal boat cruise will win over your family and friends' hearts and minds. 
Bring them along as you calmly float along intricate waterways and through rolling hillsides, villages and patchwork fields. Leave behind the stress of everyday life. 
I've put together a list of five favorites that will quench your thirst for a relaxed holiday trip.
1. Norfolk Broads
If you seek idyllic backdrops and the best holiday sailing in the United Kingdom, the Norfolk Broads are for you. A canal boat holiday experience in Norfolk Broads provides you with a unique off-the-beaten-path journey.
The Broads National Park, better known as "The Broads," is a man-made network of navigable and lock-free rivers and lakes that flows through the Norfolk and Suffolk counties in the English countryside.
The lakes were formed by flooding the peat bogs and surrounding land and now serve as an amazing national park protected by the Broads Authority Act of 2009.
Known as "the breathing space for the cure of souls" by local naturalist Ted Ellis, these seven rivers and 63 broads offer hundreds of miles of mostly navigable waterways. It's a great area for nature lovers and bird watchers alike.
Your Vessel
The famous Broads have been holiday favorites for decades and with the upcoming holidays upon us, there's plenty of time for you to book a canal holiday all your own.
With many vessels available through Canal Holidays and Waterways Holidays, you can't go wrong with any!
Trip Lengths
Generally, families plan trips lasting seven to nine nights. However, with over 157 miles of navigable waters, you're able to customize holidays exactly as you wish.
Check out this distance calculator to help plan where to spend time off-the-beaten-path. 
Highlights
While cruising the Norfolk Broads, a must-see stop is Horning Village, a charming hamlet full of storybook cottages and thatched roofs nestled along the River Bure banks. Take a stroll to the Horning Church, which was built in 1220.
2. Canal du Midi
The 360-kilometer Canal du Mindi is located in the French countryside. By way of locks, aqueducts, bridges and tunnels, this canal river flows through the city of Toulouse and the Étang de Thau lagoon, eventually linking the Mediterranean and Atlantic Ocean.
The canal's considered a great 17th-century construction work, which ultimately paved the way for the Industrial Revolution. It's now a UNESCO World Heritage Site. It's a beautiful location to toss an anchor or tie a dock line.
Your Vessel
Whether you seek relaxation to unwind by yourself or take the family on holiday, you'll enjoy the tranquil pace of cruising narrowboat with Kate Boats. 
This canal boat holiday covers everything from the vessel's fuel to vehicle parking. And bring the dog. They're more than welcome!
Your vessel—whether it's a narrowboat or yacht—will take you on a journey through France's waterfront villages and allow guests to indulge in the gastronomic treats the country offers.
Trip Lengths
Most people travel along the Canal du Midi for seven to nine days. However, some folks choose to explore for up to eight weeks, which allows ample time to reach north of Warwick.
Highlights
The Carcassonne is a medieval fortified city that overlooks the Aude River with the Pyrénée Mountains in the background.
You'll find the longest city wall in Europe here, with turrets and tunnels all within a circle of towers. This location is amazing to see during the day and at night.
3. Llangollen Canal
Want to partake in a canal crossing that explores two countries? The Llangollen Canal crosses the border between England and Wales, linking the two cities of Llangollen in north Wales and Hurleston in South Cheshire.
Your Vessel
With nine stunning locations to choose from, the Black Prince offers plentiful options for family-friendly canal boat holidays. On this unique cruise, older kids are allowed to work the locks and help the captain steer.
The engineering feats of the waterways are constantly amazing and offer views of castles and friendly cities to visit en route, including Pontcysyllte Aqueduct from the Chirk base marina.
Trip Lengths
This is a great opportunity for short weekend trips or even a full week. With the canal length stretching 41 miles, you'll need at least three days to travel the canal one-way. Plan for more days during peak times and seasons.
Highlights
See one of the Industrial Revolution's most remarkable achievements, designed and built by Thomas Telford and Williams Jessop. But do you dare cross it? The Pontcysyllte Aqueduct spans across the Dee Valley and Trevor Basin. Take your camera along. The views are amazing!
Featured Boat Care Product
Check Price on Amazon - Better Boat's boat soap cleans your boat from bow to stern and hull to flybridge. It quickly breaks down dirt, grime and stains. Use with a hose and nozzle for a no-slip and residue-free finish. A microfiber cloth or scrub brush helps remove set-in stains.  
4. The Panama Canal
An engineering marvel, this manmade waterway is located in Panama and connects the Atlantic and Pacific Oceans. This canal was originally built as a conduit to support maritime trade. Today, it's one of the most sought-after journeys.
If you cross the Panama Canal via cruise ship and many smaller canal boats, you're given a certificate of passage as a memento.
The Vessel
When you sail on a Blount Ship, you can experience places in the Caribbean their larger cruiseliner cousins can't even touch. Many smaller ships allow you to travel in a way that larger groups and ships simply can't.
However, the Panama Canal is wide enough for cruise ships. You can choose from one of many tour operators, such as Princess Cruise Lines, Royal Caribbean, and Holland America, which all offer great itineraries and excursions for couples and families.
Trip Lengths
Partial or complete transit? Both large cruise lines and small ship cruises will take you on a 50-mile journey through the Panama Canal. Some take you into the canal, turn around, and journey back on into the Atlantic (without ever touching the Pacific). However, other ships offer an opportunity to travel through the entire canal.
The majority of cruises, regardless of ship size, take at least two weeks to transit the Panama Canal.
Of course, there are longer cruises for those who want to spend more time at sea and exploring the local flare on the islands. There are plenty of options to fit your holiday schedule.
Highlights
With smaller vessels, guests can tour harder-to-reach areas. At Pearl Islands, guests can swim and snorkel or visit Taboga and watch the herons nesting along the rivers.
On longer cruises, however, passengers can visit areas where they take deeper shore excursions into rainforest jungles and San Juan del Sur in Nicaragua where you can get up close to a smoking volcano. 
5. The Black Sea Canal
The Black Sea Canal, located deep in the heart of Romania, is an important part of the European canal system. It links the North Sea to the Black Sea.
The canal is part of the wildlife-rich Danube Delta where you'll find 300 different species of birds such as pelicans, herons and egrets. The overall length of the River Danube flows over 1800 miles from its source in Germany's Black Forest to the Black Sea.
The Vessel
Passengers will find plenty of cruising options, depending on where along the Black Sea Canal you choose to cruise.
A great place to start your search is Blue Water Holidays, which offers every possible option you could imagine. These trips even offer overnight stays should you wish to explore a region longer.
Trip Lengths
Winding through more than eight countries, the Black Sea Canal takes passages anywhere in length from one week to ten days. But you can take longer if you wish to explore the more remote areas.
Highlights
Traveling from Budapest through the Hungarian plains, you'll see the dramatic Iron Gates, a gorge located between the Carpathian and Balkan Mountains. Or extend your stay in Romania's infamous Transylvania, if you dare.
You Deserve a Holiday!
For your next holiday, get off the couch for an amazing canal boat trip. Whether you charter a boat, take a guided tour, or book a stateroom on a swanky all-inclusive cruise, you're bound to have the adventure of a lifetime!
These cruising options offer the world's best canal boat holidays to be found. What are you waiting for?
---