Reel 'em In: 8 Cheap Fishing Kayaks to Get You on the Water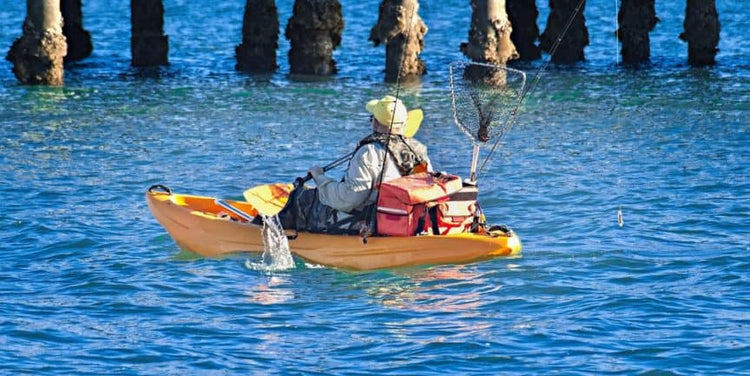 Getting afloat in pursuit of your favorite hobby can be expensive. Fishing kayaks can run into thousands of dollars. For some people, that's a stretch too far.
Everyone knows the advantages of fishing on the water (in a vessel rather than standing on land) because it doesn't bind you to the same spots day after day.
With shore fishing, there's a limit to the reach of your rod and line, and you'll most likely find yourself jostling for the best spots with other like-minded anglers.
So what do you do if you want to get on the water to scout out the best fishing sites? You invest in a cheap fishing kayak! The good news? You can actually find a decent fishing kayak for around $300 to $1,000.
The Advantages of a Cheap Fishing Kayak
Versatility: Fishing is all about adaptability, and when it comes to getting afloat on a cheap fishing kayak, you increase chances of finding the best spots by exploring far off shores and coves of lakes.
Affordability: Once you've made your purchase, there are no real ongoing costs to think about. Cheap fishing kayaks are robust, so they need very little attention when they're out of the water. When you compare this to owning a fishing boat, other costs have to be considered such as fuel for the motor, possible marine storage and varnishes, sealants and covers to protect it from the elements.
Portability: Cheap fishing kayaks are easy to transport. Simply strap it to your roof with straps and away you go. No need to invest in a trailer specially designed for the job. And unlike a fishing boat, when you arrive at your chosen spot, a kayak is a breeze to launch.
Best Features of a Cheap Fishing Kayak
Comfortable Seat: If you're going to be sitting in your kayak all day, it has to be comfortable. Nothing kills your fishing experience like a numb rear end! Look for a seat with back supports and decent foam padding. Some seats are adjustable, and that's great if you prefer a particular seating position or have longer or shorter legs and need to reach the footrests.
Adjustable Footrests: Footrests give you a comfortable place to put your feet and keep you from sliding around inside the kayak. More importantly, when it comes to landing that whopper, you need stability to gain purchase. As with the seat, some people have longer or shorter legs, so adjustable footrests are ideal.
Rod Holders: Now this is a biggie because it's not a fishing kayak without rod holders; it's just a standard kayak! Some models have two, three or four holders for your rods. Some even have swivel holders that allow you to track the direction of your catch. 
Storage Compartments: If, like me, you fish with everything but the kitchen sink, having storage is crucial. Look for stow-away compartments under seats, in the front and rear, or even elastic nets specifically for storing smaller items like an anchor, chains or dock lines. Also, if you can find a fishing kayak with watertight hatches, even better!
| | |
| --- | --- |
|     |  Telescoping Paddles |
Check Price on Amazon - Better Boat's mini paddle is a handy piece of gear to have on a boat, kayak, canoe or jet ski. Lightweight and durable, it collapses down from 35" to 18.75". It has an ergonomic T-grip handle, a high-impact plastic blade and sturdy locking joints. 
Reel 'em In: 8 Cheap Fishing Kayaks to Get You on the Water
With so many models available, what I've decided to do is to break the eight chosen kayaks into two categories based on price. That way, depending on your budget, you can target your search accordingly.
The Best Cheap Fishing Kayaks Under $1,000
1. Brooklyn Kayak Company TK219 Tandem Fishing Kayak
Check price on Amazon
The Brooklyn Kayak Company is a titan in the fishing kayak world and has many models and variations available. This TK219 model is both affordable and a tandem, allowing you and a friend to divide up the purchase costs (if necessary) to make it even more of a good buy.
It has padded seats with back supports, a choice of four footrest positions and two large waterproof hatches to stow away your wallet, keys, cell phone and any valuables you want to keep dry.
It even has storage for a 20-liter cooler box! In my experience, on a hot day of fishing, having a cooler full of cold refreshments for your cup holders is essential.
There are six rod holders: two swivel mounts and four flush holders so whatever rod you choose, this kayak has it covered.
It can even accommodate an extra person, making it a three-person kayak.
Length: 12 ft
Weight: 70 lbs
Maximum load: 440 lbs
2. Perception Pescador Pro Kayak
Check price on Amazon
This Perception Pescador model has a fully adjustable seat that can even be raised or lowered for a better casting position. It has adjustable footrests and molded rod-holders, as well as storage compartments in the front and rear.
It's also worth mentioning that there's a Pro 12 model, which is two feet longer than the Pro 10. Having the extra length means added stability, and if you couple that with the width, the makers claim this is one of the most stable fishing kayaks on the market.
With all the expensive equipment and gear you carry on a fishing trip, you'll be thankful for a stable kayak.
Length: 12 ft
Weight: 57 lbs
Maximum load: 375 lbs
3. Vibe Kayaks Skipjack 90
Check price on Amazon
Vibe has created a lightweight nine-foot kayak that has front and rear storage compartments as well as a large waterproof hatch in the hull of the craft.
Get a better paddling position with a cushioned ergonomic seat as well as comfortable footrests. Plus, there's a tackle toss tray for quick changes of tackle, quite handy, especially if you have to vary the equipment you use.
It also has four rod holders, a cup rest for water bottles or a coffee thermos and even a mount for a fishfinder. How fancy is that?
Length: 9 ft
Weight: 42 lbs
Maximum load: 300 lbs
4. Brooklyn Kayak Company UH-FK184 Kayak
Check price on Amazon
Another one from the Brooklyn Kayak Company, this model is shorter at nine feet, which is not necessarily a disadvantage. It simply means it's more agile and able to get into the tightest spots, which I find handy when I'm seeking secluded areas for the best catch. 
Integrated into the hull of the kayak is a padded seat with back supports and two large hatches. There are four flush-mounted rod holders and one articulated rod holders, as well as additional storage for a tackle box or cooler at the rear under the elasticated mesh.
This vessel also has four carry handles, which is great if you, like me, are happy to share the burden of transporting it to the lakeside.
Length: 9 ft
Weight: 44 lbs
Maximum load: 330 lbs
The Best Cheap Fishing Kayaks Under $500
5. Lifetime Tamarack Sit On Kayak
Check price on Amazon
This Lifetime kayak is a great value for the money. Considering the price, you'd assume the extras would be limited, but not so. This model has front and rear storage bungees and two watertight hatches for valuable items.
Plus, there are top-mounted and two side-mounted rod holders and an adjustable seat. If you're looking for a stable sit-on craft that handles well, this is a great choice, especially as it has a flat bottom and a tracking skeg for straight paddling.
For my money, this kayak is both affordable and great quality.
Length: 10 ft
Weight: 52 lbs
Maximum load: 275 lbs
6. Sun Dolphin Journey Kayak
Check price on Amazon
This Sun Dolphin is the ideal starter fishing kayak, and at the price, it's an excellent value for money. However, there are some compromises to be made as we go further down the price scale, most notably with the comfort levels.
There's a padded backrest, but only a molded seat, not a padded seat itself.
The footrest is multi-positional, and there are two flush and one swivel rod holders as well as ample storage.
The rear has a watertight compartment and hatch along with additional storage in the front bow with a bungee recess for a tackle box or cooler.
Length: 10 ft
Weight: 44 lbs
Maximum load: 250 lbs
7. Sevylor Colorado 2-Person Fishing Kayak
Check price on Amazon
This Colorado is the first inflatable fishing kayak on the list. But just because it inflates doesn't mean it isn't robust and a great alternative to a rigid craft.
When deflated, this kayak can slip right into the trunk of your car, so it gets a big tick for portability (I don't have a lot of roof space on my vehicle, so transporting this kayak would be easy for me).
Second, there are three separate chambers, so should one develop a puncture, you'll stay afloat. They're much safer than they seem.
It has three fixed rod holders and two swivel-mounted rod holders as well as side clips to safely store your unused rods. There are two adjustable seats.
Length: 10 ft
Weight: 40.4 lbs
Maximum load: 470 lbs
8. Sun Dolphin Boss SS Kayak
Check price on Amazon
The second Sun Dolphin product to appear, this Boss catamaran-style kayak has a flat platform in the middle, making it super-stable for standing and casting your line.
To make the task of standing a little easier, Sun Dolphin has fitted this kayak with grab handles, which is something that suits my style of fishing!
There are four fixed rod holders and one swivel-mounted bracket for directional fishing.
The maximum weight load on this kayak is huge, at 500 pounds, and it has masses of storage at the front and rear, coupled with a dual-position fold down seat.
Length: 12 ft
Weight: 78 lbs
Maximum load: 500 lbs
Ready to Go Fishing?
Paddling on the water is the most fun you can have while fishing. It gives you the freedom to explore the best sites and find bountiful fish stocks.
There's nothing quite like floating on a lake on a sunny day waiting for your first bite. And for a relatively small sum, you could be out there too!
Investing in a cheap fishing kayak is a great idea. They're lightweight and easy to transport, robust with ingenious storage solutions and have multiple rod holders to increase your enjoyment of the sport.
So... maybe it's time to get the most out of your fishing. Maybe it's time you got afloat.
---