5 Reasons to Appreciate and Embrace the End of Boating Season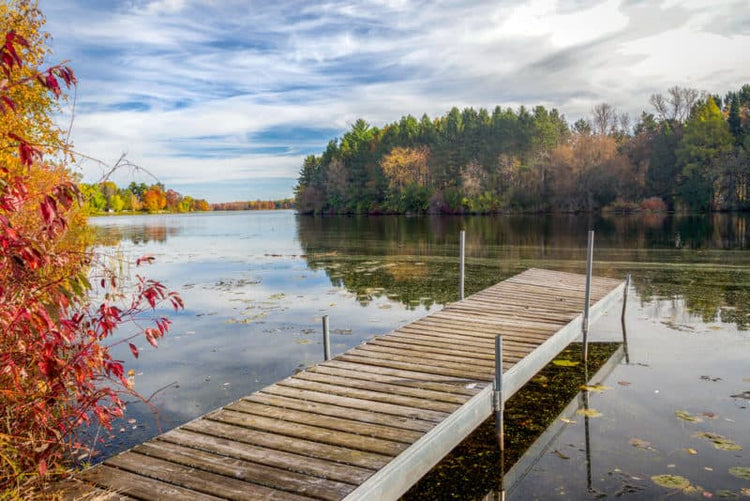 Time to put away seat cushions, zip-up covers and unload those accessories that made your boat a home away from home the entire summer. It's a time of year all boaters know well... the end of boating season. 
For most boaters, the process of winterizing the boat is not nearly as enjoyable and exciting as preparing for launch in the spring.
But instead of grumbling about the coming of winter, embrace the end of boating season and learn to appreciate certain aspects until the frost melts.
Who says boating season must come to an end?
The funny thing is, there's no official agreement about when boating season ends. Some folks enjoy their last boat hurrah over Labor Day weekend, while others continue to enjoy their boat through mild September weekends.
Unlike sports seasons, hunting seasons and even meteorological seasons, boating season does not have a definitive end.
Please note: If you choose to continue to take the boat out as the days get colder, it's even more important to make sure your boat's well stocked with safety equipment, dock lines, buoys, air horns and anchors and that you follow all safety precautions. With colder water and fewer people out on the lake to help, boating becomes more dangerous.
| | |
| --- | --- |
|      |  Boat Cover Support Poles |
Check Price on Amazon - Better Boat's support pole is an excellent way to prevent your cover from sagging due to snow, ice, rain and debris. The telescoping pole extends from 23.5" to 56" to accommodate a broad range of covers and boat sizes. It has a snap at the top to secure a mushroom-shaped cap. It's perfect for kayaks, motor boats, pontoons and more. 
5 Reasons to Appreciate and Embrace the End of Boating Season
Talk to anyone down at the docks as fall approaches and you can hear the notes of sadness in their voice as they discuss boat storage options, winter plans and the return of cooler weather.
However, the end of boating season does not mean we need to shroud ourselves in black. In fact, there are actually quite a few—gasp!—positive aspects about the end of boating season.
1. Fall boating's beautiful
With less crowds, clearer days and cooler temperatures, early fall's actually an ideal time to experience the boat life.
During the summer, it's near impossible to find dockage at certain marinas or to reserve tables at waterside restaurants. Head out in September and you'll have these places all to yourself.
Plus, when the weather's cooler, you can enjoy being outside without melting away under that hot summer sun. There's also less risk of heat-related sickness.
2. You now have time for repairs
Like clockwork, at the end of September or early October, we drove our family boat from the marina to a marine service center miles away. There it would stay for a few weeks and have any repairs completed that had accumulated over the summer.
From electronic repairs to woodwork repairs—the boat got a facelift. (Of course, anything that demanded immediate attention was taken care of during the summer months.)
When boating season's over, you can make any adjustments to your trusty friend. Wasting precious summer months with a boat out of water for repairs is never ideal, which is why the fall's perfect to complete less urgent fixes.
After a few weeks of repairs, we'd go pick up the boat and drive it to its winter storage area where it would be lifted out of the water.
By that time, we were all adjusted to the routine of fall. The temperatures definitely dropped, but there was something special about one last boat ride bundled up in sweatshirts and coats.
3. Experience the joy of planning for next season
Remember the Disney World commercial that featured two kids being "too excited to sleep" the night before their big trip? Well, sometimes the anticipation's the best part.
Instead of being gloomy about the end of boating season, relish the excitement of planning for next year.
What can you plan for?
Planning adventures and trips — Pull out your nautical charts and guidebooks and book next year's travels ... maybe to someplace new or to revisit an old favorite. Make slip reservations, if necessary, and check out any hotels if you need them.
Purchasing a boat — A new boat may take more than just a few months to save for, but you can spend all of that time you're not boating by researching new boats, drooling over boating magazines and putting away funds for someday.
Buying new "toys" for next season — Safety equipment, cleaning products, fishing equipment and navigation equipment—there are never-ending toys and boating accessories that can be bought and upgraded for the next season. Maybe you wanna change out all of your nylon dock lines or maybe it's time for a stainless steel anchor. Perhaps your friend has bragged on his cool GPS system and now you'd like one too.
Shopping in the "off-season" is practical, especially with holiday sales. Most Christmases, my family finds gifts from my dad under the tree.
Each gift is a new t-shirt with our boat's picture and name. In fact, while pregnant with my first baby, I opened a onesie sporting a picture of our boat.
So, there's always gear and accessories to shop for—even baby clothes!
| | |
| --- | --- |
|      |  Interior Cleaning Kit |
Check Price on Amazon - If you can't go out in your boat, why not take time to clean the inside of it? Better Boat's interior cleaning kit comes with vinyl cleaner, vinyl protectant, boat cleaning wipes and two microfiber cloths. It's perfect for use on vinyl upholstery, cushions, consoles and more.
4. Boat show season begins
As the National Marine Manufacturer's Association points out, "Boat shows bring the boating lifestyle to you!" Boat shows allow you to explore all the latest boat options in earnest, dream about the far future and grab that new gear we talked about.
They're also just a genuinely fun activity to do with the family. You're sure to find bargains at boat shows while the season's slow for manufacturers.
Schedule a trip to one of these popular upcoming boat shows:
Ft. Lauderdale International Boat Show (October 31-November 4, 2018) — With over 1,500 boats on display, including luxury yachts, this show in the "yachting capital of the world" is a must see. This year it features a kids fishing clinic as well as opportunities to learn about a variety of water sports from paddle boating to spearfishing.
Chicago Boat, RV, and Sail Show (January 9-13, 2019) — This show will take you back to summer as you relax at the Corona Find Your Beach Bar and Cantina. For kiddos, there are paper and foil boat-building activities at the Chicago Maritime Arts Center exhibit.
Denver Boat Show (January 18-20, 2019) — Put on by the Colorado Marine Dealers Association, the Denver Boat Show will feature a wide variety of exhibitors.
Detroit Boat Show (February 16-24, 2019) — February can be downright freezing in Detroit, but this boat show's located entirely inside a convention center, which means you can ogle boats in comfort. The 2018 boat show boasted a Kid Zone and a tiki bar where boater friends could get together and plan for the next boating season.
5. Boat visits become fun family outings
We boaters see our boats as actually part of the family. Take a trip down and visit your boat, if you're able.
Growing up, a favorite family outing involved visiting the boat on the way home from Sunday church. As kids, we grumbled about this extra stop, but I always enjoyed the opportunity to see the boat again.
Making a big deal out of "visiting the boat" also helps to get kids excited about the upcoming boating season. 
When you can't face the music...
If you're in utter denial about the end of boating season, then book a trip to a warm-weather destination and experience boating someplace else! Get your gears turning and become inspired by these year-around boating destinations:
Or, head out of the country to the British Virgin Islands, Thailand, or New Zealand! All good things must come to an end. Boating season's no exception.
However, as my dad always says the minute his boat's pulled out of water: "There's only _____ days until launch!"