Practical Tips to Make the Most of the Fall Boating Season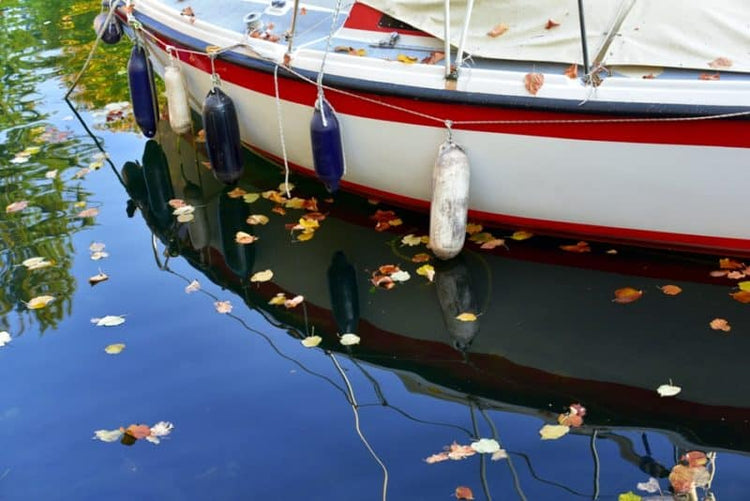 It's the end of boating season! But oh, what I'd give for longer days, brighter sunshine and more time outdoors!
But wait I can? Absolutely.
Done right, fall boating can function as an extension of summer-time. After all, it's lovely to enjoy your favorite activity for just a few more days.
Why Fall Boating Is Awesome
For boaters, fading summer daylight's a disappointing signal that it's time to head home to the shores. However, even the fall could be filled with silver linings boaters can embrace!
Nature's Beauty at Its Best
Summer may have its share of the sun but fall's where the true beauty lies. Imagine looking at all those lovely colors from the water!
If you've never treated yourself to a cruise along the banks thick with fall foliage, you're in for a very pleasant surprise. Savor the beauty as long as you can. Turn this trip into a family picnic.
It's also one of the best times to go fishing. Take a shallow draft boat to the edges of rivers and lakes and anchor out to find plenty of bass because they come to feed before the winters hit.
Less Crowded
As the summer sun bids adieu, so do many boating enthusiasts. But hanging in there brings its own share of benefits. That restaurant you circled before in July, waiting patiently for a dinner reservation? It's all yours now!
Walk into no-queue fuel docks and wade into emptier waterways. If the summer is all about waiting your turn, fall is all about being the king (or queen!) of the water.
Better Deals
As a standard rule of thumb, when summer's peak season disappears, the best deals and sales make their grand appearances. Boating, of course, is no exception.
This is why you should always make it a point to visit the boat shows and expos and look for good deals. Who knows, you might be able to sail away with your dream boat at a bargain price that was hard to imagine during the warmer months!
Your Fall Boating Pack List
Throw Blanket
Don't let the nip in the air catch you off guard. Pack a few throw blankets to keep you warm, especially when you're catching up over a cup of coffee.
You might not need them when you are out there boating or fishing, but these will come handy when you gather around in the evening while re-living the day.
Hot Drinks
When the outside gets cold, turn to your best friend's coffee (or hot cocoa or tea) for the boat's cup holders. However you carry your favorite hot drink, don't forget to pack enough. A few extra packets won't harm. So, it's better to carry a few extra rather than fall short of it when you need it the most.
Headlamp and Batteries
Finding your way in the dockyard could be a challenge if you don't have proper lights with you. Don't forget your headlamp and batteries. Keeping your hands free is an advantage you can't afford to ignore.
What to Wear
A simple trick to ensure a comfortable fall boating trip is to choose warm clothing and layer up properly. One of the advantages of layering up clothes is that you can easily adjust them to the outside weather, removing layers if you warm up and begin to sweat.
For example, when the weather is still pleasant during the afternoon, wear something light. While quickly opting for heavier outerwear when the temperature drops in the evening. The temperature might turn cold quickly and get uncomfortable. However, wear those extra layers before you feel any chills.
Warm Clothes
Warm dry clothes including sweaters, sweatpants and socks are your best friends on a fall boating trip. Pack enough and keep a set below the deck so that you're never too far from dry clothes.
Hand Warmers
Disposable hand warmers are perfect for all the passengers onboard. These hand warmers can be placed inside gloves so you can enjoy activities while combating cold hands.
Adding inside gloves, hand warmers are a convenient trick to get your hands toasty warm. Although electric varieties are available, you can feel safer with the disposable type while over water.
PFD Life jackets
Pack life jackets! During fall, life jackets are essential when planning to hit the waters and not only because they keep you afloat in case of an accident (although that's true as well).
More important in lower temperatures, a PFD is a crucial component of boat safety equipment that can save you from hypothermia should you fall overboard into freezing waters.
Opt for one with lights or reflective features so rescuers can spot you easily. Choose a life jacket that fits over your multiple layers of sweaters, jackets or sweatshirts.
Featured Boating Product
Check Price on Amazon - Better Boat's anchor kit comes with a fluke-style anchor, chain and rope. It keeps your boat secure in gravel or mud and fresh or saltwater. Anchors are available in 8.5 lb. and 13 lb.  
Extra Precautions
Before heading out for your fall boating adventure to go leaf-peeping, double-check and take precautions on the following issues that could arise. This could even help you to avoid being stranded.
Navigation Charts
When shorter days take over, it'll be dark when you finally return to shore to tie up (and you know how difficult it is to spot even familiar objects and landmarks in the dark). So, it's wise to ensure your nautical charts both paper and electronic are current versions and up to date.
Nav Lights and Flares
Make certain your emergency flares, navigational lights and air horns are in tip-top shape. Carry a few waterproof flashlights so you can find your way even in the dark.
VHF Radio
This could be a lifesaver if you run into a problem and need help. With fewer boats hitting the waters, you may find it difficult to wave down help. And sometimes, your cellphone might not catch Wi-Fi signal. In those cases, use a VHF radio (check price on Amazon).
Weather
A beautiful trip can quickly turn dangerous if you forget to watch out for the weather. Keep an eye on the forecast and plan accordingly. More conveniently, download a weather app to stay updated any time, any place.
Ample Fuel
A full tank's the safest way to cruise.When fewer boaters indulge in fall boating activities and store their boats away for the end of the season, many fuel docks close earlier than usual hours. It's better not to postpone a fuel-up and carry enough in your tank to return home.
Float Plan
It's always good boating practice to have a float plan. This "rescue plan" is an itinerary of your trip, which someone should have in case something goes wrong.
Entrust a friend or family member who's staying on shore know where you're taking your boat, when you plan to return and who to contact in case there's an emergency or you fail to return on time.
Alcohol
While you'd love to sip on a crisp glass of wine while cruising along the beautiful fall foliage, alcohol quickly lowers your body heat, making you more prone to hypothermia. It's wiser to leave the booze on the banks.
Must-Have Fall Boating Checks
The last thing you want is a boat that refuses to work the way it should. Run a few extra checkups during fall to ensure your boat's up for the trip.
Starter Battery Pack
Working batteries work well during the warmer months, but might stop functioning when the weather turns cold. Make sure your starter battery pack is up and running.
Ventilation 
Poor ventilation not only means an uncomfortable cold inside the boat but also damp equipment that refuses to work. And you would want none of these.
Hoses and Fittings
Check to see hoses and fittings are tight and not loose. Otherwise, in time, you could run into problems.
Dock Lines Make sure your dock , fender and anchor lines are in good shape. They may have gotten frayed over the hot summer months. 
Now Go Enjoy Those Leaves!
Fall boating is an enjoyable experience but you need to remember the safety tips. Pack clothes accordingly, bring along emergency equipment and double-check your boat's vitals before launch.
Now, hit the deck and go extend your boating season beyond the summer and make the most of fall. Carpe diem, my friend!