The Ultimate Guide to an Unforgettable Key West Sailing Vacation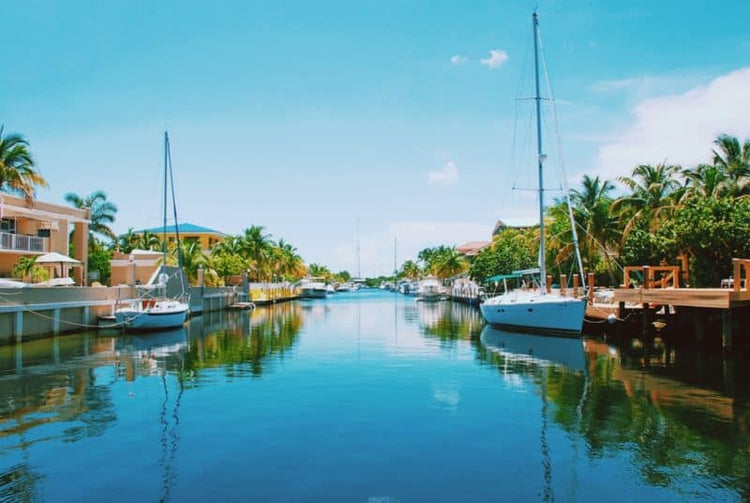 Balmy temperatures, Caribbean flavors, 800 islands to explore and 6,000 reefs ... the Florida Keys is where it's at. 
The Florida Keys, also called simply the Keys, is home to thousands of miles of reefs, beaches, six-toed cats, a national park and the southernmost point of the continental United States.
But with so many options available, a trip to the Keys can be overwhelming. Where should you go? What should you see?
Whether you're a liveaboarder seeking a change of view or a landlubber looking for a liveaboard dive trip, read on to find my favorite places to help you have an unforgettable Key West sailing vacation.
Book a Boat Charter or Room?
First things first. While high-class resorts with amazing pools are available in the Keys, it's truly the ultimate playground for those who love boating.
An archipelago of 1,700 islands makes up the Florida Keys, along with 43 residential islands connected by bridges. Hundreds of reef locations are available to snorkel as well as multiple islands with white sandy beaches.
Only with a boat is it possible to visit everything on your vacation, which makes the Florida Keys a great place to discover.
Don't book that resort, no matter how classy. Book the boat charter. You won't regret it.
When to Visit Key West and the Florida Keys
The best time to visit Key West and the Florida Keys is between the off-peak seasons of March and May, when winter crowds thin out and rates go down. Not only that, but the weather is remarkable this time of year. Finding yourself on the beach, 77 degrees and sunny, is the best way to vacay.
A Note About Hurricane Season
Between June and November is the season for you if you're a gambler. Hotel rates drop lower than spring rates, but, well... it's hurricane season.
Chances for a hurricane are greatest between mid-August and the first of October. According to Monroe County, the Keys are very popular with vacationers in the summer and fall months.
So between the March and May time frame, you can absolutely travel. Chances are, historically, that you'll avoid a hurricane ruining your vacation. Just be aware that you may experience cooler weather (though "cooler" is a relative term) and windy and overcast days.
 Featured Boat Care Product
 Check Price on Amazon - While boating in the Keys, it's imperative that you flush the engine and wash down the deck and hull. Better Boat's de-salt concentrate stands up the task.
Use a garden hose and nozzle to spray all of that saltwater away. For hard-to-reach spots, an extension rod is a perfect accompaniment for a mop or brush head. 
The 100% biodegradable concentrate breaks down salt deposits on boats, RVs, vehicles, driveways, decks, dive and fishing gear and more. 
Fantastic Key West Festivals
The Key West Pride Festival offers visitors a week-long celebration of PRIDE in the one-and-only Key West. Take part in play readings, talent shows, pool parties, free wine tastings and the famous Pride Parade.
When: Annually on the first weekend of June
Stay: Hotels and lodging prices skyrocket during the festival. Don't forget to price boat charters, Airbnb and VRBO as well as traditional lodging.
Why? To have fun, of course! And to discover the island's One Human Family philosophy.
With a motto of "it's not just FUN—its GOOD BUSINESS!, it's no surprise that a group of business owners founded the event, tempting snowbirds to travel to Key West for Halloween (instead of waiting until after New Year).
Since the early days of 1979, the festival has grown into an economy-boosting party.
When: Annually on the third weekend of October
Where: Key West's Duval Street
How long: 10-days with 75,000 party goers (and growing each year).
Make sure to check out each year's theme and book your travel early.
Where to Rent Charter Boats
Some boats are excellent and durable enough for offshore fishing, while others are simply for scooting about the reefs and beaching for a picnic.
Before booking a charter for your trip to the Florida Keys, understand the various types of recreational boats available. In other words, don't book a pontoon if ya wanna catch a King fish.
Once you've figured out what works for you and your family, check out these great boat charter rental companies in Key West.
Take a speedboat out for a day or an entire week with Key West Boat Rentals. For the best prices, I encourage calling the company to book your vacation.
They offer deck boats, pontoons and center consoles, ranging from $275 for four hours to $525 for the full day.
The Moorings is known worldwide for their exceptional service and quality of boats. You can charter a sailboat or yacht by yourself and make your own adventure. If you need a captain, they offer that, too.
Head out with The Moorings for a half or full day of sailing, snorkeling and sunset cruises. The Moorings also specialize in Bareboat Charters, Captain Only Charters and even provide you with a path toward boat ownership.
For the best prices, call them directly or book your dream charter online.
Don't forget to book a fishing charter. Key Largo Fishing Adventures offers the best care whether it's your first or fiftieth outing.
They offer bigger ocean fishing boats and specialize in providing deepsea and offshore fishing, where your catch of the day could include mahi-mahi, tuna, wahoo and Kingfish.
Email them for the best rates. You may even score a reduced-rate hotel with Holiday Inn Key Largo, Marriott Courtyard Key Largo, Marina Del Mar or the Key West Inn.
My 5 Favorite Key West Spots to Visit
One of the most photographed attractions in Key West is the permanently anchored Southernmost Point Buoy. Visitors can stand at the southernmost point in the continental United States.
Six-toed cats, also called polydactyl cats, aren't unusual if you venture over to the Ernest Hemingway Home in Key West.
Decades ago, Ernest Hemingway was given a six-toed cat from a ship captain as a gift. Over the years, they've produced about 40-50 offspring in all colors and sizes. They call Hemingway's house their home.
Dry Tortugas National Park lies almost 70 miles off Key West's coast. A relatively small national park, at only 100 square miles, it consists of mostly open water with seven small islands that are reachable only by boat or seaplane.
The park is famous for its coral reefs, marine life and Fort Jefferson. You can visit for a few hours or, if you're adventurous, stay the night at the campground. Either way, you don't want to miss this excursion.
Islamorada literally means the village of islands and is a fantastic spot for your family holiday! With family-friendly events year-round, this island is where it's at with Trunk or Treat at Founders Park in October, music festivals monthly, golfing and miles of beaches to enjoy. This island offers something special for everyone.
Marathon is the heart of the Florida Keys and consists of 13 smaller islands steeped rich in railroad history. Its location along Seven Mile Bridge makes this island a great halfway point from Key West and Key Largo.
Marathon is quiet, calm, and full of great fishing spots and beaches, which makes it one of my favorite destinations.
Navigation Challenges
The Florida Keys isn't the place to be in a hurry. But while the slower pace of life contributes to taking it easy, don't be taken by surprise. The Keys present even advanced sailors with a few challenges.
With navigational challenges like wildlife sanctuaries, strong winds, depth changes, low bridges and tall riggings, it's difficult to stay calm at the helm.
Navionics: It's important to keep the electronic navigation charts of the local marine areas.
Marine debris : After recent hurricanes, keep a watchful eye on debris from boats, trees or houses.
Seamanship: Know where you're going. If you don't, take time to figure it out.
A Few Last Thoughts
Sailing through the Florida Keys is a dream come true for any boat enthusiast. When you plan your next vacation, consider a boating trip through the Keys.
Sailing is a unique way to experience more locations than just one during your vacation, and it may be your new mode of transportation.
Boats of all types and sizes frequent the Keys, and the island's lifestyle will bring you back year after year to tie up a line, drop an anchor and explore.
---