Home Sweet Boat: The Best Liveaboard Boats to Fit Your Lifestyle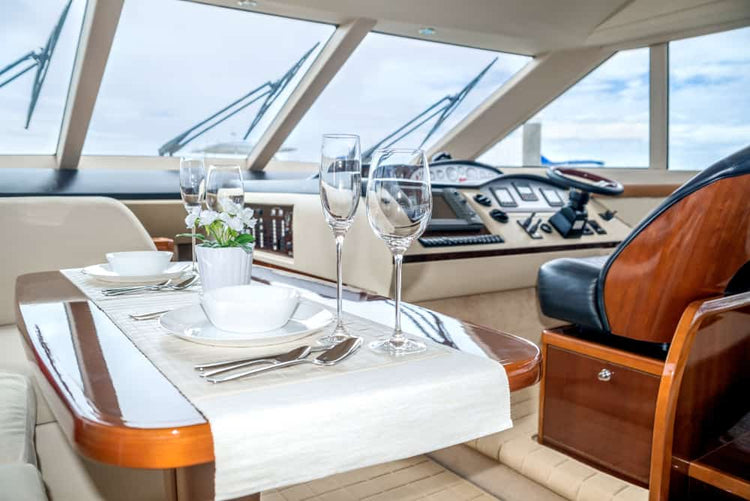 Ready to take the plunge into the liveaboard boat life? Or maybe you already live on your boat and want to upgrade?  
Anybody who has ever spent the night on any recreational boat is likely to agree that while it might seem like any boat with a cabin would make a great liveaboard, that's not necessarily the case.
Before you hang that "Home Sweet Boat" sign, there are considerations to keep in mind such as: your liveaboard's geographic location, local weather, inside a marina slip versus on the hook (as well as the proximity to businesses). Then there's your own personal preferences and lifestyle. 
For the purpose of this post, I'm going to concentrate on the liveaboard boats themselves - aspects like comfort, layout and sea hardiness.
Featured Boat Care Product
| | |
| --- | --- |
|      |  Upholstery Brush Set |
Check Price on Amazon - Better Boat's upholstery brush set comes with two brushes: a horsehair one to gently clean leather and delicate fabric and a nylon one to deep clean heavily soiled fabrics. Use on leather, vinyl, fabric, carpet and more. 
Ocean Liveaboard Boats
Sailboats, catamarans, trawlers and luxury yachts all make excellent liveaboard ocean boats. I enjoy the wide open expanse of saltwater like the Atlantic Ocean (or Gulf of Mexico) for boating. If you do too, you may want to take a look at the following options.
Multi-Hull Boats
Double-hull catamarans and triple-hull trimarans offer stability in rough ocean waters. They also offer separate living spaces in the hulls. Plus, they just look cool.
Bridging the line between boat and insect-like creature, the graceful lines and slender sides of designer Dick Newick's Custom 51 Trimaran are quite beautiful as it skims across the water. 
While a cat's below-deck space can be seen as cramped, the above-deck area is nice and wide.
Multi-Hull Boat Brands
Sailboats
You might be thinking a monohull sailboat wouldn't be the best choice for an ocean liveaboard boat, but consider this for a moment. During calm seas (or docked in a marina), the open decks offer living space for relaxing and enjoying the outdoors.  
Sailboat cabins can be quite plush with features like custom cabinets, teak decks and multiple staterooms. Most liveaboard sailboats are available with an engine, which I highly recommend for those times when the wind just isn't cooperating … or when rough weather is approaching and you need to get to home (to your marina home, that is) or to a safe harbor quickly. Mostly for that last reason.
Sailboat Brands
Sport Fishing Boats
In addition to many fishing amenities (like fighting chairs, 50-gallon coolers, in-deck fish boxes and an abundance of rod holders), sport fishing boats offer plentiful room above and below deck for living, dining and entertaining.
They're built tough to withstand rough seas. Also, those flybridges are awesome features to have when you're underway.
Interior features include spacious kitchens with full (or nearly full) size appliances, lengthy bench seating, high-tech sound and entertainment systems, comfortable staterooms and storage space for things like anchors, fenders, buoys and coolers.
Sport Fishing Boat Brands
Trawlers
I've written on liveaboard trawlers before, and I stand by them as great liveaboards for the ocean. The comfort of wide hulls, hard chines, less draft and below-deck headroom sends trawlers to the head of the liveaboard list.
Noise, maintenance and speed (or lack thereof) put some points on the con side. But, hey, you're on "island time," right? 
Trawler Brands
Luxury Yachts
Now, who wouldn't want a luxury yacht as a liveaboard? As plush and home-like as many of these floating hotels are, the price point is usually the deciding factor. Nonetheless, they make a fabulous liveaboard with multiple staterooms, heads with full-size showers and stylish living areas.
Gourmet galleys, media rooms and designer leather furnishings will make you forget you ever lived on land. 
On the downside (Isn't there always a downside?), luxury yachts are going to be more expensive as far as slips are concerned (if you're on the hook, that won't apply to you).
And, just like a house, you'll probably spend more time with the boat soap, deck cleaner, teak brightener and other boat cleaning products and maintanance.
Luxury Yacht Brands
River, Lake and Bay Liveaboard Boats
Easy access and fresh water make rivers, lakes and bays a popular choice for liveaboard boat anchorages. Since it's not on the open ocean, you won't have the worries of sea hardiness or the wear and tear of saltwater on hulls and your boat propeller. Of course, there's always the option of top-quality de-salt concentrates to alleviate that problem.
Houseboats
Houseboats are a common choice for rivers and lakes. Often, they're moored in a marina and don't move. They are, quite literally, a house sitting on the water. Think: MacGyver or Sleepless in Seattle.
Houseboat Brands
Sailboats
Sailboats work as equally well in rivers, lakes and bays as they do in oceans. Like any other boat, you'll want to consider the size of the boat when deciding where to anchor it. 
Sailboats and sport fishing boats with flybridges also require consideration for bridge clearance. For example, a 49-foot Hunter with full rigging wouldn't be the best of choices for your local lake (regardless of whether there's a bridge anywhere in sight).
Sailboat Brands for Lakes
Where to Anchor Your Liveaboard Boat
Technically, anywhere with water seems like it would be a good liveaboard location. But what works for others might not be your cup of tea. You'll have to decide whether you want to be on the ocean, the bay, a river or a lake. Or, maybe you'll choose all of them.
That's one of the best aspects of a liveaboard. You can pull up that boat anchor and line whenever you want and take off for somewhere new.
Atlantic Ocean
From Kennebunkport to Key West, the Atlantic Ocean offers a wide array of liveaboard locations - Bar Harbor, Maine; Norfolk, Virginia; Charleston, South Carolina; and the Outer Banks of North Carolina - to name just a few.
The main downside is winter time in the northern regions. Year-round sunshine, warm temps and blue skies make Florida a prime liveaboard boat choice. With its peninsula-like shape, the state was practically created for boat lovers. Maybe that's why so many of them live there.
Florida also has the distinction of having two coastal choices, the Atlantic and the Gulf of Mexico. The Atlantic side has Jacksonville, Fort Lauderdale, Miami, and the Keys among many more. See below for Gulf Coast ideas.
Pacific Ocean
Thanks to movies like Sleepless in Seattle, we all wanted to move to Seattle and live on a houseboat. What? You didn't? Okay, maybe that was me. The point is, even in areas typically considered too cold, or not conducive to the liveaboard life, you can live on a boat. Thanks for that, Tom Hanks. And, yes, technically, it was Puget Sound, but you get the idea.
San Francisco, Long Beach and San Diego are a few coastal California liveaboard locations you might consider. Let's not forget Astoria, Tillamook, Pacific City and Yachats, Oregon.
Gulf of Mexico
The Gulf of Mexico is my absolute favorite body of water. Sorry, Atlantic and Pacific. Warm waves, soft sand and shades of turquoise and sapphire…it's the Caribbean without the passport hassle.
Tampa, Clearwater, St. Pete and the Gulf side of the Keys make up this idyllic area. Then, you've got Gulf Shores, Alabama; Pascagoula, Mississippi and the Texas Gulf Coast.
Featured Boat Care Product
Check Price on Amazon - Better Boat's teak cleaner helps restore weathered and grey wood to a natural shine. Remove oil, grime, mold and more without harsh chemicals. It's safe for use on indoor and outdoor teak and wood items. 
Rivers, Lakes and Bays
Many rivers and lakes flow through well-known cities, making them a prime spot to drop an anchor. Baltimore, Maryland is an anchorage choice for the Potomac River, while several areas in Virginia and Maryland offer liveaboard life on the Chesapeake Bay.
New York and New Jersey have the Hudson River. Chicago offers the urban waterfront of Lake Michigan. Even though the word "lake" is in the name, the Great Lakes are more like oceans, in my opinion. Perhaps that's why they put "great" in front. 
Just a few areas include Grand Haven, Michigan; Egg Harbor, Wisconsin and Two Harbors, Minnesota on Lake Superior and Lakeside, Ohio and Erie, Pennsylvania on Lake Erie. 
These are locations where you'll have to decide how much winter weather you can take in a boat, but I've heard that the summers are amazing. In conclusion, a few factors you'll want to consider before diving into liveaboard life are:
Number of people living on board
Boat size (related to the number of people living on board)
Where the boat will be docked
Conveniences you (or the rest of your party) can't live without (though you may find that you can) - for example, a separate shower stall rather than a wet head
Whether you're ready to pull out the checkbook and pack your gear right now, or you're just taking down some notes, I hope this has given you a few ideas for choosing the best liveaboard boat for your lifestyle.