5 Stellar Liveaboard Diving Destinations (And the Ships to Carry You There)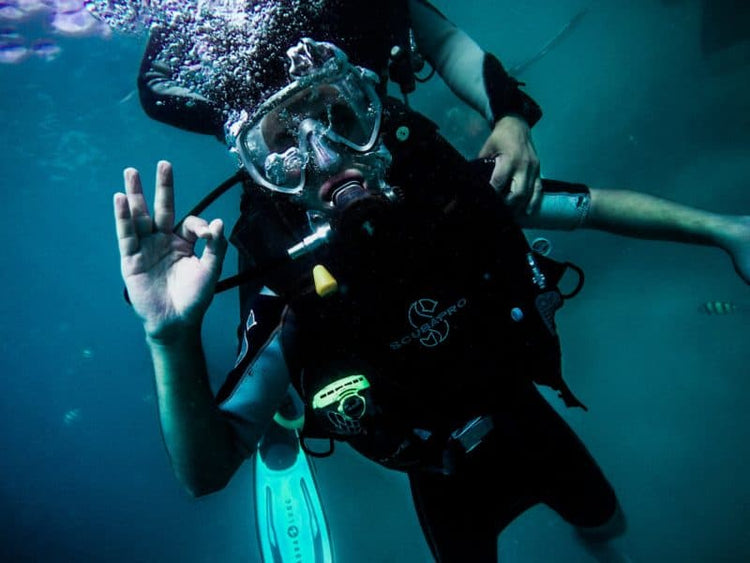 Wanna dive into the deep waters of Indonesia? Perhaps you prefer the clear waters of the Bahamas. Wherever you dream of diving, liveaboard dive trips are an excellent and comfortable way to explore these bucket-list destinations. 
The liveaboard diving and boating lifestyle take passengers off the beaten current with itineraries full of exotic species, quiet bays and some of the most unique underwater walls and caves.  
Liveaboard divers can discover reefs, lagoons and the world's best fecund muck (no, that's not a swear word). If you want a diving vacation, here are some of the top five liveaboard diving destinations in the world. Be careful. You just might want to toss out an anchor and line and stay a while!
1. The Bahamas
The Bahamas is the site of Columbus' first landing, but they also offer adventure, culture, relaxation and romance. Spanning hundreds of miles east of South Florida, the Lucayan Archipelago is made up of 700 islands.
This makes accommodation (as well as dive sites) quite overwhelming. Divers can find everything from budget-friendly dormitory-style berths to luxurious ensuite cabins.
So let me break it down for you. All Star Liveaboards' premier Aqua Cat is more resort than a boat. It offers liveaboard divers comfortable accommodations and dive equipment rental and storage. The Aqua Cat is perfect for every diver from the adventurous solo traveler to couples looking for their romantic getaway.
An exotic archipelago of over 360 cays and islands, the Exumas can be divided into three locations: Great Exuma, Little Exuma, and the Exuma Cays. In Great Exuma, you'll find aqua-clear waters, reef wrecks and the Blue Holes.
The Exumas Land & Sea Park is a 176-square-mile zone known for its outstanding anchorages and magnificent marine environment. Established by the Bahamas National Trust (BNT) in 1959, the Land & Sea Park offers some of the world's most pristine diving.
In 1986, the BNT declared the entire park a no-take zone, and has since had above-average concentrations of conch, crawfish and the largest population of grouper in the island chains.
The park is also an important area for migratory and nesting White-tailed Tropic birds and Clapper rails. Visitors can easily spot colonies along Shroud Cay's eastern cliffs.
Epiflora is one of the rarest living creatures found in the park. This blue-green reef-forming algae is known as stromatolites. Researchers determined epiflora to be the oldest macro-fossils on earth. Some date to more than three billion years ago!
Discover these modern stromatolites in the Cays on the Atlantic side of Stocking Island. Divers can explore various reef wrecks and experience thrilling shark feedings. Exciting high-speed drift dives through cuts in the cays, and mystery caves, are a must-do.
When you venture out for a day at the beach along a flawless coastline in the Bahamas, the last thing you may expect to find are adorable pigs. Swimming Pigs.
Upon arrival on Big Major Cay, you'll be greeted by approximately 20 pigs and piglets on what locals nicknamed "Pig Beach." Nobody truly knows how these domesticated pigs arrived, but these cute critters expect to be fed. By you. Needless to say, these pigs are in hog heaven.
2. The Philippines
When in the Philippines, book one of the newest liveaboard luxury yachts operated by All Star Liveaboards. At first glance, the retro-chic 118-foot Stella Maris Explorer looks more like a research vessel than a luxury yacht. 
However, this yacht offers ample amenities like plush memory-foam beds, tasty prepared meals, a relaxation deck and a 1:1 guest to crew ratio. And that's just the ship! The diving is just as amazing.
Complete with nitrox, rental equipment and a 5:1 diver to dive guide ratio, this ship is the best way to explore sites like Tubbataha Reef (pronounced too-bah-ta-hah), the Sulu Sea and Apo Reef.
The Apo Reef, encompassing 13 square miles, is the largest contiguous coral reef system and in the Philippines. The reef and its surroundings are protected by the Apo Reef Natural Park and are one of the Philippines best dive sites.
The reef is currently under consideration to become listed as a UNESCO World Heritage Site. The Apo Reef is located 15 nautical miles west of the Philippine island of Mindoro and is basically a triangular coral atoll.
Separated by a northern and southern lagoon system, Apo Reef is submerged underwater, but you'll find an island of the same name waiting for you. Divers can see many different species of flora and fauna such as cushion stars, Yellow margin trigger fish, sharks, giant napoleons, mantas, and ginormous moray eels.
The Sulu Sea lies between the Philippines, Indonesia and Malaysia. Smack in the middle, you'll find Tubbataha Reef, which was named a UNESCO World Heritage Site in 1993.
This marine and bird sanctuary consists of only three coral atolls located 100 miles offshore. And the diving here is said to be other-worldly—something you must see to believe!
The underwater atolls are barely visible above the cerulean blue seas and the Tubbataha National Marine Park is only accessible by boat. The park offers liveaboard dive guests the rare opportunity to see thousands of species of corals and marine life like nowhere else in the world.
In 2008, the reef was nominated at one of the New 7 Wonders of Nature. Scientists have discovered that the Tubbataha Reefs Natural Park has more than 600 different species of fish, 360 coral species, 11 different species of sharks, 13 dolphin and whale species and more than 100 bird species. It's also an important nesting ground for the endangered Hawksbill and Green Sea Turtle species.
3. Indonesia
Indonesia offers divers the largest archipelago in the world, which is home to the healthiest coral reefs on the planet. You'll find exotic places like the Wakatobi, Kaledupa, and the Forgotten Islands in the Banda Sea.
Indonesia is famous for having the most diverse wildlife on earth. Divers can see pygmy seahorses, manta rays and sharks.
For a liveaboard diving experience, All Star Liveaboards offers exquisite diving tours featuring a variety of shore excursions like seeing an active volcano and eating BBQ dinner on a deserted island alongside Komodo dragons.
The Aurora is a traditional double-masted Pinisi-style ship. Spacious and sleek, the Aurora was built for remote area exploration. 
This liveaboard dive ship also has three dive guides on board and only eight guest suites, making it quite an intimate and personable experience.
Wakatobi National Park is a luxury dive resort located in the Tukang Besi Archipelago in southeastern Sulawesi, Indonesia. If you want a tranquil island without crowds, this is the place. And Wakatobi's pristine natural environment offers world-class diving.
Wakatobi as one of the world's largest privately-protected marine reserves. Set in a remote location, you'll find few divers here with you. Wakatobi offers privately-guided snorkel tours and dive tours.
Onboard Wakatobi's luxury dive yacht, the Pelagian is capable of taking only 10 passengers beyond the island of Tomia, making this liveaboard diving experience extra-special.
Beyond Tomia, divers can visit sites like Cheeky Beach and Asphalt Pier. They can see sheer cliffs and caves. And a must-do—muck diving!
Kaledupa, the largest atoll in the world, rests in the Banda Sea and is home to some of the most pristine marine life in the world.
The name Kaledupa means "incense wood" and, long before the Butonese arrival in Wakatobi, was the island of the ruling kingdom. Once you visit, you'll never be the same. You'll understand why the royals chose to call this island home.
Divers will find 22 sites in this paradise, which can be accessed in a half hour by boat. There are unique locations such as the Channel Drop Off, the Outer Pinnacle, The Ridge, and among the most popular, Pak Kasim. If divers wanna be treated like royals, this is the go-to destination.
4. The British Virgin Islands
The British Virgin Islands (BVI's) are better known as one of nature's little secrets. A British territory located in the Caribbean 100 miles east of Puerto Rico, the islands sit within the Virgin Islands archipelago.
Home to over 60 islands and cays, divers will find an abundance of sites located in a relatively small area. In fact, the BVI's makes an amazing boating vacation —diving or not!
Perfect for both beginners and experienced divers, the waters here are especially calm. Wreck diving is at its finest here with opportunities to dive to the RMS Rhone and the Kodiak Queen.
If you want to spend time topside, there are a variety of excursions to nearby islands. A favorite way to spend the day near Devil's Bay to visit The Baths on Virgin Gorda, a geological wonder consisting of beautiful grottos and several tranquil pools.
A great way to visit these spectacular dive sites is onboard the Cuan Law, the largest sailing trimaran in the world. At 105 feet in length and 44 feet wide, complete with two 103-foot masts, you'll be sailing the Caribbean in massive luxury.
The Royal Mail Ship Packet Company was once the proud owner of the RMS Rhone mail and passenger carrier. Christened in 1865, she was sunk only two years later by the Category 3 San Narciso Hurricane off the BVI's Salt Island.
Today, the shipwreck serves as a popular wreck dive site, which established a national park in the surrounding area. A top recreational dive site in the Caribbean—both for historical aspect and thriving marine life—the Rhone has been preserved in fairly good shape.
Even though the wooden decks have long since rotted away, she provides an outstanding swim-through for divers. And much of the hull is encrusted with coral overrun by Fang, a local species of barracuda.
One of the BVI's newest dive sites is a former Navy fuel barge called the Kodiak Queen. One of five ships to survive the Pearl Harbor attack, she spent some years as an Alaskan fishing boat, then rusting away abandoned in a junkyard.
But in 2012, historian Mike Cochran found her, which led to Owen Buggy, a ship engineer and freelance photographer, rescuing her. Buggy pitched a project to Richard Branson, who then purchased the ship and sunk her 57 feet below the sea.
Today, the Queen is making her debut as an underwater art installation and eco-adventure dive site (complete with the Kraken).
5. The Maldives
The Maldives is a sovereign archipelagic nation located in the Indian Ocean. They have a sunny, tropical climate with two seasons at a constant 77-degrees. Here, visitors will find white sands and happy fish.
For a liveaboard diving experience, you'll be tempted to step aboard the MV Eco Blue, which offers year-round diving to 26 of the best atolls you've ever set eyes on.
She caters to only 22 guests and with air conditioning, internet, fine dining and nitrox, you'll a renewed passion for the ocean conservation alongside the experienced dive crew.
The North Male Atoll is one of the best known and most explored dive areas in the Maldives. It's recognized as a world-class manta and reef shark destination and has a plethora of dive sites of pinnacles, coral gardens and shipwrecks.
To thoroughly enjoy these spectacular waters, I highly recommend spending 7-14 days. With so many atolls to visit this only makes sense but be prepared—the underwater scenary manages to steal many hearts.
The land of big fish and fast currents, this area's fondly called the "kandus" by locals. With channels that connect the atoll to the open ocean, the kandus provide excellent drift diving.
What about the big fish, you ask? Divers will come across tiger sharks and mantas who love to play and dine at this underwater seafood buffet.
Check Price on Amazon - Better Boat's anchor kit comes with a fluke anchor, chains and line. One end has a pre-sliced eyelet with corrosion-proof stainless steel.  
These five mysterious and beautiful places are among the top five liveaboard dive sites in the world. They're full of fish, fantasy and the romance of the seas. If you dream of seeing stingrays and gentle giant tiger sharks with your own eyes, don't miss one of these amazing liveaboard diving destinations!
---