Liveaboard Marinas: How to Tie Up and Stay Awhile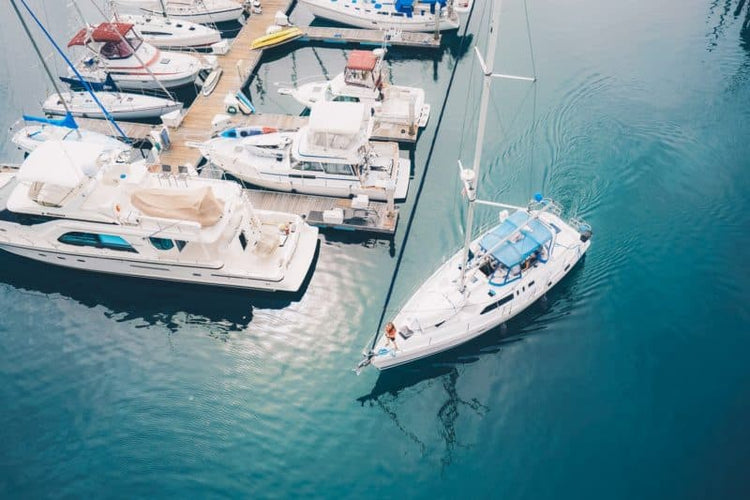 Wanna give it all up and live on your boat? (Those guys on TV make it look so great.)
But while living "on the hook" is adventurous and all, it's not always convenient for times you need to be on land. So if you're seeking more than a mooring ball and anchor line, consider a liveaboard marina. After all, dinghies and water taxis can get old after a while.
Amenities Found in Liveaboard Marinas
Liveaboard marinas range from the bare necessities of a dock and a bathhouse to luxury equal to a five-star resort. It's a good idea to figure out ahead of time just what you want, what you definitely don't want and what you can live without.
Much like any other living arrangement, liveaboard marinas come equipped with as many, or as few, amenities as you can imagine. The only difference is you'll be leasing access to the open water rather than the neighborhood pool.
Power hook-ups and holding tank pumps
Restrooms, pools, playgrounds and clubhouses
Restaurants and bars
Special events like movie nights, parties and picnics
Fitness centers, laundry facilities, business centers and Wi-Fi
Ship's store and gas/diesel tanks
Security
8 Important Questions Before Slipping Into Liveaboard Marinas
Whether you're retired, downsizing or just want to give it a try, tying up at a liveaboard marina is a unique alternative to a traditional house, condo or apartment.
If you've spent time living aboard your boat—for a weekend or extended vacation—you probably already know whether the liveaboard boat life's for you or not.
It can be a freeing and off-the-grid experience, but living on the water has its own unique aspects to love, hate or deal with.
1. Does the marina allow liveaboard boaters?
Just because marinas allow boaters to spend the night doesn't mean they allow people to live full time on their boat. This is probably the first question to ask before getting deep into the decision process. Don't fall in love with a particular place only to find out you can't live there.
2. Do I like confined spaces?
Unless you own a mega yacht, a boat has less space than a house. That's just the way it is. This also applies to storage space. Take into consideration how many people will be living on board. If even one of those people is a teenager, you may want a bigger boat.
3. Am I cut out for water life?
Soggy crackers, clumpy salt, barnacles, rocking waves and leaky windows ... Water life has its ups and downs. Liveaboard life means coming up with small-space storage ideas, food preservation plans and maintenance issue objectives.
Then there's the subject of marine toilets, enzymatic toilet tank digest and biodegradable toilet paper, but we'll save that one for another day.
4. Freshwater or saltwater?
Enjoy the open sea's lure and salty breezes? Or do you prefer an inland lake or river? Liveaboard marinas are found in all types of waterways.
What's great about the liveaboard life is that if you don't like something, just untie the bowlines, toss off the dock lines and sail away (or trailer away, whatever the case may be).
Featured Boat Care Product
     
 

Fabric Waterproof Spray
Check Price on Amazon - Better Boat's fabric waterproof spray adds a water-repellent barrier that allows water to wick away on leather, canvas, polyester and nylon. Use on Bimini tops, umbrellas, outdoor furniture, luggage, tents and more. 
5. What about pets?
You certainly can't forget the four-legged water lovers. I've seen many boat dogs (and boat cats, for that matter) living the high life on "their" boat. But with the liveaboard lifestyle, you'll need a plan for necessary activities like potty breaks and exercise.
6. How will I get to work?
If you're retired, carry on. This doesn't apply to you. If you do work a nine-to-five office job, however, traveling to work really isn't much different than living in a house.
You'll most likely still have a car. Bikes and scooters can even do the trick, depending on how far the office is located.
Most marinas offer overnight and long-term parking for their liveaboarders. And bikes can be stored directly on the boat!
These days, with increasing remote work opportunities available, a work commute might not be an issue at all. As long as you have a good Internet connection, you're good to go. In fact, the internet is even important to retirees wanting to stay in touch with family or find out which way the tides are running.
7. Are there nearby bridges?
It seems like a strange question, but it's really important to consider. If you own a sailboat or a boat with a tall flybridge, you'll spend significant time waiting for drawbridges to open. If there are bridges, check the height and your boat's mast or flybridge.
8. Is there deep water access?
This question is another potential marina slip renters might not even think about. Depending upon the vessel size, you'll want to verify with the marina that the surrounding water is deep enough to navigate without dragging your boat's prop or sailboat's keel along the bottom.
The Pros of a Liveaboard Marina
From trawlers, catamarans and sport fishing boats to sailboats and houseboats, a boat certainly adds a fun factor to everyday life. And this factor is multiplied when you can actually live aboard said vessel.
I'm probably preaching to the choir, but there are amazing aspects of liveaboard marina life:
Freedom of the open water (and to leave if a marina's not for you)
Off-the-grid (or luxury) living—as much as you like!
Proximity to your favorite hobby (boating)
New travel experiences
Meeting neighborly like-minded individuals
The Cons of a Liveaboard Marina
Any preacher worth his or her salt will also reveal the not-so-great parts:
Water and humidity considerations (in regard to food storage, electronics, etc...)
Weather issues like hurricanes and tropical storms
Wildlife issues like birds, pelicans, otters, raccoons and rodents
Smaller space for storage of personal belongings, recreational gear and anchors, buoys and boat cleaning and maintenance products
Noisy neighbors, sometimes ones who arrive at dawn to work or have late-night boat parties
Liveaboard Marina Costs
Now that I've piqued your interest with liveaboard marinas, let's get down to the financial details. Just how much does a liveaboard marina cost?
Like everything else in this world, it varies and depends upon several factors. Liveaboard marinas usually base their fees on the boat's length.
When you think about it, that really doesn't sound so bad. Just remember to factor in food, boat insurance, and all the yearly maintenance that comes along with boat ownership.
Most liveaboard marinas lease slips on a weekly, monthly, yearly and even longer-term basis. You can even find marinas where you actually "buy" the slip.
Sometimes, utilities like power, cable or Internet are included (and sometimes they aren't). Sounds similar to that apartment you rented back in college, huh?
Just for fun, I decided to check out a few:
For a Caribbean marina liveaboard, expect to pay around $150 a month.
A Florida liveaboard marina costs high $200/month. One charged a monthly rate of $9.00 a foot plus $35.00 for utilities, while another one charges $275.00 a month for a boat up to 28 feet.
A Chesapeake Bay marina in Hampton, Virginia takes the boat's overall length and multiplies it by 60 to get a yearly fee. For example, a 30-foot boat would be $1,800 for the year. 
As you can see, cost varies quite a bunch. The more high-end the marina is, the more you're going to pay.  
Where to Find a Liveaboard Marina
Between lakes, rivers, bays and the ocean, marinas can be found anywhere. The tricky part? Finding one that allows boaters to liveaboard.
One great place to start is Marinas.com. Type in any state in the search box, and it will bring up a boatload of marinas (as well as lighthouses, bridges, moorings, etc). They might not necessarily be liveaboard marinas, but it's a starting point.
You're likely going to be doing a lot of calling and asking. But the payoff will be sitting on your boat deck enjoying the view.
So, has this made you wanna check out local liveaboard marinas? Best of luck. See you on the water!
---