Feel the Power: The Best Portable Generators for Boats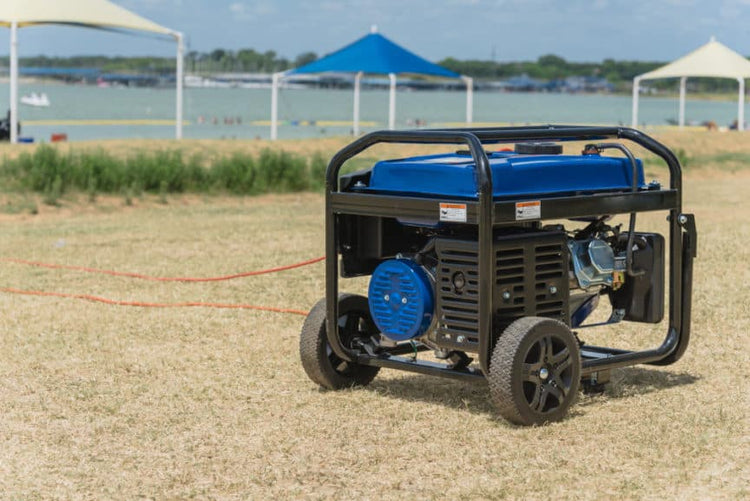 I have a feeling this will generate a lot of excitement. That's because it's about the best portable generators for boats!
A portable generator has many conveniences. For example, night fishing. I have a lot of experience night fishing. For me, it's more peaceful with fewer people, and there's better quality fish at hand. 
But at night, I often need lights to help illuminate my fishing boat and help attract fish (which is one of the main benefits of having lights in the first place). But after I forgot to charge my lights on more than several occasions, I decided it was time to invest in a portable generator.
With my new generator, after about five to ten minutes, my lights are as good as new and ready to attract some fish (and my fishing buddies have stopped giving me the evil eye).
A portable generator is not just convenient, but it can save the day. Not only can it come in handy to power fishing lights, but it can offer a way to charge your boat's battery if it ever dies out and leaves you stranded while anchored out or tied up at a marina.
Let's dive into the basics and the best portable generators you can find on the market.
Three Types of Portable Generators for Boats
Portable generators come in three varieties: Conventional, inverted and electric or solar. Here's a breakdown of each:
Conventional generators: Powered by fuel, this portable generator is similar to a motor (and all the noise that comes along with it). This type of boat generator provides a steady stream of power to any device you plug into it.
Inverted generators:  This generator is more like a big battery. It's capable of a consistent charge at all times, which you may not get with a more conventional generator.
Electric and solar generators:  While these are an environmentally-friendly option, they don't have the same power as the aforementioned types. However, if you're considering solar panels for your boat, this would be a great starting point for a test run. While the power is lighter, they do provide a quick charge for smaller items like phones and small electronics. 
Featured Boating Product
| | |
| --- | --- |
|      |  Marine Degreaser |
Check Price on Amazon - Better Boat's marine degreaser safely and efficiently breaks down oil, grease and grime from fiberglass, gelcoat, chrome, stainless steel, painted surfaces and more. It removes black streaks and leaves a high-gloss shine.  
Portable Generator Features to Consider
Digging deeper, there are some key elements that will differentiate your needs when choosing the right generator for your boating style. Some of these considerations will ultimately help you determine which type of generator to purchase. Let's break down each.
Portability
Consider how much your generator weighs and how easy it is to transport, especially on and off your boat. Typically, your average generator is going to weight anywhere between 40 to 50 pounds.
I would say that a stable size is 45 pounds or so because it ensures to remain stable without tipping over or going overboard and getting swept away (which is, obviously, the worst-case scenario).
Power and Wattage
First things first, when it comes to power, you always want a generator that can deliver a consistent charge. It doesn't matter if your generator can deliver one-million watts if it can't do so effectively.
Typically, I look for somewhere in the neighborhood of 1500 to 2500 watts, knowing that if I need that extra power it's available to me.
Runtime
Runtime is the amount of time your generator is able to run, which can alter based on fuel capacity. Most of the generators I showcase below base their runtime on using their battery at 25% capacity.
If you need to figure out how long it'll run in a pinch, just divide that number by four. That means if running at maximum capacity, 10 hours of runtime will result in 2.5 hours.
That said, anywhere between 10 to 12 hours is considered ahead of the pack. I would start there if I was looking for a portable generator of any kind.
Noise Levels
When a generator is loud, it gets in the way of your boating fun. Not only could it scare all the fish away, but it could put a damper on the party you're hosting while you're anchored out trying to enjoy the water with friends and a couple of drinks in the cup holders.
Typically, though, a decibel range in the high 40s will sound like a consistent hum, so I suggest to stick between 48 to 55 decibels.
Safety
Every aspect of boat accessories, especially a generator, needs to be safe. Fortunately, most generators come with a whole host of safety features, including low-oil shutoffs to emergency shutoffs should your generator come into contact with water (and I'm talking submerged).
With that in mind, placement on your boat is going to be important. You'll want your generator to be out in the open to allow fumes to escape, but you also need to keep it safe from water.
Most folks like to keep their generators at the stern. This way, it can remain stable (thanks to its weight) without causing a fuss. And you won't forget to throw it into your dock box along with anchors, boat fenders and dock lines for safekeeping.
The Best Portable Generators for Boats
Interested in getting started on your next purchase? That's great! The following are some of the portable generators that I can heartily recommend to make your boating adventure more pleasant.
Traditional Portable Generators
The traditional styles of generators (conventional and inverted) are great options to bring power aboard.
Here are a solid seven I recommend:
1. Yamaha ER2000iSv2
Check price on Amazon
This is a highly rated generator that really does the trick for a lot of folks. It has a long run time, solid fuel economy and even comes with a controller to manage a consistent output.
I'm an especially big fan of just how quiet it is. With a muffler system and USFS-approved spark arrestor, it's like a whisper.
The Smart Throttle is a nice tailored option, which varies the speed of the generator based on what it's charging. It's also easy to start, so it can be used time and again.
While this portable generator might come at a bit of a premium, this is a trusted brand name that has resulted in a whole lot of happy experiences. It's also the perfect generator for fishing trips.
Weight: 45 lbs
Type: Inverted
Wattage: 2,000
Runtime: 10.5 hrs
Noise Level: 51.5 - 61 Db
2. Generac GP2200i
Check price on Amazon
One of my favorite models, this portable generator is the precise one I rely on for my boat. This generator is sturdy, powerful and provides good power for smaller electronics (like cell phones or fishing lights). However, it can still go big and provide stronger power when needed with True power technology.
It comes equipped with status lights to alert of any oncoming issues. Along with a built-in handle, it has an economy mode to get better fuel economy and noise reduction. 
It also has a parallel-ready feature that allows the connection of two inverters. This way, you can remain positive that your generator is working on the best terms.
This is definitely a model that I trust.
Weight: 46 lbs
Type: Inverted
Wattage: 2,200
Runtime: 10.75 hrs
Noise Level: N/A
3. Rainier R2200i
Check price on Amazon
I'm a big fan of the design of this portable generator. Not only does it have a super-comprehensive control panel, but the shape makes it easy to transport from the land to your boat.
On top of that, it offers a four-stroke engine with easy access recoil start, as well as a running time of 13 hours.
One of the key features of this model is the eco mode, which actually attunes itself to whatever it's charging. This kind of tailored economy is fantastic if you need to charge sensitive electronics and is something I was super impressed to learn.
I think this is a great all-around option for any boater.
Weight: 44 lbs
Type: Conventional
Wattage: 2,200
Runtime: 13 hrs
Noise Level: 52 Db
4. Honda EU2200i
Check price on Amazon
For a bit more money, you can go with a trusted brand name like this Honda portable generator. It's one of the quietest generators I've seen on the market, which makes it ideal for fishing while still matching the same power of similar generators mentioned above.
At the same time, the maximum runtime is a bit lower, although it does offer great economy with the Eco-Throttle System, which allows it to cater its charge to whatever needs to be amped up.
This model is precise and with Honda's inverter technology, it results in stable clean power in a more compact package.
Weight: 46.5 lbs
Type: Inverted
Wattage: 2200
Runtime: 9.6 hrs
Noise Level: 48 - 57 Db
Environmentally Friendly Generators
Looking for an alternative source to help generate power on your boat? These are some great models:
5. Jackery Explorer 160
Check Price on Amazon
Looking for something on the smaller side? This is a great option if you simply want a portable generator for charging your phone, camera equipment or your laptop.
It's equipped with a lithium-ion battery pack, no fuel is needed and it can be easily recharged in a hurry. While this generator isn't fit for big jobs, it's a great option to tag along. It barely weighs 5 pounds!
It comes with a built-in light, too, which is super handy in case of emergencies.
Weight: 3.97 lbs
Type: Electric
Wattage: 150
Runtime: 6 hrs
Noise Level: 0 Db
6. Audew Portable Power Station
Want to take things to the next level? The Audew Portable Power Station is a terrific choice. While it still can't match the power of its conventional peers, this solar-powered option is another great generator to make your life simple.
It has a high-capacity power station, with on-the-go charging for smaller appliances. The good part is that this generator would help light up fishing lights and other basic devices, but I would try to avoid using it on any huge hookups (in fact, it will auto-shut off in those cases).
Weight: 14 lbs
Type: Solar-powered
Wattage: 500
Runtime: 9 hrs
Noise Level: 0 Db
7. MAXOAK BLUETTI EB150
Check price on Amazon
Okay, now this version can hold a candle to its gas-guzzling counterparts! Another solar-powered option, this generator has a whole lot more capacity for those who need to use some serious charging.
You can see it in the weight, though, at almost 40 pounds. It also comes with high-efficient solar charging, with solar charging cables included, as well as a battery management system to ensure that it's always running up to the high standards it sets.
If you want something that is virtually silent, this portable generator is fantastic for fishing trips and offers a source of clean renewable energy. While it's up there in price, I don't doubt the quality of those who want to have a top-rated portable generator.
Weight: 37.9 lbs
Type: Solar-powered
Wattage: 15,000
Runtime: 5.5 hrs
Noise Level: 0 Db
Start With One of These Portable Generators
So, there you have it. This list should give you some of the best and most trustworthy generators.
One of the main things I would consider is how often you plan to use your generator. If you want it for emergencies, then one of the solar-powered options might be more up your alley.
Wanna feel good and safe about bringing some extra power with you on the next trip? Any of the conventional or inverted options I mentioned would be a great bet.
Here's hoping you're charged up by your next boating adventure!