How to Get the Best Night's Sleep on Your Boat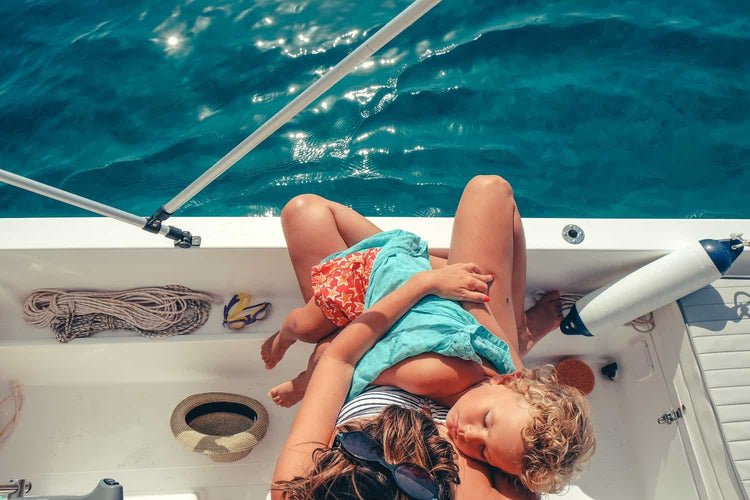 Ah, sleeping on a boat. Whether you're just catching a few winks or closing your eyes for the night, there's just nothing more relaxing. 
Rocking ever so gently on the water with the stars above you, a fresh breeze to caress your skin and the peace of nature to sing you to sleep.
Some of my best memories are of a stunning night sky and how different the boat and water feel at three in the morning. It's as if myself and maybe only a few others on Earth share a special secret by knowing the magic of sleeping on the water.
All this can be yours if you remember the three Ps for sleeping on your boat: prepare for fun, prepare for practical needs and prepare for emergencies.
Featured Boating Product
| | |
| --- | --- |
|    |  Dock Lines |
Check Price on Amazon - Better Boat's dock lines are made of marine-grade double-braided nylon to keep your boat safely tied to docks, mooring balls and more. They're smooth and won't scratch boats.
How to Get the Best Night's Sleep on Your Boat
1. Prepare for Fun
Food is an important component of just about every special occasion. An overnight stay on your boat is no exception. Think dinner and breakfast but also think preparation and cleanup. Pick recipes that call for little or no chopping and cooking.
Of course, you may want to take full advantage of a galley or a grill on your boat. Just consider that you'll want to enjoy the company of your guests and have the opportunity to relax.
Alcohol may be something you'd like to enjoy but, as the captain, make sure you and a designated first mate share the responsibilities of boating.
Music and entertainment are good elements to add to your nighttime boating experience. Remember that sound carries on water, so you should be considerate of nearby boaters when you crank up those speakers.
Don't forget that the joy of a night on the water is about the basics. Think about activities that let you appreciate the beauty of nature and the peace you can find away from phones and work.
Consider board games instead of hooking up a television or portable DVD player. Why not tell some ghost stories just before you and your friends nod off?
Speaking of friends, an overnight boating trip can be a wonderful shared memory. If your guests aren't regular boaters, let them know what to expect and how to pack for comfort.
Your water supply may be limited aboard so help them help you by conserving water when they brush their teeth. People usually have a better time when their expectations are in line with their experiences.
Your friends will be more open to noting the unique aspects of boating at night if they're not fuming about an inability to plug in a hair dryer in the morning.
Travel is a big part of the fun. As you plan your trip, think about where you'd like to spend the night. If you've never slept aboard a boat before, it's perfectly okay to try out a good snooze with the boat still tied to the dock.
As you get more comfortable with your boat, you'll likely meet fellow boaters who will tell you where they like to go gunkholing, a term that refers to mud in coves and underscores the idea that a sheltered bit of water is a good place to sleep.
Whether you find the perfect spot on a map or through word-of-mouth, you'll want a location that's protected because the weather can change fast and you want to give yourself every chance of having a safe night.
2. Prepare for Practical Needs
Don't forget you'll have a pretty hard boat in between you and the soothing comfort of sleeping on the water.
Get your sleep setup in order. If you have a mattress on your berth, play Goldilocks and make sure it's not too hard.
If it is, consider purchasing something with more fluff, like an air mattress (check price on Amazon). These are easy to set up, collapse down to almost nothing and can turn a deck into a majestic bed.
Also, remember the body cools as it rests. There are fewer better sensations than something snuggly wrapped around you while the chill of a new morning dawns.
Be sure to stay warm with the help of a nice durable sleeping bag. Coleman is a reputable outdoor brand and they've got plenty of quality bags to choose from (check prices on Amazon).
Depending on the configuration of your boat, you'll want some privacy.
A pop-up changing room might help with changing into your favorite pajamas, using the facilities or just protecting yourself from the night if you're not into sleeping directly under the stars. This simple, affordable changing room (check price on Amazon) makes a difference when guests want to change.
Don't assume that you can't enjoy a night out on the boat if you don't have an enclosed cabin. There can be nothing sweeter than enjoying an open boat on the open water provided you've taken the time to prepare.
And a quick pop-up tent (check price on Amazon)can help you sleep if you're not accustomed to sleeping under the stars.
Get cold easily? Whether you have a cabin or an awning,a small cabin heater can go a long way.
Of course, there will be certain basic needs to address. If you're just hanging out at the dock and there are facilities at the marina, you probably just need a flashlight. Go with a totally waterproof one, of course, and non-slip shoes to ensure a safe walk to and from the bathroom in the middle of the night.
Otherwise, provide for the comfort of you and your guests with a simple onboard bathroom setup (check price on Amazon), which can be a much more comfortable option than a portable bucket toilet seat set.
It may not be fun to set up all of this equipment before your trip, so get a jump on this well before you take off.
There's something absolutely amazing about the dead of night on the water when the world is both quiet and alive at the same time. Make sure you can appreciate that sensation and avoid the misery of wishing you'd thought ahead in this area.
Featured Boating Product
| | |
| --- | --- |
|       |  Boat Erasers  |
Check Price on Amazon - Better Boat's boat erasers quickly and conveniently remove scuffs and dirt from decks, consoles, upholstery, walls and more. Simply wet, squeeze and wipe away. 
3. Prepare for Emergency
Popular images of boating are all about carefree smiling people with sprays of white sliding off the bow as she cuts through a stunning blue sea. The reality is that operating a boat is a big responsibility and that won't end when you fall asleep.
Check out your boat and make sure that she'll be okay through the night. Using equipment like a carbon monoxide detector (check price on Amazon) will help ensure that you're safe even while you run necessary equipment like an air conditioner.
A bilge pump alarm (check price on Amazon) will keep you from waking to find that water has come into the boat to keep you company.
In case of an emergency, you should also keep a marine radio (check price on Amazon) on board so you can send out a distress signal.
For sleeping aboard, one of the most important pieces of safety equipment is your anchor. You should already have one sized for your boat. A good boating course will help you understand the different types and how each is used.
Take advantage of resources to learn more, such as from the dealer who sold you your boat, fellow boaters and the question forum of the United States Coast Guard.
Spend an afternoon testing your anchor, chain and line, checking to make sure you're comfortable with using it and feel confident it will hold through the night. If you have any questions about the safety of your location, you can share watches during the night and, of course, make sure you display an anchor light with a tested and reliable lamp throughout the dark hours. 
Featured Boating Product
| | |
| --- | --- |
|     |  Anchor Kit |
Check Price on Amazon - Better Boat's anchor kit comes with a fluke-style anchor, chain and nylon rope. It keeps your boat secure in sand or mud. 
It may seem like a drag to think about safety when all you want is a relaxing night on the boat but, really, an ounce of prevention is worth a lot more than a pound of cure in this case. 
Take the weather for example. Find a reliable weather reporting source and make sure you won't be surprised by storms while out on the water. You won't want to wake to thunder and find yourself drenched while pulling up an anchor in a dark rainstorm (never mind the trip home in rough waters).
The same rules for daylight boating apply to overnight trips. File a float plan with someone you trust. Make sure you're comfortable operating your boat and are familiar with and obey all navigation rules.
Check that you have the necessary safety equipment aboard and meet at least the minimum requirements for recreational boats as set by the USGC.  
Sleeping on a boat can be a great experience. Just do your homework before you lean back and let the gentle magic of the water take you to dreamland.