Make Like a Snowbird and Sail South: Winter Boating Destinations to Escape Snow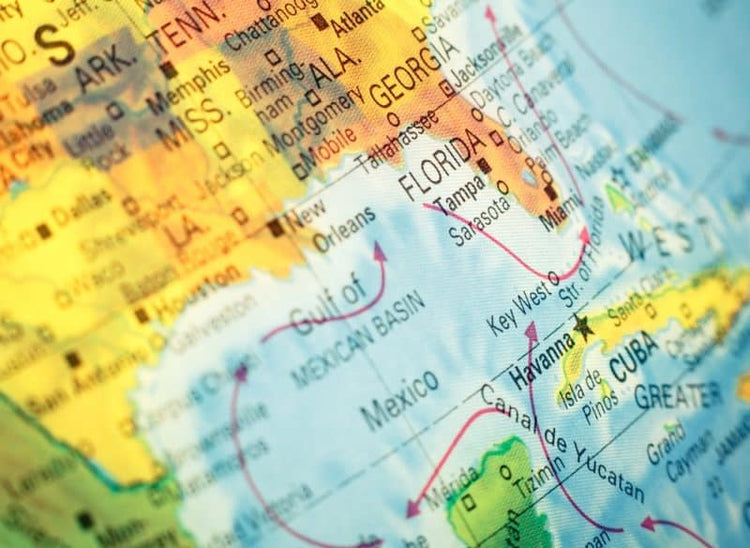 Snow, sleet, frigid temps and freezing anything. If you enjoy the winter season's frosty demeanor, well, more power to you. I'll see you in the spring. Make that late spring.
But if you're like me and these words translate as "time to raise the anchor slip away to a fun and sunny winter boating destination", I can surely recommend a few.
Winter Boating Destinations to Slip Away From the Snow
You've decided to get away, but where do you go? Don't worry, I've got you covered. Scroll on for destination ideas that'll take you from brrrrr to balmy faster than you can book a flight. 
Alabama
Part of the Tennessee River, Lake Guntersville's a popular boating destination in Alabama, which holds a variety of fishing tournaments.
Boaters can also coast the Mississippi River or the Gulf of Mexico, where they can sail up to a waterfront eatery, spend the day fishing on the Gulf or walk along Gulf State Park's trails and beaches.
Don't miss Orange Beach's soft white sand and the famous Flora-Bama bar, a restaurant and music venue on the Alabama/Florida border. Other nearby areas include Gulf Shores and Mobile Bay.
California
With waterfront restaurants, sailing regattas, nautical history and Pacific Coast sunsets, San Diego's a popular boating destination in sunny Southern California.
The Coronado Islands of Mexico, only about 15 nautical miles away, are a national wildlife refuge. Anchor out for a day of fishing for marlin and yellowfin tuna, or stay overnight.
Visit Mission Bay for swimming, sailing and water sports. Spend a day or more at La Jolla Cove, where you can take in activities such as snorkeling, diving, kayaking and watching marine life.
Check out Southern California's lake scene at Big Bear Lake—located in the beautiful San Bernardino Mountains—or Pyramid Lake in the San Emigdio Mountains. You'll find hiking trails, jet skiing, boating and many opportunities to catch trout, catfish, bass and bluegill.
Lake Havasu, which is actually in Arizona but right at the border of the Colorado River, is a widely popular fishing, sailing, water-skiing and jet-skiing lake. You can also visit London Bridge.
Florida
Whether it's a liveaboard dive trip, a snorkeling excursion or a deep-sea fishing charter, Florida's waterways offer year-round tan lines and sunny smiles.
Heat seekers can enjoy winter boating from the Atlantic Ocean and Intracoastal Waterway (ICW) of South Florida to the Gulf of Mexico in the Keys and the West Coast.
Florida offers endless parks and attractions for winter boating destinations, including Bahia Honda State Park on Big Pine Key, John Pennekamp Coral Reef State Park in Key Largo, Fort Zachary Taylor State Park in Key West and Key Biscayne National Park in Miami-Dade County.
Sarasota, Fort Myers, Naples and Sanibel Island all make excellent winter boating destinations for fans of fishing, snorkeling, diving, kayaking and cruising. I also highly recommend an Everglades airboat ride for the ultimate South Florida experience.
While Florida's extensive coastline is well-known, there are several inland lakes. The largest, Lake Okeechobee, sits along the Florida National Scenic Trail and is a popular fishing spot with a several campgrounds and cottages along its 752-acre area.
Lake Kissimmee is a great choice for bird watching and wildlife viewing, where you'll likely spot bald eagles, osprey, bobcats and yes, even gators. Lake Istokpoga is popular with the bass and pontoon boat crew due to its shallow waters.
Mississippi
The Gulf Coast of Mississippi offers soft sand beaches, crystal clear waters and both saltwater and freshwater fishing.
Check out Biloxi's Back Bay and Big Lake or the Gulf of Mexico for swimming, boating, sightseeing and lounging in warm breezes.
If you're looking for a party atmosphere to accompany your winter boating, this is the place to be as Mardi Gras festivities spread from nearby New Orleans, only 60 miles away.
While visiting the Big Easy area, check out Fontainebleau State Park on Lake Pontchartrain for fishing, boating and hiking. I recommend a Mississippi Riverboat cruise.
Boaters can also watch or participate in the Christmas boat parades. Now that's my idea of a holiday party!
Also be sure to visit the Jimmy Buffett Bridge, located near Pascagoula's Buffett Beach, for a fun Parrot Head selfie.
Texas
Texas isn't just about Longhorns and oil rigs. Okay, there's a lot of both of those things, but boaters will wanna check out the coast.
The Gulf Coast islands of Port Aransas, South Padre Island and Mustang Island all feature beautiful beaches for kayaking, parasailing, bird watching and deep-sea fishing.
Galveston Island has historic buildings and miles of sandy beaches framed by the Gulf waters of Galveston Bay. Lake lovers can get their freshwater fix at Toledo Bend Reservoir on the Texas/Louisiana border. With 1,200 miles of shoreline, it's the largest lake in Texas.
Lady Bird Lake, along the Colorado River, is the perfect spot for peaceful paddling on kayaks, canoes and stand-up paddle boards. If you want more action, visit Lake Whitney for boating, jet skiing and wake boarding.
The U.S. and British Virgin Islands
Sapphire blue waters and soft white sand—not to mention palm trees and hammocks—make the Virgin Islands a natural choice for a winter boating destination.
Whether you choose the U.S. or the British Virgin Islands (BVI), you can't go wrong. The BVIs consist of Tortola, Virgin Gorda and Jost Van Dyke.
Charter a day cruise where you'll sail around the islands snorkeling, swimming or visiting the Baths of Virgin Gorda. Sit back with a tropical drink at the Soggy Dollar Bar or Foxy's Tamarind Bar on Jost Van Dyke, or lounge on the beach at Cane Garden Bay.
Sage Mountain National Park, on Tortola, offers panoramic island views. The Sir Francis Drake Channel, named for the explorer, is popular with sailors.
St. Thomas, St. John and St. Croix make up the U.S. Virgin Islands. Virgin Islands National Park fills up most of St John's island. Home to coral reefs, unique marine life and tropical forests, it's a beautiful boating destination for snorkeling, swimming and liveaboard diving.
Featured Boat Care Product
Check Price on Amazon - Better Boat's de-salt concentrate safely breaks down and removes salt deposits from boats, fishing gear, dive equipment, cars and RVs. Use it to flush inboard and outboard engines and jet skis. A boat soap and flush kit connected to a garden hose is a quick and efficient way to apply and rinse. 
Should You Rent or Bring Your Own Boat?
Before heading down the road, consider whether to take your own boat or rent one upon arrival. Both have their benefits and drawbacks.
Benefits of Taking Your Own Boat to a Winter Boating Destination
You're already familiar with the boat and all its various gear, gadgets and nuances.
If you have a liveaboard boat, you can simply find a marina. Enjoy the best of both worlds with accommodations, recreation and entertainment all in one.
You'll avoid dealing with boat rental and charter companies. Simply head out on your own to explore the area.
Your time is your own. If you find a cool island with great swimming … no problem. Discover a great sunset? Go for it. Without a curfew, do whatever you want for as long as you want.
Drawbacks of Taking Your Own Boat to a Winter Boating Destination
You'll have to locate boat ramps, slips and marinas. This can be done prior to your trip, of course. But it still has to be done.
You'll tow excess weight behind your vehicle. This makes your driving and trailering time literally and figuratively longer than desired (not to mention the possibility of scratches from debris and rocks while towing).
Benefits of Renting a Boat at a Winter Boating Destination
You can try out different boats. Consider renting from a private individual, much like an Airbnb rental. Keep reading for more information on private boat rentals.
You avoid towing a boat bunches of miles down a busy highway.
You can show up at the marina, take out the boat and return it for somebody else to clean, re-fill with fuel and put away. 
Local captain hires can show you the best fishing, snorkeling and diving spots, as well as tell you about the area's history and nearby businesses (like waterside restaurants and beach bars). In general, having someone else guide the way makes for a more leisurely day.
Drawbacks to Renting a Boat at a Winter Boating Destination
You get what they've got. Marina fleets aren't always well-maintained. You could rent a poorly running vessel. Check out the section below for ways to avoid this problem.
You have to learn how particular boats run, as opposed to what you're used to.
You have limited time out on the water. Of course, you can always rent for more days, but it can get expensive.
Where to Rent a Boat
In addition to traditional marina fleet rentals, you can now find what's known as "peer-to-peer boat rental". This simply means private boat owners list their boats to rent for a day, a week or whatever floats your boat. 
Here are a few reputable ones:
Boatsetter — Choose from a wide variety of fishing boats, deck boats, dual consoles, sailboats, bass boats and many more. You can even hire a captain to navigate the day so you can sit back and relax.
Get My Boat — This site offers boat rentals as well as schedules fishing, diving, snorkeling and other water sports adventures and boating experiences.
The Moorings Yacht Charters — If you seek true luxury experiences, consider a charter trip through the Caribbean, Mediterranean, Bahamas or Tahiti. Like the above companies, you can either sail the boat yourself or go all-out luxury with a captain and full crew.
A bareboat sailing charter is a great way to learn about sailing or brush up on skills from an experienced captain.  
Decided which winter boating destination's right for you? I know I've found at least two or three (five, if I'm being honest) to make my winter go much better. And definitely warmer.
---