How to Buy the Best Pontoon for You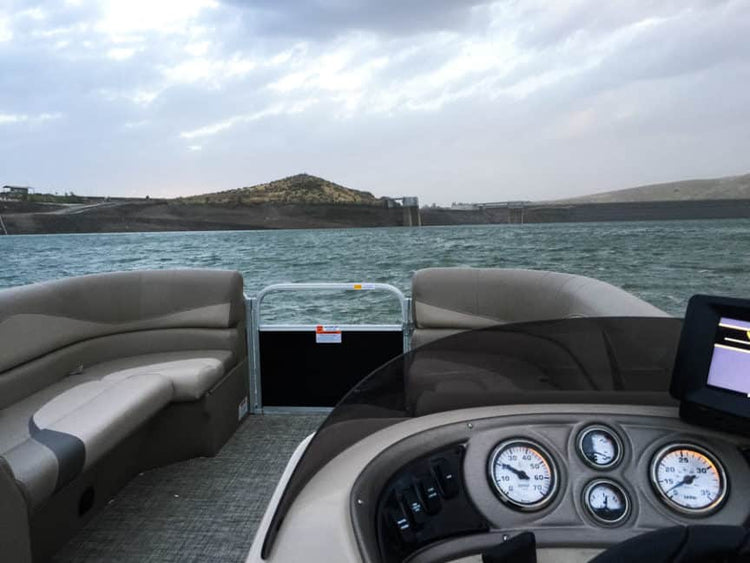 Have you been considering purchasing a pontoon boat but have no clue where to begin? If you've gone from excited to completely stressed about the purchase, I know exactly how you feel. The process of buying our boat made me feel like I was going crazy.
I had no idea what was important to think about, and the amount of options was overwhelming. If you feel like I did, then I think you'll find the information in this post pretty useful!
Whether you're wondering what average pontoon boat speeds are or what average boat prices actually look like, I've been there and done that—and now I want to share my experience with you.
Use these tips to help you get back on track and make the purchase process smooth and stress-free.
1. Decide what it will be used for
You can narrow down your options significantly just by knowing what you're going to be using your boat for. Do you see yourself out there with another person fishing all day? Or maybe you imagine the whole family out enjoying some tubing and skiing?
Knowing which of these sounds like your idea of a good time will help lead you in the direction of the type of boat you'll want.
Fishing
Let's say you love fishing and are looking for something that will have everything you need while you're out on the water.
To get that perfect day on the water, some of the things you may be looking for could include a Moeller Deluxe Permanent Mount Swing Back Cooler or Livewell Boat Seat, fishing chairs, a rod holder and a fishfinder.
A great boat to fill all those needs is the Avalon Catalina Fish. You'll get plenty of space and will pay around $25,000 for it.
Leisure and water sports
On the other hand, if you're more into leisure and enjoying various water sports, then you'll want something completely different. A place to get ready for your water sports, as well as somewhere to store the required equipment, will be on your wish list.
You'll find the G3 Suncatcher V22RF Pontoon Boat is a great choice. It's priced around $33,000.
When it comes to leisure, it's also necessary to consider how much horsepower you'll need. This is especially important if you plan to water ski or wakeboard. The last thing you want is to get everyone out on the water and find out the boat doesn't have enough power to pull someone!
A 90 hp motor is where the fun starts for water sports. anything less may be doable but makes towing people more difficult.
Family and friend gatherings
Whether you're using your boat for fishing or leisure, you probably have an idea of how many people will typically be out there with you. This can play a big role in narrowing down the search even more.
If you've decided you're mainly using it for fishing with large groups of friends, then you know there are certain smaller models (and ones with less horsepower) that won't work for you. In this example, you now know you need something for fishing in a larger model and with more horsepower.
As you can see, by getting more specific, you can narrow down your search.
Style and storage
One last aspect to consider in terms of usage are some of the design elements. If you're out for extended periods of time, you may want a lot of space for storage for things like dock lines, buoys, boat fenders and anchors.
Ifyou plan to have parties on the boat, then you'll want a layout that works for entertaining. When you start your search, keep these layout options in mind and pay close attention to the aspects that will make or break it for you.
You'll find some boats have tons of storage space whereas others don't. The latter may focus on different features like ample seating or being spacious enough to have many people walking around.
If you're like me and love to entertain, you can even get a boat with a dedicated bar area. You'll really surprise your guests by serving them from a bar while out on the water!
2. Decide how much you're willing to spend
There's a wide range of prices for pontoon boats. On average, you can expect to spend anywhere between $18,000 and $60,000 depending on size, engine, features and build quality. You can certainly find options above and below this range, but they're not nearly as common as they don't suit the needs of the majority.
High end
If you're looking for top-of-the-line luxury, you can spend upwards of $100,000 and you'll get all the bells and whistles. For this type of high-end model, you can go with something like the Premier Escalante that has everything you could want in a pontoon boat. There's no luxury spared here, and it's even spread over two different levels!
Mid range
If you're like me, chances are spending that much is a dream, but don't worry—it's absolutely possible to get a great boat with everything you need for much less.
A perfect family pontoon in a middle price range is the Bennington SX Series for about $33,000. It's great for having family and friends join in on a day of boating fun since it has enough storage and seating for everyone and all the gear.
Base model
Do these still sound like too much money? You can pick up a base model for much less and find plenty of features that will work for you.
A great example that's geared towards fishing is the Tahoe Sport Fish with a starting price of just over $11,000. Talk about a great deal for a pontoon that will give you so much joy and many memories out on the water.
DIY
For a real budget and interesting experience, you can always buy a kit and build your own boat. The Rettey Pontoon Boats give you the most basic features, but they'll definitely save you some money.
If your family is hands-on and enjoys a good project, then this may just be a perfect option for you!
3. Decide where it will be used
Trailering
If you plan to trailer your pontoon on a regular basis, you'll need to carefully weigh your options—literally. You can only go as big as your tow vehicle will allow, so there may be options you love but won't work based on your vehicle.
When we first started out with our boat, it was a real learning experience getting used to towing the boat around. Not to mention trying to back it down some of those boat ramps! If you're not familiar with trailering, there are some solid tips on this here.
Docking
On the other hand, if you're going to primarily keep it docked, you better make sure it fits! Depending on your space, the length can be a crucial decision making factor.
The last thing you want to do is get excited about a boat, make the purchase and then find out you weren't right about the size of your dock.
Freshwater or salt water
Another aspect to think about it whether it will be used in fresh or saltwater. While all boats will require maintenance and care, there are a few extra things to take into account if it's going to be used for saltwater.
In a nutshell, the pontoon will need to be painted with anti-fouling paint, be bolted rather than screwed down and be washed down with de-salt concentrate after every use.
Don't be overwhelmed reading that. All of this is pretty simple, but it really makes a difference when it comes to making sure your boat will last a long time.
4. Finally decide on a pontoon
When it comes to doing research and making your decision, there are so many different manufacturers to choose from. While we touched on a few of them in this article, some other popular names to learn more about include Starcraft, Sun Tracker and PlayCraft.
Much like buying a car, there are pros and cons to all of these models and manufacturers. Once you have decided on your major needs and goals, the final call often comes down to personal preference on small differences in design.
To summarize, you need to figure out what you're using the pontoon for, how much you're willing to spend and where you'll be using it. By taking the time to answer these questions, the rest of the purchase process will be a breeze. So, get out there, do your shopping and come join us on the water already!