How to Install a Downrigger on a Pontoon Boat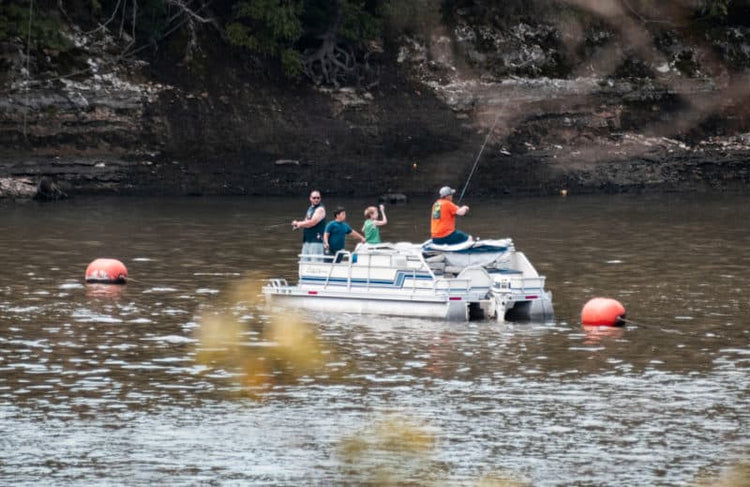 Lately, I've been addicted to Kokanee Salmon fishing in Idaho lakes, which often requires the use of a downrigger.
A downrigger is simply a miniature crane that lowers a heavy 6 or 12-pound ball down into the water and hooks onto your fishing line to hold it at a certain depth. Kind of like an anchor and chain for your fishing line.
As long as you have the right parts, installing your downrigger is incredibly simple.
Unfortunately, most retail sports stores don't include a square mount for downriggers to attach to the railing (dang those square railings!) on a pontoon boat, so you'll have to buy online. 
This is the mount I bought on Amazon. It will simply clamp onto the square railing around your pontoon boat. Then, you'll have the base of the downrigger that comes with the downrigger that'll simply attach to this mount. Done!
Before purchasing downriggers, I read many forum posts to decide whether to go manual or automatic. I ended up choosing the manual because I didn't want the hassle of running wires around the boat, and I didn't want to charge the batteries.
I'm so glad that I did. I rarely need to go even 40' deep with my downrigger and an 8-pound ball, so cranking it by hand is no trouble at all.
I picked the Canon UniTroll 10 STX, which was the perfect choice for me.
Unless you need to go extremely deep or use 12-pound balls in high seas, I think a manual downrigger is perfectly fine as long as you get a quality one.
If you cheap out and get one of those mini $100 downriggers that don't have a 2:1 gear ratio, you'll hate life. Just my two cents.
Check Price on Amazon - Whether you're boating in fresh or saltwater, it's imperative to wash down your boat hull and flush the engine. Better Boat's boat soap is 100% biodegradable and won't harm the marine environment. It quickly and efficiently cleans your boat while rinsing away residue-free with a garden hose and nozzle. 
Hope it's helpful if you're picking up a downrigger for your 'toon.