The Pros and Cons of Popular Pontoon Boat Decking Materials and Coverings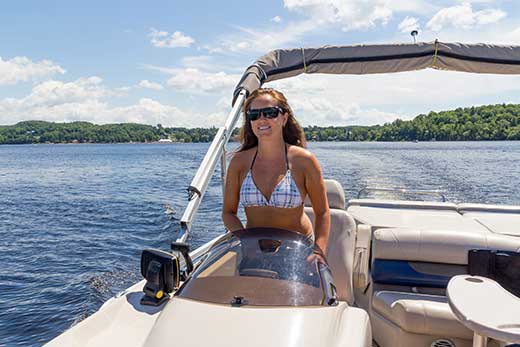 It all happens on the deck. Pontoon boats are the best places for playing, partying and spending time with friends and family. But you can't do anything without a solid deck under your feet.
Most pontoons are made from an aluminum frame. Sitting on top of the frame is the base we call the deck. That deck is the flat support used to hold all components of the boat (including the passengers).
It's also where all the fun happens! So, let's dig a little deeper and look at all aspects of your toon's deck.
Whether you're looking for a general pontoon knowledge or you want to know the ins and outs of pontoon boat decking for a future purchase, we can help you out here. 
An Overview of Pontoon Boat Decking
Here's what we'll review
:
The pontoon deck's purpose
Deck materials and the pros and cons of each
What Pontoon Boat Decking Is (and Its Purpose)
The purpose of a boat deck is to provide structure and support. It also acts as the attaching surface for the boat's components, like furniture and equipment.
In case you're a newbie pontoon aficionado or just plain curious, the basic definition of a ship's deck is this: "A fixed structure that covers a lower compartment or hull."
That said, the deck of a pontoon is a bit different right off the bat because it doesn't just cover the hull. It covers the pontoon logs, which form its unique support system. "Log" refers to that long aluminum tube keeping the boat afloat.
Since the decking provides structural reinforcement, it needs to be sturdy enough to protect your 'toon from storms, waves and instability at high speeds.
If your deck is strong, you 'toon is strong. That's why I recommend that every pontoon owner learn about the deck of their boat as well as how to protect, maintain, repair and replace it (even those of us who are less savvy about mechanical things).
Above board, many of your precious equipment will be attached directly to the pontoon boat decking. Some likely components you'll have attached are:
Railing with braces and gate
Permanent seats/storage containers
Again, a sturdy pontoon deck will help you keep all of the above items in order. Last but not least, especially for those of us who love fun and flair, the pontoon deck provides the base that houses our supplies for daily outings and even pontoon boat camping.
Yep, now we're talking extra storage, food, beverages, chairs, umbrellas and stereo equipment! Everything aboard your 'toon depends on the decking.
How the Decking Is Attached: The Pontoon Logs
So, I realize you might have been intrigued when I noted that the deck is supported by, and attached to, pontoon logs.
This is integral to the design of any pontoon. It's what truly defines the 'toon. The logs not only support the deck, but they allow the boat to be buoyant. They allow the boat to travel on, and through, the water. Pontoon logs are made of aluminum because it's soft, durable, lightweight and corrosion-resistant.
With better pontoon logs being designed each year, pontoon boats are stronger, more resilient and have more horsepower capability than ever before. Stronger logs = stronger decking = stronger 'toons.
For commercial boaters, pontoon logs are typically available in sizes from 18 feet to 26 feet in length. They come in a variety of placement options, including center, single, tri-toon and transom-mount (the last one's often custom-made).
How Does the Deck Attach to Pontoon Logs?
Good question. The answer: It's either bolted or screwed. Let's look at the differences between these attachment methods:
Bolting:  While bolting sounds like the choice of champions, it might not be the best idea. Before the bolt is inserted, a hole has to be pre-drilled for the bolt. That hole must be ever-so-slightly bigger than the bolt. You guessed it, over time, the bolt may gradually loosen and cause water penetration. It might even break, and that wouldn't be good.
Self-tapping screws:  Screws create strong attachments and are inserted through self-supported holes (that don't require pre-drilling). That can eliminate the issues you can get with bolts. Plus, an adhesive strip is often used with the screws. When the screw goes through that strip, it adds a self-sealing protection to prevent future movement and/or leaks.
Let's remember that a pontoon boat is subjected to a lot of stress when it hits waves and rough waters. That's why a strong reinforced structure is so important.
Over time, wear and tear can wreak havoc on your pontoon, so ensuring the quality of the hardware that holds the boat together should be your top priority.
The takeaway? If your pontoon deck is bolted, have the bolts checked regularly or learn how to do that inspection yourself. If they're loose, replace them.
What Size Pontoon Boat Deck Do You Need?
Which of these do you use your pontoon for?
Quaint gatherings and sun bathing
Swimming and water sports
Moving fast to tow water skiiers
Cruising in larger bodies of water
Deciding the purpose of your pontoon can help you choose the best deck size. Have you decided? Okay.
First, know that for stability and balance, the deck is always longer than the pontoon logs. The length of decking will depend on the length of the logs underneath it.  
Pontoon Decking Lengths
19 feet or under:  This deck size is best for six to eight people and operates best in small and calm bodies of water.
20 to 22 feet: This deck size can accommodate about a dozen passengers. It operates best in calmer waters, too. It may be best for small to mid-size lakes and/or rivers.
Over 22 feet:  Since this size deck is supported by longer logs, it can accommodate more people (probably up to about 15). But always make sure you check your boat manual for ideal passenger numbers and weight accommodation recommendations. It's never a good idea to operate any boat that exceeds the manufacturer's weight recommendations.
Pontoon Boat Decking Material Choices
The decking is typically made from one of these types of materials:
Let's look at each material type, along with the pros and cons.
1. Marine-Grade Plywood
Marine grade plywood comes in different types. It's not exactly what you might think. Yes, it's high-quality plywood that's most often used for boat flooring. But it isn't waterproof. It's just held together with waterproof glue.
Pros: Lightweight, strong and usually defect-free, this wood is constructed with waterproof glue so that water and high humidity won't cause it to deteriorate.
Cons: It's actually not waterproof or water-resistant wood. It requires sealer to be water-resistant.
You can find three-quarter-inch-thick sheets in 4' x 8' dimensions at most home improvement stores. The average price seems to be around $60+ per sheet.
2. Treated Plywood
CCA-treated plywood has been treated with chemicals to prevent water damage, decay and rot. Many people choose this material because it's readily available and easy to work with.
Pros: It as been used for years and resists insects, water damage, rot, algae and fungi. It's a good base for floor covering and is durable overall.
Cons: Heavy and shouldn't contact food or water meant for human consumption. It requires protective equipment when cutting or installing. It can't be burned it must be disposed of per state and federal regulations.
On average, CCA-treated plywood can be found at most lumber stores and home improvement warehouses for about two bucks per foot.
If you're interested in one of the above two options, the Engineered Wood Association (APA) offers guidelines on wood and what works best.
3. Aluminum
Aluminum is a popular pontoon deck choice because of its many pros.
Pros: Aluminum is lightweight, easy to install, strong, easy to clean and maintain, lighter than wood, rust-resistant, stain-resistant and doesn't need covering.
Cons: It may have to be custom-made, is costly and, due to variations in sizes and needs, the prices vary.
4. Composite Board
Composite board is usually a blend of wood and plastic. You can even find blends made of polyurethane foam, glass strands and woven fiberglass.
Pros: It's lightweight, maintenance-free, easy to work with, won't warp and is easy to clean.
Cons: Composite board can peel if pressure-washed or sanded. It needs more support from underneath, is prone to mildew and mold and comes at a high cost (around $6-10 per foot).
Here's one nice example of composite decking material we found, if you'd like to take a look.
5. Vinyl Boards
Vinyl plank flooring is gaining in popularity. The pros will tell you why.
Pros: It's strong, waterproof, skid-resistant, easy to install and looks like wood.
Cons: It can be more expensive.
Vinyl plank flooring can be found at most home improvement stores or lumber yards. It averages three to four bucks per foot. I spotted this nice sample on Amazon, which comes in packs of ten.
Covering Your Pontoon Boat Decking
Now that I've gone over the most common pontoon decking materials, let's talk about coverings to protect and improve upon those materials. I've got all the most popular choices of pontoon flooring lined up for you here.
1. Indoor/Outdoor Carpet
Indoor/outdoor carpet is a common pontoon deck covering. Often made of polyester, it offers practicality and easy maintenance. It also comes in many sizes and colors for the decorators on your crew. 
Pros: Indoor/outdoor carpet is easy to find and install, offers built-in UV protection, comes with marine-grade backing to resist mildew, is weather and fade-resistant and has a low pile height.
Cons: As with any carpet type of material, it can retain moisture and still get mildew despite resistance. It also requires washing rather than just a quick hose down with boat soap.
The price of the carpeting varies depending on style and size, but I'm sure you can find something affordable. Just make sure to regularly clean your pontoon boat carpet with cleaner and a cleaning brush to prevent mildew.
2. Artificial Turf Grass
Some people love artificial turf grass because it offers low maintenance and is practical for pets and children. Here's a few other reasons:
Pros: Easy to wash and maintain, pet-friendly, stain-resistant, UV-resistant and water-resistant.
Cons: Not attractive to some, uncomfortable to some for barefoot walking and sitting.
Price really depends on size, but we found this artificial grass option. 
3. Interlocking Vinyl Floor Deck Covering
Check out these nifty BlockTile Interlocking Tiles. Most often used on garage floors, they offer a great alternative to pontoon boat carpeting. 
They have lots of advantages, too. Let's look:
Pros: Easy installation and upkeep, rigid but can conform to your dimensions, well draining, water-resistant, UV protection, air flow, strong and non-slip.
We found these at just under three bucks per foot.
4. No Deck Covering
Since aluminum deck flooring doesn't require covering, you might save some money with aluminum. Vinyl and composite boards may not need covering either. It's personal preference and depends on your flooring choice.
If you have a wood pontoon deck, it may need covering. The good news? There are many choices available at many different price points. Who knew there was so much to consider with your pontoon boat decking?
Cleaning Pontoon Boat Flooring
After you've gotten that nice new flooring installed, you'll want to take care of it. No matter how hard you try, you're going to end up with stains, crumbs, blobs of sunscreen and even drips of ketchup on the floor.
It's just the price you pay. But, rest assured, it's not the end of the world. Really, it's not. 
Indoor Outdoor Carpet: Use a vacuum just like you would on other carpet to keep sand, dirt and other detritus from ruining boat deck carpeting. This is a time when those little dustbusters really come in handy. 
Artificial Turf Grass: You can use a pressure washer to easily clean artificial turf grass on your boat deck. Some recommend using a product like Simple Green to get out stains on artificial turf grass.
Vinyl Floor Deck Covering: Use a soap foam gun, which can be attached to a standard garden hose, to simply spray away any traces of dirt and scum. A chamois mop works equally well to scrub away stains. Better Boat Cleaning Wipes are a terrific way to quickly wipe away mishaps on the go.
No Deck Covering: With nothing on the deck but aluminum, it's super easy to spray it down with boat soap and rinse it off.
Editor's Choice: Boat Soap
| | |
| --- | --- |
| |  Boat Soap helps remove stubborn stains and dirt from boat decks. You can even use it on pots and pans.  |
Check price on Amazon - Better Boat Boat Soap cuts through grease, grime and blobs of sunscreen (we all know it happens) to leave your pontoon boat's deck clean and shiny. Best of all, it's 100% biodegradable and doesn't leave a slippery film.