Pontoon Camping: How to Prepare for a Tooning Adventure in the Great Outdoors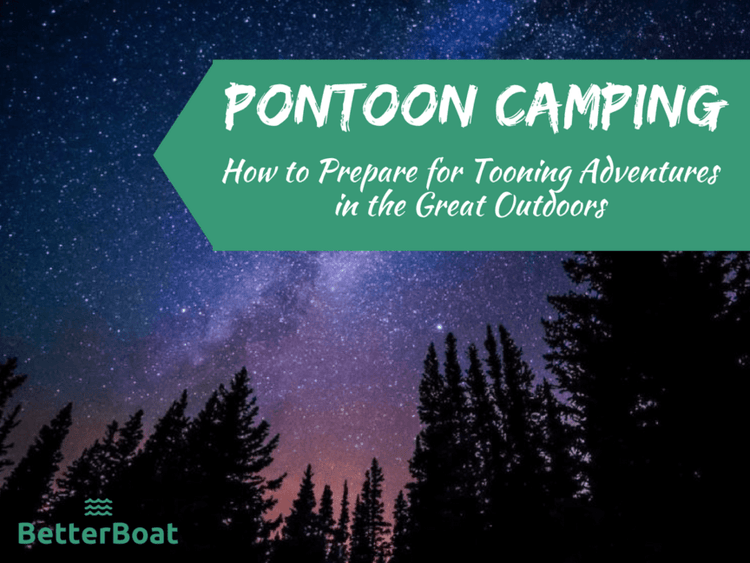 If you've ever toyed with the idea of taking your pontoon for a camping trip, I highly suggest it! There's nothing more relaxing to me than nodding off to the gentle rocking and waking up to the sounds of waves lapping on the shore. 
While making the experience as rustic or luxurious as you desire, you'll also find that camping makes for an inexpensive and unplugged family vacation.
Before you go heading out for the great outdoors, we'll walk you through all of the things you should think about first. Start by picking your location, then prepare yourself, your family and your pontoon.
How to Pick a Great Site for Pontoon Camping
Know Park Regulations
Check with the park or state to find out if you need any type of permits or licenses (like those for boat launch and fishing). You may find some lakes or rivers don't allow boats to tie up overnight and some don't allow camping at all.

Chances are, you'll have to abide by a few rules. If you're going to be camping for long periods of time, you may need a separate inspection or type of permit.

Ask around locally for good spots to camp. You might discover quiet coves by word of mouth. Don't assume you can just wing it and pull off somewhere. Even if you're on a large lake with small no-man's-land islands, there are places that may seem deserted but in fact are private property.
Find Safe Coves for Anchoring
Unlike other boats, pontoons were made for pulling to shore and beaching, making it easier to haul in your camp gear. Whether you decide to anchor out or pull into shore and tie up a dock line, try to find a lee, protective cove or channel where you won't fight waves and wind or drift back out to open water.
Featured Boating Product
| | |
| --- | --- |
|     |   Dock Line |
Check Price on Amazon - Better Boat's dock line is made of marine-grade double-braided nylon for a safe and sturdy hold. It has a heat-treated end, a 15-inch eyelet and is sun and salt resistant. 
Pack an extra anchor for safe measure and more dock line to tie off to a tree on land. Use a GPS anchor alarm and app that can alert you should your boat drift too far in the middle of the night.
A couple of apps for that are Drag Queen for iOS and Anchor Watch for Android. One thing to remember when choosing your anchoring location: If you anchor in the middle of the cove, you'll find fewer bugs and more privacy.
Pay Attention to Weather
There's nothing worse than planning a camping trip only to get rained out, but sometimes weather is unpredictable. There are several boating apps to ping you about detrimental weather.
Take precautions and bring a dry bag of ponchos and extra clothes, just in case conditions change. Know how to boat in nasty weather conditions should you need to get back home.
How to Prepare Your Pontoon for Camping
Common Tents
If you don't yet want to invest in a full canvas enclosure, I suggest simply purchasing a traditional tent. Something simple can provide great versatility.
Get a size that's able to fit on the front deck between the seats. Then you have the option to make camp off the water if you'd like.
If you choose to pitch it on the front deck, tie off the tent using its eye holes. Normally you'd stake a tent into the ground, but since there's no ground, you'll need to secure it to your pontoon with a bungee cord or zip tie.
Custom Pontoon Enclosures
The best option for pontoon camping is to upgrade to a canvas canopy enclosure, which would act as your tent. They come in half enclosures and full canvas enclosures.
They can range in price from $1700 (made locally) to $2200 (manufacturer cost), and you can customize the locations of plastic windows, zippers and bug nets.
Beds
Make sure to get a good night's sleep on your pontoon.
Sleeping Bags
Sleeping bags are a requirement for me. I've tried camping with only a few household blankets but they don't stand up to the cold the way an all-season sleeping bag can. Of course, Coleman (Check Price on Amazon) is a trusted name in camp gear and they carry a variety of bags to choose from.
Camp Pads and Camp Cots
An air mattress is the standard go-to camping bed. But I've always had issues with these. They're terrible at containing body heat, really not that comfortable to sleep on and they never seem to hold air (leaving you re-pumping the next night).
Instead, get a Teton camp pad (check price on Amazon). If you prefer to sleep above ground, get a camp cot (check price on Amazon) as well.
Pull-Out Sofas
If pontoon camping is something you find you enjoy, you may want to think about upgrading one of your seats into a fold-out sleeper seat. It's possible to sleep along the seat as is, but they're very narrow.
The other alternative would be to unbolt and remove the furniture. Obviously, this may not be convenient for a one-time weekend trip, but again, if you find yourself camping often, this could really open up the space.
Creature Comforts
Food and Water
Cooking
When it comes to camping, keep cooking as simple as possible. Make the experience easier and prepare your meals at home. Of course, there's always the exception, like if you plan to catch a few fish or bring hamburger meat that's much more enjoyable when freshly cooked.
But if you have meal sides, lunches or breakfasts, go ahead and cook those ahead of time, wrap in foil and place in a Ziploc stored above the ice in your cooler.
Like I mentioned, some food just tastes better freshly grilled. You can either bring a grill that attaches to the pontoon or a camp stove to cook with on land.
Remember the propane tank and bring extra for the camp stove. But remember, you can always cook over a fire. If I have a decent bonfire at my site, I use it to my advantage and preserve the propane for emergencies (like when rain dampens the coals and wood) or brewing a desperately needed pot of coffee in the morning.
H20
Bring along a cooler packed with ice. Unfortunately, unless you invest in a cooler brand like Yeti or Pelican (Available on Amazon), which keeps ice retention for a week or more, you'll have to find a store that sells ice bags to replenish and keep your provisions cold. Of course, keep it under shade as much as possible.
Make sure you carry enough water for both drinking and food preparation and cleaning. Bring along a 5-gallon water tank and a pump (Available on Amazon).
I've camped remotely enough to be able to walk to a nearby stream and use a water purifier. Even still, be aware that most purifiers aren't instantaneous and need time to work their magic. Some require around four hours to safely decontaminate bacteria.
Showers and Waste
Most campgrounds have showers within a walk from your campsite. But if you're camping in a remote area, you can always bring along a solar shower like this Viking Nature 5-Gallon Camping Shower Bag (Available on Amazon) and biodegradable all-purpose soap like Campsuds. The same goes with bringing along a portable toilet or portable bucket toilet seat set.
This Partysaving New Travel Portable Toilet (Available on Amazon) is a great option. Of course, if you really want to embrace the wilderness just bring along a trowel (and bury it appropriately and sanitarily far away).
Also, be sure not to leave anything behind that's non-biodegradable. Campgrounds will have dump stations to toss your waste, recycling and propane bottles. Never leave waste on your pontoon. It invites critters on board, especially at night.
Instead, bring along a few trash bags to throw accumulated trash and, at night, either toss it in the bin or hang it in a tree. It goes without saying that if you have nowhere to throw your trash carry it out when you leave.
Lastly, think about clean up. Some people bring along paper plates to toss away after use. I prefer to carry a set of Fozzils collapsible bowls (Available on Amazon) that store away flat, saving on space. They also clean quickly with a cheap kitchen scrub and dish soap or even boat soap if it's handier.
Warmth
Campfires
If you have booked a site (and not just pulling off at a remote island), there's a good chance you'll have access to a fire pit to build a campfire. If you have a fire pit, bring along dry wood (nothing too recently cut), firestarters and a lighter.
Obviously, make sure these don't become wet on your boat ride. In fact, bring along a tarp to cover and keep the wood dry once you place it on land.
Cabin Heaters
If you use a canopy enclosure or tent on your boat, you can use a small cabin heater. Just make sure to plug it up to another power course that's not your boat's battery. We also recommend a carbon monoxide detector as a vital piece of boat safety equipment when using a heater inside an enclosure.
Lighting
Solar and LED Lights
Other than safety lights, you'll want at least a few light sources on board to be able to read or for the family to play games after dark. One easy way to manage this is to pick up some rechargeable solar lights and tie them to the pontoon. Always bring LED lanterns for under the bimini and flashlights if you need to go on land.
I prefer a hands-free headlamp (buy on Amazon) because walking around in unknown territory at night can bring an accidental fall and you'll be able to catch yourself.
Safety and Running Lights
Anytime you're boating after sundown, you need to make yourself visible to other traffic (like early-rising fishermen zipping by in their bass boats). Always use your white running lights for safety from dusk until dawn, especially when there's thick fog. A battery should be fine to handle this, but just in case, bring along cables and a second battery.
Featured Boating Product
| | |
| --- | --- |
|     |   Rope Cutter |
Check Price on Amazon - Better Boat's rope cutter is an essential tool for cutting and sealing nylon, polyester and polypropylene ropes. It's useful for speaker cable, wire, boat ropes and camping gear. It cuts and seals to prevent fraying.  
The Quick List of Pontoon Camping Essentials
Other than items you'd normally take on the water any given day, here's a condensed list of the above plus some additional items to consider for overnight camping trips: 
Sleep: Camp cot, camp pad, sleeping bags, pillows
Food prep: Plates, cutlery, cooking utensils, pot and skillet, oven mitt, camp stove, foil, napkins, coolers
Water: Five gallons of water, pump, water purifier and/or tablets
Showers: Moisture-wicking towel, body wipes, toiletries, portable shower
Bathroom: Personal wipes, portable head, trowel, toilet paper
Warmth: Dry wood, lighter, fire starters
Lighting: LED lanterns, headlamps, flashlights
Clean-up supplies: Trash bags, dish soap, kitchen scrub, quick-drying towel
Comfort: Bug repellent and/or citronella candle
So, you're probably feeling pretty prepared to camp right about now. Even so, always have a contingency plan. Make sure that somebody knows where you're going to be. Know that if something goes severely wrong, you can call a neighbor or find a local hotel. 
Lastly, remember that you might not be able to convince everyone in your family to enjoy camping. Some love it, some hate it.
If you break into it slowly and make a good first impression, you won't scare them off the idea for life. Before long, you may have them craving it too.
Heck, you may even make a future liveaboard with your own marina slip. Happy camping!