Pontoons and Saltwater: 8 Salient Tips to Save You From Salinity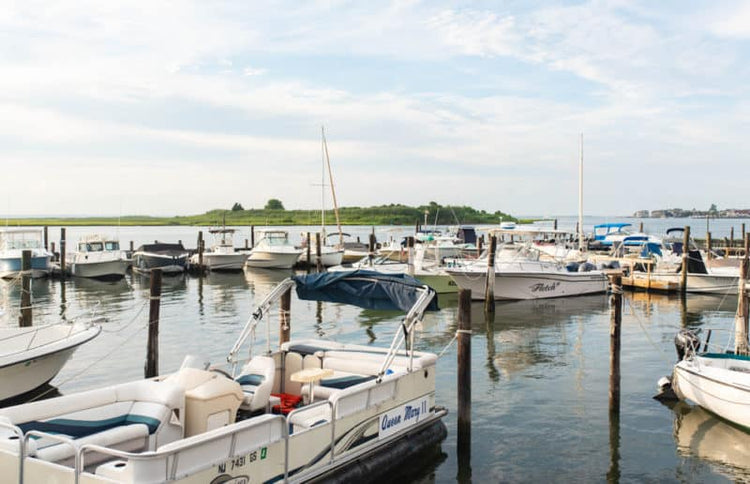 Taking your pontoon boat out for an ocean joyride sounds like a fantastic idea. If you're like me, you love the warmth of the sun and the smell of ocean breezes. You probably also love the idea of a fresh seafood catch for dinner. It all seems so alluring, what could go wrong?
Well, for one thing, that enormous expanse of salt water! Saltwater can be nasty and corrosive, deteriorating your pontoon's metal tubes and structure if you leave her unchecked.
Before you pencil in plans for that summer vacation at the beach, a bit of proper maintenance and preparation needs to be considered for this type of marine environment.
Here are eight tips you need to confidently face the great blue without worry.
1. Check the pontoon's construction quality
If you're in the market to buy a pontoon for mostly saltwater conditions, take a careful look at the hardware and materials used to put the deck together. Unlike some decks that are only screwed to the frame, saltwater pontoon decks should be bolted down.
The pontoon's log tubes need to be capable of handling the swells you could encounter. Part of checking the general construction quality should be to see that the tubes are completely welded to the decking. Some 'toons are welded only every foot or so and you don't want that.
This doesn't mean that you should only go testing how securely pontoon decks are bolted down. You'll need a boat that's sturdy all around. After all, the ocean has much choppier swells than the local lake and can rock your pontoon around a lot harder.
For this reason, your pontoon's log tubes should be a minimum of 25 inches in diameter. When you're unsure about how a boat was made, ask the dealer or manufacturer directly and let them know how you're intending to use the boat.
2. Read over your pontoon manufacturer's warranty
Verify that your pontoon is protected under warranty. Among the intimidating red tape, it may have language that prohibits or even nulls the warranty if you consistently toy around in saltwater.
Check under exclusions for verbiage like "damage caused by or related to environmental conditions" and make sure salt isn't listed as one of the said conditions.
You might also look under the warranty for verbiage that suggests the warranty is valid only if the hull has "a proper application of an aluminum bottom paint by licensed applicator."
When in doubt, contact your dealer or manufacturer directly, maybe even by email to get it in writing in order to clear things up.
3. Consider a Saltwater Series pontoon
You may have noticed a sticker label called the Saltwater Series on pontoons. This is a sort of stamp of approval that dealers can add to their models.
But you should be aware this does not guarantee their invincibility in salt water. Instead, what it does guarantee is that the dealer has taken additional measures to make the pontoon's materials salt water resistant.
Featured Boat Care Product
| | |
| --- | --- |
|      |  De-Salt Concentrate |
Check Price on Amazon - Better Boat's de-salt concentrate breaks down and flushes away salt deposits from inboard, outboard and jet engines. It's perfect for use on fishing gear, dive equipment, driveways, outdoor furniture and more.
4. Pick the right locations
Some owners argue that taking any pontoon to the Gulf is just plain dangerous, while some argue that it can be done if you're experienced and know how to check the weather and light wind knots.
The fact that your pontoon is big and sturdy doesn't mean it can be taken out to sea. In fact, I'd really only suggest taking your 'toon into bays and inlets.
Even venturing into a Gulf could turn a trip a bit rocky. And if you see whitecaps, don't even think about it!  A deeper V-hull might be able to handle it, but a pontoon boat probably can't.
5. Avoid electrolysis deterioration
Okay, so just what's this about electrolysis deterioration? Well, saltwater enhances extra electrical currents. In turn, it causes any metals to corrode at a faster rate. In order to avoid electrolysis deterioration, you'll need to install zinc anodes.
Zinc anodes, also referred to as sacrificial anodes, act as protective buffers against corrosion. In short, since the saltwater is drawn to electrical currents, it gravitates toward the zinc anodes instead, saving your motor (that's why the word "sacrificial" - you're sacrificing the anodes for the sake of your motor).
This Martyr Hanging Anode (check price on Amazon) is a great and clever one for boaters. Most motors have them on the motor, but this is a handy option.
I recommend giving your anodes and electrical connectors an inspection once a year. Maybe just make a point to add it to your winterization checklist.
6. Apply aluminum anti-fouling paint
As mentioned above, your warranty may prescribe this in an exclusions clause. It's important to just do it anyway. If you have any reason or temptation to venture into salty seas, just have it done!
Per warranty standards, the paint job will likely need to be completed by a licensed professional. Plus, the application should be done with an approved non-copper anti-fouling paint.
I'd check with your dealer to see if this is a service they can provide. If not, I'm sure they can at least get a local recommendation.
If you have an older beater boat and you no longer have warranty worries then you can apply the paint yourself with this Krypton brush-on anti-fouling paint (check price on Amazon).
7. Give it a freshwater cleanse
Salt deposits can build up anywhere, so it's important to keep your pontoon in ship-shape shape. Be sure to clean the space between the bunks and the pontoons with a freshwater rinse with a hose and even a de-salt concentrate.
If you're trailering the pontoon from salt water often, consider rubber trailer bunk glides (check price on Amazon) instead of carpet for your bunks.
Read over this post on deciding on a pontoon boat trailer to get a better idea of the additional things you should consider for submersion in salt water, such as aluminum versus galvanized steel frames.
Additionally, just as carpet on trailer bunks can absorb ocean water, so can the carpet on deck. This among many reasons is why some boaters prefer vinyl flooring over carpet.
For a great collection of vinyl flooring, take a look at Infinity Fabrics (check price on Amazon).
After your boat is nice and dry, glance over it to check for any areas of scratched or chipped paint where metal is showing through.
You'll want to repair these areas and apply a paint touch-up. I'd even use Corrosion-X lubricant on the engine as well.
8. Install a saltwater trolling motor (and mount)
The ocean provides a plentiful variety of fish. For you pontoon anglers out there, you might be tempted to catch a few. If you want to use a trolling motor, there are a few things to be aware of for saltwater fishing.
If you diligently rinse and flush your boat after a day of play, a freshwater motor might suffice. Keep in mind that saltwater trolling motors are built with stronger metals and tighter seals around things like electrical components.
A well-made mount will have features like stainless steel brackets, powder coat paint, sealed electrical components (with waterproof tubing) and zinc anodes to protect your circuits. 
The same goes for the trolling mount. Whether you have a bow-mounted trolling motor or transom-mounted trolling motor, your mount needs to be just as corrosion-proof as everything else. 
Knowing your trolling motor and mount can handle salt water is a bonus, but that's not to say you shouldn't rinse it out with fresh water anyway.
Check out this buyer's guide to trolling motors for more information on the sizes and styles of trolling motors as well as the advantages and disadvantages of bow mounts.
Oh, and unless you want to spook fish with a cavitation bubble show, check out this post on choosing the correct trolling motor shaft length.  
So long as you take preventative measures and keep your pontoon in good shape, you won't have to worry about the salt.
Not all pontoons are made to be the adventurous seafaring vessels as our cruiser counterparts. Yours may not be able to withstand choppy swells and waves, but that's okay! 
Just take care, and you can enjoy pontoon rides in salt water for many years to come.