Need a Lift? An Intro to Pontoon Boat Lifts and Cradle Styles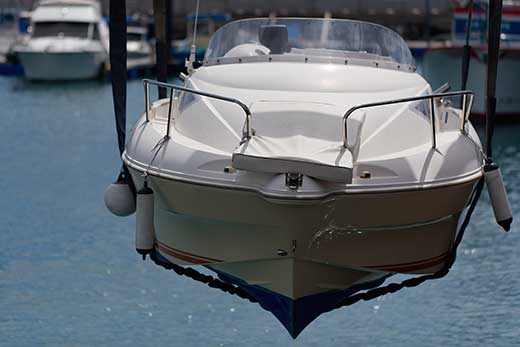 You've navigated back to the dock after an awesome day on the water. Do you really want to go home worried that your pontoon will end up corroded or damaged from sitting around in the water for extended periods of time? This can be doubly true in saltwater situations.
Choosing a lift can get a little technical, but we've done the heavy lifting for you. When it comes to boat lifts, pontoons come with a few extra requirements compared to V-hulls.
You'll need special support for your pontoon boat's logs. To determine the style of lift you should purchase, you'll first need to know the draft of the pontoon boat.
You should also know the height of your pontoon - including the bimini top - to accommodate the lifting height (especially if you have a roofed dock). So, make sure you know those numbers before choosing and purchasing a lift.
Then, if you haven't done so already, take a look at how to choose the ideal boat lift for your boat, dock and waters.
The post I've linked you to here has a good breakdown of the measurements you need to know, general boat lift materials and other need-to-knows like restrictions. It also provides a list of benefits of having a boat lift - like protecting your investment - if you're having your doubts.
If you're unfamiliar with the types of lifts specifically available for pontoon boats, I've provided a breakdown of the styles below to get you started. The next time you attend a boat show to take a gander, you'll be prepared to discuss your options with vendors.
An Intro to Pontoon Boat Lifts and Cradle Styles
Types of Pontoon Lifts for Different Water Conditions
Free-Standing Pontoon Lifts
Free-standing pontoon lifts aren't attached to docks. They stand freely on the ground beneath the water, but they're not for every situation.
Because they're so heavy, free standing lifts can't be moved once put in place. Check out ShoreMaster for high-quality examples of free -tanding lifts.
There are two main types of free-standing lifts that you'll be looking at for your pontoon: cantilever and vertical.
Cantilever Boat Lifts
In short, cantilever boat lifts are good for waters with shallow banks or sandy bottoms. With full-length cradles (not to be confused with the cradle-style lifts), cantilever boat lifts are constructed to thoroughly and evenly support the length of your pontoon's decking.
Otherwise, you could get deck fatigue. The cantilever lifts are also typically constructed with aluminum pontoon beds or V-hull style wood beds - with vinyl or carpet added to their bunks—to provide further protection. You can see one example of a cantilever boat lift here, offered by Craftlander.
Vertical Boat Lift
Vertical boat lifts are ideal for shorelines with fluctuating water depths. The bottoms of lakes are never flush or flat, so a vertical lift has two things assisting it in leveling your pontoon when it's docked: Mainframe spreaders and adjustable legs.
Mainframe Spreaders
Mainframe spreaders act as a box-like frame. The reinforcement keeps the entire lift perfectly squared and prevents large wakes and windy conditions from moving the pontoon around too much or causing any damage.
Adjustable Legs
For more shallow applications, the adjustable legs can be heightened, lowered and even removed completely. And here's your example of a vertical boat lift, also offered by Cantilever. 
Featured Boating Product
| | |
| --- | --- |
|     |  Boat Soap breaks down dirt and grime to remove stains from your boat and pontoons. It washes cleanly away without leaving a slippery film.  |
Check price on Amazon - Better Boat Boat Soap cuts through grease and grime to keep your boat, pontoons, hardware and more clean and shiny. It's also 100% biodegradable, so you can safely use it in marine environments.
Use boat soap and deck cleaners with a rod bundle that includes a mop head, a deck brush and an extendable pole for excellent results. 
Floating Boat Lifts
More recently, a new type of lift has become popular: The floating lift. They've been around for a while—used in the US Navy, in fact—but have now caught the eyes of civilian boaters.
| | |
| --- | --- |
| | My folks have one of these and it's pretty swift! Living on Lake Hartwell, which shares borders with Georgia and South Carolina, they acquired theirs through Carolina Lift Systems. You should also check out Floatair for comparison. |
Boat lifts come in two types: The traditional air/water displacement lifts and newer hydraulic lifts. They're efficient lifts and operate very quietly. They're especially suitable for saltwater applications due to their design of keeping the steel components above water while in the up position.
Air/Water Displacement Lifts
The traditional air/water displacement lift uses an electric blower that dispenses air into a set of 'toons under the water to raise the lift. By regulating the water flow once again, it pushes the water flow back into the 'toons to lower the boat back into the water.
It only needs a minimum of four feet of water depth, which is pretty darn shallow. You can stand in four feet!
It also has a lifting range of less than four feet as well. Air/water floating lifts can be used inside floating docks, so no worries there. In fact, they're used in many marinas to accommodate the flexibility of whatever type of boat arrives.
With a lower upfront investment (compared to hydraulic floating lifts), it might be worth looking into. But keep in mind that it doesn't perform like the smooth operator of the hydraulic boat lifts.
Hydraulic Floating Lifts
Newer models of hydraulic floating lifts use hydraulic rams which give foam-filled pontoon logs - resting beneath the cradle - a little push to lower the boat. To lift the boat upon return, the ram returns to position and pushes the 'toons back under the cradle.
These lifts typically require only 12 inches of water depth, plus the boat's draft. This is because the floating pontoons stay on top of the water, requiring hardly any clearance. The really awesome part? These lifts can be mounted to floating or fixed docks!
They can be attached to piers and even moorings and buoys, which is pretty revolutionary if you ask me. Because they're designed to attach to buoys, they can also be solar-powered.
They're easily transferable. If you think you may upgrade your dock and are worried about investing in a complete system, you don't have to worry about that with these lifts.
Although these pontoon lifts are a bigger investment, they're streamlined and feature extras like solar power (without running electricity to docks) and are remote-controllable from the helm.
Cradle Styles for Pontoon Logs
Unlike the newer floating boat lifts - capable of moving - pontoon cradles are bolted onto a dock and are non-adjustable. In general, they're manufactured with aluminum and stainless steel hardware.
You can choose carpet, wood or vinyl bunks that support the 'toons. With the exception of sling-style lifts, these cradle-style bunks are very similar to the type of bunks on a boat trailer. They're what holds the pontoon securely in place once it's on the lift.
Center Lift Cradles
Center lifts can provide great support and are often used for tri-toons. These can be made of wood, stainless steel or aluminum and are often capped in vinyl to protect scratching of your boat's underbelly.
However, center lifts- because they lift beneath the pontoon's flooring - can cause considerable damage to your pontoon's decking over time. It's something to be wary of and keep an eye out for should you decide to invest in a center lift.
Bunk-Style Cradles
Bunk-style cradles work the same as the supportive bunks of a boat trailer. They're more stable than other cradle styles. Typically the bunks offer a non-marring protective cover like carpet or vinyl.
For reasons you can learn in the boat trailer post mentioned above, I recommend vinyl-covered of the two material types. Vinyl can be rinsed off and kept clean of debris like sand and won't scratch your pontoon logs when you slide it on and off.
Sling-style Lifts
Although they used to be more popular, sling-style lifts are really not recommended for pontoon boats today. Over the years, owners have been swayed away from their use due to one main reason: Damage to the 'toons themselves! 
Unlike being supported from beneath the pontoon flooring like other cradles, sling-style lifts - typically made from wide nylon or polyester - hold the weight of the vessel from above.
This added pressure creates pocks, and bent aluminum 'toons appear slowly over time. With so many other options, I would go with a different option for pontoons.  
Final Thoughts
If you've decided to pull the trigger and invest in a lift, you won't be disappointed. When you do get your lift in, you're going to really appreciate its convenience. It makes pulling in and out of docks much easier.
Here's one last word of wisdom to leave you with. I'd suggest contacting several local dealers. Have them each come out and take a look at your shoreline or dock, and let them provide you with a few estimates. It'll give you a better idea of the costs to expect. That way, you'll know exactly what you're getting into.