Nothing Lasts Forever: How to Handle Pontoon Boat Replacement Parts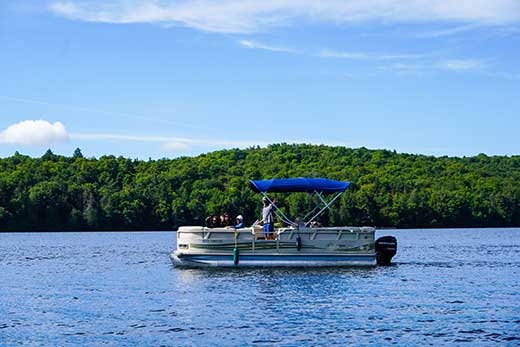 Here we are again to talk about the kickass investment that is your pontoon boat. However, how do you keep that kickass status?
I mean, everything requires attention, and this can only mean that we've got to talk about pontoon boat replacement parts at some point. You have to change the oil in your car and put gas in it, right?
You have to mow your lawn, if you managed to get stuck with one. Even the wife needs to get her hair and nails done. So, eventually, the investment you made in your pontoon boat is going to need some attention too. This is, after all, why it's described as an investment. It's just the beginning.
We have written many things about how to upgrade your boat, customize it and just basically add to the cool factor, but there's always more to be done.
In this article, we're going to discuss the "more." This includes items that need to be maintained and other items that are prone to aging, wearing out and breaking.
So, we are off again. You ready? Time to get started with our discussion about pontoon boat replacement parts.
How to Handle Pontoon Boat Replacement Parts
General Purpose
Okay, so, remember that oil change and gas situation with your car? Well, oddly enough, you have to do the same thing with your boat. It has an engine. This stuff is necessary.
Oil, gas and spark plugs need to be checked out regularly, and you'll need to do annual tune-ups of your engine, fenders, dock lines, anchors, lights and other hardware. They all need to be maintained.
Depending on your environment, this list can change from place to place and item to item. If you're in a cold-weather environment and store your boat in the winter months, you'll have to winterize your boat.
When you dust it off for use again, you'll have to do more than stick your key in the ignition. First and foremost, are you still legal? Do all of your lights work? Is the battery dead? Does the horn work? Is the fire extinguisher still in good shape and do you have enough life vests?
If you're in a much hotter environment, you have to keep your boat cool and clean even though it actually lives in the water.
Additionally, if you trailer your boat, you have other considerations, but we'll just focus on the actual boat here. All boats have a maintenance schedule that comes from the factory, and this is a good place to start.
Additionally, if you bought your boat used, you should still be able to obtain this information. This is the first place to start, but don't forget a trusted mechanic. After all, these guys do this stuff full time.
Propellers
Okay, this was always a big one for me. I lived on a man-made lake on the lower Colorado River in Texas, and that naturally meant I encountered a lot of rock.
Now, stainless steel props look cool and are expensive as hell, but if you run your boat up on shore for parties and the water level always changes, you're going to hit stuff. A lot of stuff, actually.
This is when you learn the value of a disposable prop. Just buy an aluminum prop and get used to throwing these things away every year.
Rock is rock and it's not going to give up for your pretty prop, so this is a basic fact of life in the boating world. You're going to try to get in somewhere that you used to go before, but just a little water level change or somebody losing something overboard that you didn't know about can be a very expensive encounter. Accept the unpredictable and prepare to replace this item every year.
Furniture
Hot! Cold! Hot! Cold! Sound familiar? No, I'm not talking about your last love interest. I'm talking about the weather. Wherever you live, the weather keeps changing. We can't do anything about it.
Add in rain, ultraviolet rays, people and general stuff and you got a situation that will eventually destroy your furniture. This stuff isn't meant to last forever.
That's why it's high on our list of pontoon boat replacement parts. The good news is there are ways to slow down the process of deterioration.
First, keep your boat out of the weather as much as possible.
Second, keep your boat clean. Finally, there are a number of protective solutions on the market that you can use to care for your pontoon boat furniture.
However, if all else fails, you are still in luck because replacing furniture is something that can be easily accomplished with pontoon boats. In fact, we have written about it before.
Tops
I can't remember the last time I was on somebody's pontoon boat when the top wasn't falling apart unless the boat was brand new. They're not sexy by any means, but they're necessary. I doubt you can even recall a cool photo when the top was on a pontoon boat.
I mean, pontoons are convertibles, right? However, whether you have a hard or a soft top, the covering for your pontoon is the first and last line of defense against the elements.
These elements can be extreme. I know they have been in Texas. We get hot and cold weather, which causes boat tops to shrink and expand, and we also get extreme sun, ultraviolet rays, rain and hail.
Trust me, you want a top when you get caught out on the water in a hailstorm! For this reason, you really need to plan on replacing your top regularly. This really isn't a bad thing since most pontoon tops are canvas, much like those on a Jeep. 
For a few hundred dollars and a case of beer, this is a task that can be easily accomplished. The beer comes in handy for several reasons actually. One, because it's beer. Two, because it helps to have a friend for this small project. Three, if you replace your top at the right time it's going to be hot outside.
You generally want to replace your top during a hot day because they're not that easy to stretch when they're new and the heat will help.
Now, it should be noted that there are several options for repair or replacement of your top. For example, you don't necessarily have to replace the frame or hardware if it's in good shape and you have a good boat upholsterer.
Additionally, this person may be able to just repair the top you have. After thorough inspection, your options should be clear.
Decks
The deck of your boat is another item that cannot be overlooked. After all, you do stand on it. This has to be the area that gets the most abuse when it comes to your boat.
You screw things to it, people drop things on it, it shrinks, it expands, it stays wet most of the time and it takes every single shock that your boat takes from hitting a wave to running aground too fast.
This is part of the infrastructure of your boat's very existence. This means you must take care of it in whatever way necessary, be it repair or total replacement.
While it's pretty durable, it's still usually going to be made of wood, which means sooner or later you're going to have to repair it extensively or replace it. In short, you should inspect the deck annually and clean it with a top-quality boat deck cleaner.
Featured Boat Care Product
Check Price on Amazon - Better Boat's deck cleaner quickly breaks down dirt and grime on painted and fiberglass decks. It leaves a polymer non-slip finish. 
Repairs can range from peeling up the carpet and replacing a section of deck to complete tear-down to the pontoon cross members and total replacement of the deck and carpet. 
It's ideal to do this kind of work inside, away from the elements, because you will be using adhesives to reinstall your carpet. In any event, always make sure to use new hardware and marine-grade plywood. After all, it is a boat.
A Wrap-Up of Pontoon Boat Replacement Parts
Well, that brings us to the conclusion of another short pontoon journey together. Everything needs to be maintained and things break.
Your pontoon boat is a labor of love and a dance that is built out of two steps forward and one step back. While we are always thinking of the next great project, life and the environment eats us alive. Nobody beats mother nature.
While you enjoy your boat, and even while you work on your boat, time passes. This means taking care of her. Like anything in life, this is how you make things last.