Anchors Aweigh! Choosing a Solid Anchor to Secure Your Boat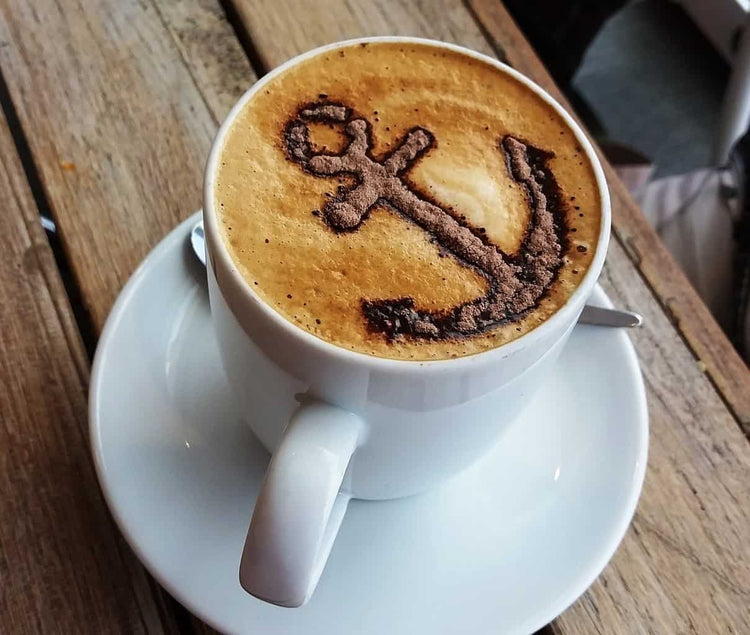 We all know the unmistakable classic fisherman's anchor from nautical-themed T-shirts, sailor's tattoos, fancy lattes and giant lawn sculptures outside New England seafood shanties.
The reason you see them more as symbols these days is that they aren't used much for their intended purpose below water. They're very heavy and, as more modern anchors have evolved, have become a less common anchor type for boating.
Today, with more efficient anchoring options, boaters need to choose one of many different shapes. While there are varieties of anchors to choose from, today we'll introduce you to the most widely used options for recreational boaters.
The Best Tips for Securing Anchors
1. You can double up on anchors
Securing it twice can be nice! There are a few reasons you may need two anchors and lines. Where heavy winds and rough seas are common, double anchoring can be beneficial to steady the boat.
Here are several common methods of double anchoring:
Bohemian moor: Two anchors are off-bow at 180 degrees apart - one underneath the boat and one ahead.
Bow and stern: One anchor is off-bow like normal and a second anchor is off the stern.
Two anchors off-bow: Lines are like a V-shape, approximately 50 degrees apart. This is the most common double anchoring method and works well in busy coves and ports.
2. Be mindful of the anchor's chain or line
Don't get an ankle wrapped up with your anchor. Stay clear when you let it out. Even rope burns can really sting palms!
Anchor off the boat's bow and never at the stern (unless, of course, you're double anchoring with only a line to shore).
3. Get all the proper equipment
Don't think that you can simply throw an anchor overboard and come to a dead stop (or even stay in position, for that matter). To set an anchor hook properly, there are methods and equipment to consider, especially taking into consideration the ground tackle chain length and wind conditions.
Securing your line directly to your anchor shaft isn't sufficient. You'll inevitably find yourself dragging anchor.
Instead, you need to connect your line and anchor with at least a four-foot ground tackle chain and an anchor shackle. The ground tackle chain takes on the tension and pull from the boat's momentum instead of the anchor allowing the anchor to lean and grip the surface below.
Be sure to have a good anchor chain length that attaches to your nylon rope. And your nylon rope should be at least an additional three times( for lakes and calmer waters) to seven times (coastal waters) the depth of your water.
4. Paying attention to current and wind
Pay attention to the wind strength and the size of the waves, as these play a huge factor.
Slowly motor upwind or into the current, further from your desired anchor position. Here you'll drop the anchor and tackle chain, letting out the line as you drift back to your intended resting spot.
Another reason you can't simply drop it in: Anchors are designed to lay sideways! Even in perfectly calm wakes and still winds, you have to follow this technique in order to hold fast.
You have to grab something below sand, mud or craggy sea bed to secure your vessel.
5. Set up a tripping anchor for sticky situations
Sometimes your anchor will catch really well. So well, in fact, you can't get it back! So what do you do? You need to set up a tripping anchor, in case this happens. 
Every large anchor has an eyelet hole separate from the hole that attaches the shaft to the ground chain. With this eyelet, you attach the ground chain to the anchor again with some sort of breakaway string or nylon or cable ties.
Next time you find yourself stuck, move your vessel directly over the anchor and slowly add more power until the trip line breaks, jerking away and dislodging the anchor.
Editor's Choice
Check Price on Amazon - Better Boat's fluke-style anchor kit comes ready to launch with chain and line. Made of heavy-duty galvanized steel, it keeps your boat secure in sand or mud and fresh or saltwater conditions.
The 5 Basic Types of Boat Anchors
Some anchors are solely for coastal waters, while other smaller anchors are for fishing in narrow, local rivers.
Having the appropriate anchor for your boat is a crucial piece of boating safety equipment and can even save you should you ever find yourself boating in rough seas.
Fortunately, choosing the right anchor to secure your boat is actually not a difficult decision to make. You just need to know what each anchor was built for and the type of bottom below the water's surface.
1. Claw Anchor
Claw anchors, also referred to as Bruce anchors, these typically have three claws instead of a single plow, which act to roll the anchor upright. With multiple claws, they grab rocky bottoms easily, making them perfect for anchoring in waters with rocky bottoms.
2. Fluke Anchor
Fluke anchors, also known as Danforth anchors, are anchors with a shank and two hinged spades called flukes angled apart at exactly 32 degrees.
Fluke anchors are ideal for muddy or sandy areas. In fact, they really don't perform well in areas that are anything but. With the red-clay mud banks in the South, this is all boaters use at my lake!
These anchors are also very popular because they easily fold away for storage. But just be sure to get the correct size and weight and also be sure to get a fluke anchor with a full-length stock to prevent it from rolling in the sand below.
3. Mushroom Anchor
Mushroom anchors appear exactly as the name implies like a mushroom cap. They're the go-to anchors for smaller fishing boats and powerboats. Vinyl-coated mushroom anchors, like this one, are the best type of mushroom anchors to purchase.
The vinyl coating adds a soft, protective layer that won't ding or chip up your boat's hull if it hits the side as you're dropping it in the water.
I remember using these when I was younger because my dad didn't have to worry about me damaging the boat when I helped pull in the anchor.
4. Plow Anchor
Plow anchors were originally referred to as a CQR or Coastal Quick Release. With a plow-shaped fluke that pivots on its shank, it works swell in coastal waters and areas where boats tend to swing around and stronger tides change the direction of the boat's pull.
The plow anchor is a standard anchor for some boaters because it's useful in many bottoms and both freshwater and coastal waters. I find these very easy to use when you become stuck often and need to trip anchor.
5. Delta Anchor
Delta anchors are like a brand name, but they're essentially wing anchors, which are very similar to a plow anchor's CQR design. The difference is that the shank is fixed and has fewer degrees of separation from its flukes. This allows the plow's tip to go down more readily and set anchor quicker. 
The flukes are also made with more outward surface area, allowing for both a quicker catch and added resistance.
I find this to be a strong anchor. It's very popular with boaters for many reasons: One, it's a more affordable anchor. Two, it grasps mud, sand and even weeds, which a lot of anchors have trouble with.
The Delta anchor has such a strong holding power that boaters should purchase an even lighter Delta/Wing anchor than you would other anchors. Otherwise, you might find yourself stuck and needing to trip anchor.
Last Thoughts on Choosing Boat Anchors
A general rule, though outdated, is to have one pound of anchor for each foot of boat. Have a 15-foot pontoon? Get a 15-pound anchor. Easy peasy math. But with modern anchors, this calculation is considered way overkill. Instead, I suggest referencing your boat manufacturer's suggested anchor size.
Ack! Do I purchase a galvanized steel anchor or stainless steel anchor? Unlike certain boating equipment like boat trailers, I wouldn't stress over this decision.
My thinking? If you plan on mounting your anchor at a bow pulpit and you want it to look as shiny and polished as your ride, by all means, purchase yourself a glimmering new stainless steel anchor.
Most boaters realize this will be dragging in mud, seaweed, and who knows what else. They might just want to tuck their anchors out of sight beneath a hatch or seat cushion until they can clean it. For that, galvanized steel works just fine!
---