8 Affordable Inflatable Fishing Boats to Get You on the Water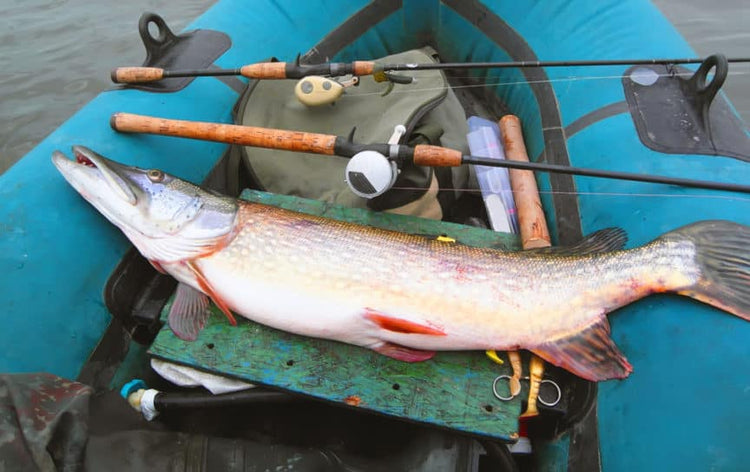 Explore remote parts of lakes and rivers to increase your haul. 
Shore fishing is often quite restrictive, leaving you bound to the chosen bank and the rod's stretch and capacity. Instead, why not venture freely offshore with an inflatable fishing boat? 
Lightweight and compact, inflatable boats and inflatable kayaks are easy to transport and pack away when you're done. Plus, they're more affordable than your standard kayak or aluminum fishing boat.
Check out eight of the best inflatable fishing boats to help you get afloat and land the catch you deserve.
Why Buy an Inflatable Fishing Boat?
If you've fished the same stretch of water for years, you've probably noticed an increase in people taking up the sport as the stocks of the fish plummet.
But with an inflatable fishing boat, you can escape the crowds, plus more. Here are all the numerous ways an inflatable boat can come in handy:
Easy to Store: Compared to rigid boats like kayaks and canoes, inflatable fishing boats are a cinch to store. You don't even need a garage to keep one stowed safely. A garden shed will suffice. Because they're inflatable, all they require is a box and some careful folding to preserve them for years to come.
Easy to Transport:  Typically, rigid boats get transported by a trailer attached to the back of an SUV. The trailer alone will set you back hundreds of dollars. Plus, you still have the headache of storage. If you have a garage or hardstand space, then it doesn't present a challenge, but not everyone's that lucky. The simple solution is to buy an inflatable fishing boat and toss it in the trunk. When you arrive, away you go.
Lightweight: Inflatable fishing boats are easy to carry on land and even easier to lift in and out of the water, which makes them an ideal craft for those who still want to fish the waters but are less physically able like the elderly.
Affordable: These boats are typically more affordable than the rigid variety, which allows those on a budget a cheaper solution to enjoy the benefits of fishing.
Stability: For such a small vessel, balance is essential for a smooth ride and a worry-free fishing trip. These crafts are air-filled, so they typically have more buoyancy than a rigid boat. If you have to carry supplies like rods, anchors, boat fenders and line, they'll be easier to transport in an inflatable boat.
Launch From Anywhere:  Due to their light and agile design, an inflatable fishing boat is the ultimate go-anywhere craft on the lakes and rivers, unrestricted to one shore or bank. Traditional vessels often require a slipway or other dedicated places to enter the water.
Reach Secluded Spots:  Because inflatable fishing boats are lightweight and sit on the surface of the water, they can get you to places that rigid craft cannot, granting access to lesser-known spots and the ability to discover new territories.
Who Would Benefit From an Inflatable Fishing Boat?
Those on a Budget:  With limited resources to spend on your hobby, an inflatable fishing boat is a perfect vessel to get you afloat. I accept that even a few hundred dollars is a tough ask for some, but it beats spending upwards of $1,000 that some rigid crafts and kayaks set you back.
Clubs and Organizations:  Fishing is one of the most popular past times in the United States. Fishing clubs thrive up and down the country. Many would love the opportunity to get afloat and increase the variety of ways they fish, making inflatable fishing boats the perfect way to reach that goal with minimum fuss and expense.
What Features to Look for in an Inflatable Fishing Boat
What differentiates an inflatable fishing boat from a typical inflatable boat? Why can't you simply purchase a dinghy? Let's discuss some of the key features:
Swivel Seats:  Because you need maximum maneuverability, the ability to adjust your direction is crucial. In my experience, fish don't just stay in one place while you catch them; they twist and turn while on the hook. So having the ability to change direction with the fish is vital. If you can't get a boat with a swivel chair, consider one with a bench-style seat that at least enables you to switch from front to back with ease.
Rod Holders: Nothing clutters a fishing boat more than rods and lines. Also, it's crucial the lines and rods avoid entanglement. A dedicated holder keeps everything nice an neat, as well as easily manageable.
Capacity:  When filling the boat with fishing gear, you need to consider the overall capacity. The last thing you need is to capsize and lose all your expensive equipment. Most inflatable fishing boats have a load capacity of between 250 lbs and 600 lbs, depending on if they are one or two-person boats.
Motor Attachments:  While not everyone needs a trolling motor, an attachment is a massive bonus, especially if you're less physically able and need one to get you from A to B. Also, it means you can now extend your range in search for the best fishing spots.
Anti-puncture Material: Inflatable boats will never be as durable as the rigid variety, but you need to know it's robust enough to withstand the rigors of day to day fishing use. Remember that you'll be using knives and sharp hooks, so the last thing you want is for it to sink in the middle of the lake. Look for abrasion-resistant PVC and double or triple stitched seams as well as multi-chamber hulls that will keep you afloat even if you get a puncture.
Additional Storage:  Some dedicated inflatable fishing boats have side pockets and racks for all your fishing essentials.
8 Affordable Inflatable Fishing Boats to Get You on the Water
Sometimes, you just want to go fishing alone for a nice, quiet and relaxing day out on the water. And other times, you want a fishing buddy to tag along.
Below you'll find the eight best inflatable fishing boats divided into two sections to accommodate both types of fishing experiences.
Single Person Inflatable Fishing Boats
Colorado XTS Fishing Pontoon Boat
Check price on Amazon
This pontoon-style boat comes with a swivel seat for maximum maneuverability, 20 side storage pockets and a wheel for easy land transportation.
It even has a stripping basket and adjustable footrests, so even someone short like me can find a comfortable seating position.
Material: Abrasion-resistant PVC
Weight: 80 lbs
Capacity: 400 lbs
DAMA Inflatable Raft
Check price on Amazon
This DAMA model has a detachable seat with adjustable back support and two rod holders.
Protecting you from the elements, it even comes with a mini bimini canopy, which shades the sun from burning you while exposed on a lake.
The deflated package size of this boat measures 40 x 70 x 38 cm to fit comfortably in even the smallest vehicles.
Material: Durable PVC and nylon
Weight: 34.1 lbs
Capacity: 380 lbs
Sea Eagle PF7K Packfish
Check price on Amazon
This Sea Eagle is a one-person set up with
two fishing rod holders
and
additional storage bags
on either side of the adjustable seat. I find having additional storage useful, even if it's somewhere to keep refreshments and lunch.
Material: Polykryler
Weight: 36.6 lbs
Capacity: 300 lbs
Classic Accessories Cumberland Inflatable Fishing Boat
Check price on Amazon
This one-person inflatable fishing boat is ideal for folks like me because it can be transported on your back with adjustable straps. It's the perfect choice for trekking to your favorite spot on the lake.
It has two cargo pockets, two fishing rod holders and a padded seat with an adjustable backrest. It even has an additional mesh storage area for vital equipment like anchor lines.
Material: PVC
Weight: 14 lbs
Capacity: 350 lbs
Two Person Inflatable Fishing Boats
Intex Pro Excursion Inflatable Fishing Kayak
Check price on Amazon
This Intex Pro is the least expensive inflatable boat on the list, but it doesn't mean you have to compromise on quality. The price alone was enough to attract me!
It has two adjustable seats with footrests, two fishing rod holders and storage space in the bow.
Additionally, it also offers a mounting bracket for either a GPS unit, fishfinder or swivel rod holder.
When folded, this boat measures 30 x 18 x 18 inches.
Material: Laminate PVC and a polyester core
Weight: 46.4 lbs
Capacity: 400 lbs
PEXMOR 10-foot Dinghy
This Pexmoor dinghy has a massive load capacity and comes equipped with two bench seats for a raised position.
For fishing, it has added features such as a rod holder and a mount for a trolling motor as well as a wooden floor that adds stability for those of us (like me) who prefer to stand while casting.
When folded, this fishing dinghy measures 15.6 x 18 x 43.2 inches.
Material: PVC
Weight: 82 lbs
Capacity: 880 lbs
Elkton Cormorant Tandem Inflatable Fishing Kayak
Check price on Amazon
This Coleman Colorado inflatable fishing boat has adjustable Berkeley QuickSet rod holders for hands-free fishing as well as mesh storage pockets for your smaller items.
One of the safest inflatable boats I've reviewed, the hull comprises of separate air chambers designed to keep you afloat even if one chamber develops a puncture.
It has a mount for a trolling motor (when paddling is too much of a chore) and the seats are adjustable for a comfortable ride.
Folded, it fits into a storage bag measuring 30 x 16 inches.
Material: PVC, nylon and 1000-Denier tarpaulin base
Weight: 40.4 lbs
Capacity: 600 lbs
Elkton Cormorant Inflatable Boat
Check price on Amazon
This Cormorant inflatable boat has many rod holder options for fishermen. It comes complete with two full-motion holders as well as two vertical and two fixed holders, meaning every angle is covered. I like this feature because it means that no matter where the fish go, I have a rod ready to cover it. 
The construction material is also hook-resistant and benefits from having a robust tarpaulin base.
Deflated, this boat folds into a bag measuring 26 x 16 x 8 inches.
Material: Rip-resistant PVC
Weight:Â 27 lbs
Capacity: 450 lbs
Fish Freely and Reap the Rewards
In the main, inflatable fishing boats are convenient, affordable and high quality. But more importantly, they offer access to a different world of fishing you may have never considered. Once you get afloat, the fishing opportunities are endless.
Getting afloat with your rod means you can access hard-to-reach river creeks or lake coves that were previously unavailable. And that means increasing your catch and bragging rights to friends and family with the size of your haul.
So what are you waiting for? Treat yourself to an inflatable fishing boat and reap the rewards.