Paddler Meets Pontoon: 6 Recommended Kayak Racks for Pontoon Owners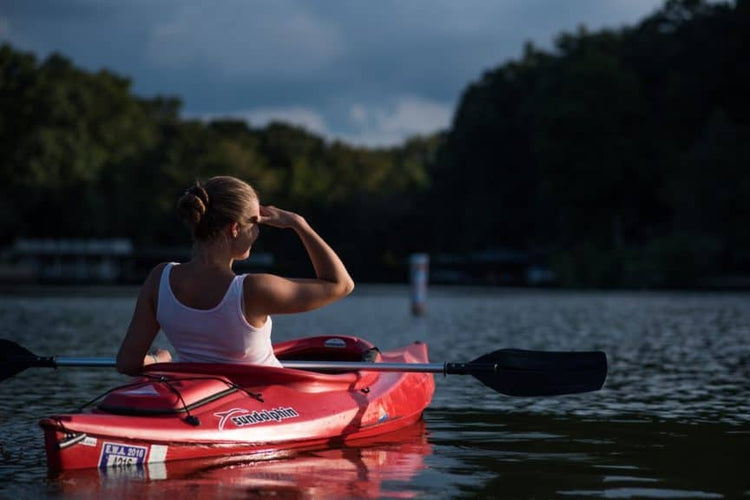 Like fishing, paddling is a quiet sport and an enjoyable means of exercise whether it's an easy paddle on a lazy river or exploring inland marshes near the sea.
When you also own a pontoon boat, finding an excuse to go paddling in your kayak gets harder by the season.
From the shade to the time saved getting to a location, it's so much more tempting to pack a cooler and effortlessly coast along instead of paddle.
There are reasons you'd want to not only have your pontoon, but your kayak too! You can only take your pontoon so far up a cove, but you can use it as a launch point for a kayak.
If there's a shallow cove or narrow creek you've wanted to explore drive to the location, drop an anchor, glide in your yak and paddle the rest of the way, knowing that you can always paddle back to grab lunch under the shade.
The trick, however, is how to bring your kayak along for the ride in the first place. Most pontoons just don't have the space up front for a 10-foot or 12-foot yak.
So the best scenario would be to hang it on the outside.
Taking a look around online and seeing a few while attending boat shows, I noticed kayak racks were mostly designed for hanging over the side of powerboat railings and sailboat stanchions. There aren't too many that are molded for the square-shaped railings of pontoons.
I did find a few kayak rack manufacturers who have noticed the need for kayak racks specifically constructed for pontoon boats.
6 Recommended Kayak Racks for Pontoon Owners
1. Toonracker by Boarding Solutions LLC
Check Price at Boarding Solutions
The Toonracker is designed by Boarding Solutions LLC of Englewood, Florida.

Made out of nylon straps and marine-grade materials, the Toonracker is recommended for kayaks under 75 lbs. This should be more than efficient if your kayak is made from rotomolded polyethylene, as are most.

The beauty of this rack is that if you ever want to trade your kayak in, it can also accommodate up to either two paddleboards or two surfboards.
2. Suspenz Kayak Storage
Check Price on Amazon If you're looking for something solid and don't mind rigging it to the boat yourself, Suspenz Kayak Storage has a variety of racks that can be configured to the side railing of a pontoon.
For example, the lightweight EZ Kayak Rack is a nice choice to attach to your 'toon. Just take a look at their offerings for yourself and get creative!
3. West Marine Kayak Tie Down Straps
Check Price on West Marine
Some of us aren't too keen on the idea of drilling into our boat's railing. If this makes you nervous, you could use a simple pair of tie-down straps.

The disadvantage of this is that you have no foam support, potentially resulting in your kayak banging against the side of your pontoon and scratching up the railings or paint job.

To remedy this, you just need to get creative and add some cushions to protect the boat. This can be as inexpensive as a foam pool noodle, cut in half and secured to the pontoon railing.

If you wanna invest in more than a foam pool noodle, don't assume a generic sponge will work. Be certain the foam is closed-cell foam. If it's not, it'll absorb water.
4. Dock Mounted Roller by The Dock Doctors
Check Price at The Dock Doctors
Now we're steering a bit away from the 'toon racks and into dock racks. These are ideal if you're not planning on boating too far away from your dock and can return to retrieve your kayak when needed.

In addition, if you're someone with bad knees or a tendency to have back injuries a dock mount roller is a great accessory to add to a dock. Sometimes after a long day, it's nice to know you can single-handedly pull a 50+ lb vessel out of the water with little resistance.

The dock-mounted roller by the Dock Doctors is made for a canoe or kayak. As a 12-inch roller, it assists someone lifting a canoe or kayak out of the water and onto the dock by centering the craft's keel into the shallow groove.

This one can be universally mounted to any type of dock, including ones with either wood or composite decking.

Plus, the roller is made of polyurethane and is non-marring to even polished wood canoes.
5. Aluminum Kayak, SUP & Canoe Rack by DIY Dock
Check Price on Amazon Another dock rack you can purchase is this aluminum rack by DIY Dock. The reason I like it is because it hangs over the water, freeing up your walkways or dock.
Not only does it save space by hanging the kayaks over the water, but with a lower arm, it also stores paddles safely out of the way of foot traffic.
Bungee straps secure your watercrafts in place while UV-protected EVA foam padding protects the coat from any scuffs or scratches.
6. EZ Dock Kayak Launch
Check Price on EZ Dock To some paddlers, it used to be that the best way to climb into your yak was by the edge of the dock.

But instead of climbing in while the kayak is about waist high on the surface of the water, it meant you'd have to climb down into it, which can make the kayak tipsy.

Even as an experienced paddler, I still find launching from a dock very unsteady and have lost my balance on numerous occasions.

If you have the room on the side of your dock, you may wanna consider the EZ Dock Kayak Launch. It makes getting in and out of kayaks easy for young kids and those of us (like me) with not-so-great balancing skills.

It's especially perfect if you live on a busy lake with lots of traffic and wakes, or if you're a paddler who would otherwise have to climb over rocks to launch at shore.
The entire piece is constructed to float with your dock. If the water rises or falls with either a standard floating dock or a fixed dock, so will the launch.
The EZ launch has a series of rollers which help glide the kayak in and out of the water. Due to its wide yet shallow V-shaped entry, it allows the keel of your kayak (or canoe) to stabilize as you settle in.
This launch also comes with a few smart touches such as integrated paddle notches.
Another awesome reason for a launch is the ability to kayak in the colder months. Sometimes you just wanna go paddle in the autumn months but dread getting your feet into the cold water to launch. 
With this launch, you'll never have to worry about that!  
Featured Kayak Product
| | |
| --- | --- |
|     |  Kayak Paddle |
Check Price on Amazon - Better Boat's kayak paddle collapses down from 35" to 18.75". It has an ergonomic T-grip handle, sturdy locking joints and a high-impact plastic blade. It's compact and portable for use on canoes, kayaks, boats and even jet skis. 
Installing Pontoon Kayak Racks
Pay close attention to where you install your kayak rack.
When you mount your rack, be certain you're not blocking an entry or exit point. The racks might have a recommended install of say six feet apart (depending on the length of your kayak) at the rear of the boat, but the nose of your yak could easily extend further and obstruct a door.
Depending on the size of your kayak, you may be able to mount it across the bow of the pontoon. An eight-foot kayak could easily fit across most pontoon bows.
If you get up into the 10-foot range, you may need to pay attention to how far the kayak's nose and rudder, if you have one stick out.
Think about the ease with which you dismount your kayak. If you wanna drop the kayak in at a moment's notice, you might want something that's a little less constricting, like straps. Then again, this means you're fighting straps as you're bobbing in the water.
On the other, you'll need help lifting the yak over and into the solid unbendable racks. So I'll leave this decision up to you.
I recommend facing the yak's hull outward. This way, you don't trap water inside and create a heavier yak that will add extra load on the rack's straps.
In fact, it's smart to bring along a sponge to absorb any water weight before you remount it to the rack.
A Few Safety Tips for Paddling 'Tooners
Keep in mind that when you install a kayak rack on your pontoon, your boat's overall beam will be wider. Don't forget your kayak is there when you're underway and pull into a marina or dock on the side where the straps are located.
If you don't give yourself extra clearance, this could create some nasty dents in your pontoon's siding.
This also goes with visibility. A kayak on your side will create a blind spot, making it hard to judge how close you are to nearby docks. It's important to also check for loose straps or bolts every so often as well.
Failure to address any wears and tears could create a serious hazard and injure someone if it falls. Another fantastic reason to bring a kayak along is if you do a lot of pontoon camping. It makes an easy way to get supplies to shore if you don't bank your pontoon.
But if you plan on transporting your pontoon to a different lake or coastal waterway, remember to clean the bottoms of not only your pontoon but your kayak with Boat Soap. You could bring back an invasive species or a kayak covered in slime and algae.  
Show us what you've got! If you're a passionate paddler who has rigged out a pontoon for a kayak, talk to us on Twitter or Facebook.
There are more paddlers and 'tooners out there than you'd think. If you're an avid paddler, check out BetterBoat's General Boating for more kayaking tips and accessories.