The 3 Best Deck Boats to Give You Bang for Your Buck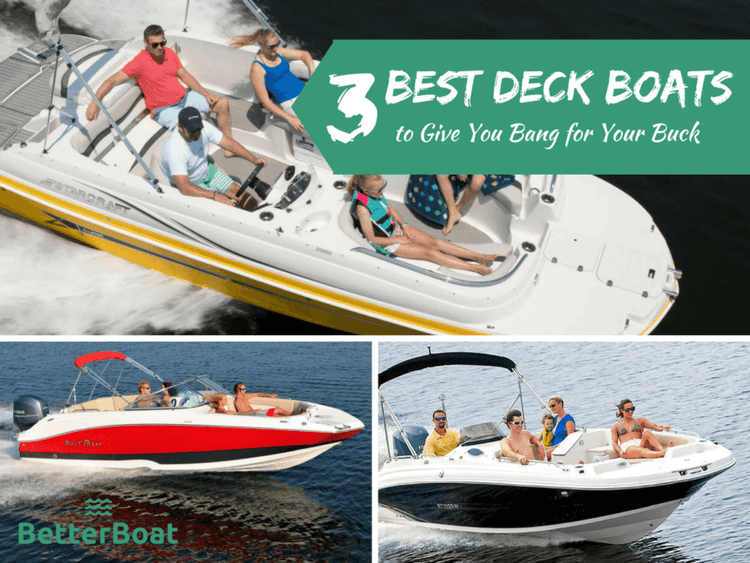 Until recently, deck boats have been nearly unheard of outside the boating world. I think they're finally starting to get the attention they deserve.
From big boating names like Bayliner and Tahoe to more specialized manufacturers like Starcraft and Hurricane, no matter where you look you'll start to spot new deck boat models on the scene. 
Their popularity came from one big realization: Pleasure boating, water skiing and fishing are always a lot more enjoyable when you've got plenty of people onboard to share the fun. 
The only limitations to having a group of people onboard are the size of your vessel and its passenger capacity. Pontoon boats are excellent for large groups, but really, have you ever seen a fast pontoon boat? Say hello to the deck boat!
Boating enthusiasts are now looking to deck boats to increase the number of guests they can welcome aboard without sacrificing speed and maneuverability.
What's a Deck Boat?
The main feature that distinguishes deck boats from other similarly-sized runabouts, such as bow riders, is their vastly expanded deck space and storage capability. You've gotta have somewhere to put all the dock lines, anchor bouys, fishing accessories and life jackets (not to mention the bags of towels, coolers of snacks and must-have water toys).
Deck boats are designed to take advantage of every inch of space to provide the most comfort and convenience for passengers. In addition to front deck seating and fold-away swim steps at the bow and stern, deck boats often have deeper cockpits and wider beams.
The deck boat's beam is carried further out toward the bow of the craft—and the bow itself takes on more of a square shape—to create the greatest amount of open deck space possible to accommodate recreational activities and equipment. This is a whole different design concept from what you see on most runabouts, which are built with pointed V-shaped bows.
Deck boats generally have hull lengths between 20 and 30 feet, although there are some shorter and longer outliers. This gives you a pretty good range to choose from. The size of the deck boat that you ultimately select should match the types of nautical activities that you have in mind.
Anglers and water skiing enthusiasts would do well to consider a deck boat less than 25 feet in length, which provides greater speed and maneuverability.
The larger the deck boat, the more likely it is to be used as a luxury party craft, complete with a host of upscale amenities like leather seats, multiple cup holders and even wet bars. This will result in less speed and maneuverability, but that's the price you pay for having friends. 
In either case, it should always be remembered that deck boats are primarily intended for use in protected inshore waters. Taking a fully-loaded deck boat offshore, even on what seems to be a nice day, is ill-advised and could end in a tragic mishap.
As far as affordability, deck boats are not too bad on the wallet. New deck boats usually range in price from around $20,000 up to $65,000 and beyond, depending on the features included.  
Smaller minimalist models can be even cheaper. If you want to be extra thrifty, a simple deck boat bought secondhand can be a steal.
Featured Boat Care Product
| | |
| --- | --- |
|     |  Boat Soap rinses clean for a slip and residue-free shine. Simply spray clean with a hose and nozzle. |
Check Price on Amazon - Keep your deck boat (or any other boat for that matter) clean and shiny. Better Boat's premium Boat Soap is the go-to product for everything from the bow to the stern and above and below deck. It's biodegradable and marine-safe. You can even use it on your dishes if  necessary.  
Which Deck Boats Are the Best?
These days, the growing number of brands and models of deck boats on the market will make the choice harder for you (Isn't that always the way it is?).
Between making the choice of whether you want to attach a trolling motor and fish or need enough horsepower for whipping skiers around, how can you narrow it all down to just a few choices? 
Although the criteria may be highly subjective, it still basically boils down to how much bang you get for your buck. When shopping for a new deck boat, why not focus on getting the best value? Nobody wants to waste money. Using that as a standard, here are my picks for the top three beck boats on the market today.
The 3 Best Deck Boats to Give You Bang for Your Buck
Price: $44,930
The Stingray 212SC was designed for family boaters and social boaters. It offers a variety of amenities such as a four-speaker Bluetooth stereo system, a freshwater faucet and sink and an enclosed head/changing room (if you boat with kids, that's a major plus). 
Bring the whole family and all of their friends aboard this baby. It has a 12-passenger capacity and offers plenty of space to enjoy sunny days out on the water. There's a retractable Bimini top for when the sun is too much.
You'll never feel crowded by your gear, anchors, boat fenders and dock lines, so bring everything you want on board with you. The spacious interior of the 212SC has abundant storage compartments along with a pair of loungers, an in-floor cooler and lift-out seating.
Hopping on and off the deck is easy with a stainless steel boarding ladder and two port-side steps.
This attractive vessel has a length of nearly 22 feet, which is nice for speed and turns. It comes with your choice of either a Yamaha or Mercury four-stroke 150 hp outboard engine.
This configuration was specifically designed to provide optimum speed and performance, which it has consistently delivered during extensive test runs. Get this: It reached full plane in under five seconds and topped out at about 50 mph—exciting news for any boater who's got the need for speed.
Are you all about the fishing? Then you can start off on the right foot by adding on the optional fishing package, which includes an aerated livewell, four aft stainless steel rod holders, swivel fishing seats and a removable mount for a trolling motor.
Pros and Cons
Overall, the Stingray 212SC is a well-manufactured craft that was designed to deliver a combo of luxury and speed.
Stingray, however, has a reputation for building fast lightweight hulls that don't ride well in chop or in seas over two feet. It's an awesome lake boat, but it may not be the best choice for open saltwater like the ocean or Gulf.
Price: $51,396
For a boat that measures just a little over 22 feet in length, the NauticStar 223 DC can comfortably seat up to 10 passengers in the cockpit and bow.
It also has 11 strategically-positioned cup holders (less spillage, more drinkage). There's even a handy removable cockpit table, which can easily be stored in the head compartment.
A wide range of standard features includes a recessed shower, a pump-out head, a Bimini top, ergonomically-designed flip-up bucket seats and LED courtesy lights.
The NauticStar 223 DC adapts well to a wide spectrum of nautical activities. It's equipped with a ski pylon as well as a rubber-reinforced floor locker, which helps to keep skis from suffering collateral damage if the weather happens to turn rough.
Once you're done skiing, a convenient flip-up cushion on the starboard side allows you to easily re-enter the cockpit.
For anglers, the optional fishing package for this craft comes with a trolling motor harness, a forward livewell and a conveniently positioned pedestal fishing chair. There's also room for the added option of a flush-mounted Humminbird 385C color fish finder and GPS unit.
Most importantly, the boat's large 66-gallon gas tank provides you with plenty of fuel for your day out on the water whether you're water skiing, fishing or just cruising around.
If the weather gets breezy, the cockpit is fitted with a bi-fold dam that works together with the large tinted-glass windshield to help block air coming through the walkthrough console.
Ready to host an incredible boat party? For your entertainment, the NauticStar 223 DC also features a four-speaker Infinity JBL stereo with an MP3 input. This allows you to play your own customized music files (or lets you listen to whatever the teens pick out). 
Pros and Cons
The NauticStar 223 DC is a highly-respected vessel. It's the most expensive deck boat in our review group.
While the standard Yamaha F150 four-stroke engine is basically a good economical match for the boat, it may not provide enough horsepower to accommodate your desire for faster acceleration when fully loaded with passengers.
Since the boat is rated to handle an engine up to 225 hp, you might want to consider an upgrade depending upon your needs.
Price: $27,000
Like the looks of that price? You're going to be even happier when you see what this boat has to offer.
The Starcraft IO 2000 I/O has a fiberglass hull and may only measure a bit over 20 feet in length, but it's got some serious horsepower. It features a powerful 220 hp V6 Mercruiser engine that provides a lot more zip than most other deck boats in its size class.
There's no kidding around when it comes to capacity, either. Despite the shorter length, it does as good or better than the other two boats above in terms of passenger capacity (it has a 12 passenger rating).
Comfort isn't sacrificed with the Starcraft. The boat features a swivel bucket seat with a slider and a flip-up bolster for the skipper. Plus, there's a bow swim deck with a four-step telescoping boarding ladder, a tilt steering wheel, a starboard layback couch and extended port couch with under seat storage. Pretty cozy, right?
Other amenities of the Starcraft IO 2000 I/O include: a removable bow table, removable Igloo cooler, stern bench seat, a pressurized fresh water system, a Jensen AM/FM stereo with an MP3/USB port and plenty of onboard storage space for dock lines, boat fenders and anchor kits.
With a lifetime warranty, the hull is constructed out of 24-ounce Woven Roving Fiberglass with a six-inch overlay for enhanced durability. A six-year Blister Warranty is also included.
This is a vessel that offers the speed to be attractive to water skiing enthusiasts, but at the same time can be perfectly adaptable to a productive day of fishing on calm water. Oh, and its 51-gallon fuel tank is capable of providing more than enough range to cover most day trips.
Pros and Cons
The Starcraft Marine Limited IO 2000 I/O is a great boat for its size and has the lowest suggested retail price in our review group. It's still barely over 20 feet in length. That's why I'd say that its 12-passenger rating seems to be a bit unrealistic for anything but a casual cruise on a lake or in a calm bay when it's filled to the full rated capacity.
Summary
As you can determine from our review of three top-rated deck boats, these vessels can vary greatly in size, amenities and overall cost. Regardless of how large or upscale the deck boat that you ultimately purchase appears to be, play it safe on the way.
In the interest of safety, always remember that these boats were designed for use in the protected waters of a lake, bay or harbor as opposed to the waters offshore.
Take care of your chosen deck boat with the best boat soap, marine polish and other care and safety accessories. Along with applying these summer boating tips, your new (or new-to-you) deck boat will serve you well for many years of fun to come!