The Complete Guide to Pontoon Sea Legs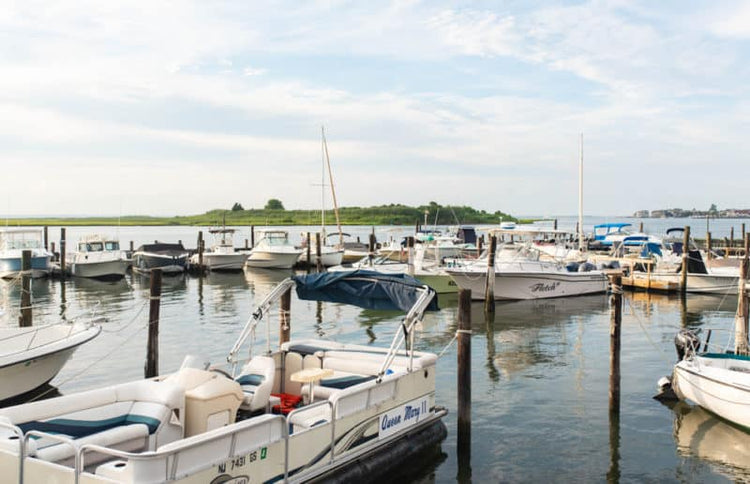 What are pontoon sea legs? Sea legs are basically two portable hydraulic mechanisms that attach to a pontoon boat's underside. They can lift the boat approximately six feet above water when activated. Even out in the middle of the lake! When you're ready to head home, just lower it back down.
Unlike traditional boat lifts or storage systems you normally see on docks, they're an excellent alternative for pontooners. As you'll soon learn, pontoon sea legs go wherever you and your boat goes. 
You might not even need a boat trailer and ratchet straps to haul your pontoon to storage, either.
How Pontoon Sea Legs Work
Attached to the bottom of your pontoon, sea legs are powered by a battery that lifts the boat up out of the water to a holding position. Tucked hidden away and installed under a seat compartment, the sea legs' hydraulic system is activated by a one-horsepower12-volt pump.
To work properly, they require at least a 750 cold cranking amp battery, similar to this Optima Deep Cycle Marine (check price on Amazon).
Strong Pontoon Sea Legs Materials
Sea legs are typically constructed of lightweight extruded aluminum alloy tubing, which is set at an angle to provide the strength for a heavy pontoon boat. The aluminum isn't bad for erosion prevention, either.
At the end of each sea leg is a 48 x 18 pad foot that supports the structure along the lake bottom. The four hydraulic cylinders themselves are supported by steel alloy piston rods, which support approximately 6,500 pounds of lift capacity and should support most heavier pontoons.
Pontoon Sea Leg Manufacturers
Sea legs are currently manufactured by two reputable Minnesota companies. Here's a brief introduction to each.
Hewitt offers different models for pontoons. One model has a wide base to offer better stability in wind and rough water. There are also electric and hydraulic sea leg versions.
Sea-Legs, the brand, has sold more than 10,000 sets throughout the U.S. and Canada. Their product offers 3,000 pounds of extracting and retracting power to keep from getting stuck.
This is great if your lake's sediment has sand, rock and mucky areas that could get the legs stuck.
The Cost of Pontoon Sea Legs
The cost to place sea legs on a pontoon can vary depending on which brand you go with. Here's a general breakdown: For a two-tube pontoon boat, sea legs cost approximately $4,300. And that's just the legs. Installation costs an additional $700, bringing the total to $5,000.
For a tritoon pontoon boat, sea legs are approximately $6500, plus $1000 for installation for a total of $7500. 
If you want the average 26-foot lift canopy, expect to pay around $4500, which doesn't include setup or installation. And then there's the bells and whistles! Want a remote control for your pontoon sea legs? It'll cost around $300 to $400.
The warranty
With your sea legs, you'll find a warranty. They may be different and vary anywhere from a one-year to two-year warranty. Ask your dealer about specific details of your warranty and read the fine print! Once installed, improper use of your sea legs can void the warranty.
Pontoon Sea Legs vs. Traditional Hydraulic Lifts
Sea legs are different from your traditional hydraulic lifts. The most obvious difference is that sea legs are installed on the bottom of your pontoon.
Traditional hydraulic lifts, however, are installed onto docks and within storage facilities. If you're considering buying either sea legs or hydraulic lifts, consider their additional advantages and disadvantages:
Advantages of Sea Legs Over Lifts
Prevents having to haul your boat to docks/lifts
Prevents a pontoon from banging against the dock
Activated by the convenient push of a button
Protects pontoon tubes from algae and mold buildup
Deployed anywhere easily without cables and pulleys
Install works on most pontoons
Drifting is prevented and without anchors
Disadvantages of Sea Legs Over Lifts
Affects your pontoon's performance and towing capacity, as they add ~350 pounds
Only fit pontoons between 18 and 30 feet
Pontoon weight affects sea legs. (For maximum performance, the weight cannot exceed 5,800 pounds)
Sea legs are not on the cheap side
Alternatives to Sea Legs and Lifts
Sea legs aren't a good fit for all pontoon owners. One major issue is the cost. If you prefer not to spend money on sea legs, lifts or even a dock, you can always go with economical ways to protect and secure your boat.
You have a couple of options:
1) Secure your boat to a dock or deck: For starters, learn some of those handy Houdini-esque nautical knots to use with the dock line.
The downside? This method won't protect pontoons from mold/algae. It may not prevent damage from banging the dock's side either. If you go this route, make sure you have a good pontoon cover and support poles to protect your boat.
To be fair, you'll probably want to cover your pontoon when using sea legs. It'll still be exposed to the elements, so a cover is a good idea, like this Pyle UV protective cover (check price on Amazon) that's mildew resistant and waterproof.
2) Use a trailer: Load your boat up onto your trailer, strap it down and haul it to and from the water.
When you can't currently afford sea legs or own your own dock, these are great options. Sea legs are expensive. So are docks. They don't always fit our budgets ... and some folks are simply more budget-conscious.
How Many Sea Legs Your Pontoon Needs
Your sea leg quantity depends on your pontoon's overall size in terms of length and weight. Keep in mind, however, if your pontoon's longer than 30 feet or shorter than 18 feet, it may not be suitable for sea legs at all.
In most cases, however, a pair of sea legs is installed toward each end of the boat. Longer pontoons, obviously, may require more. Check with your dealer and installer to help determine what your pontoon make and model needs.
Sea Leg Safety and Stability
Reports of pontoons tipping over while on sea legs are out there. But don't let that scare you away. You just have to use them in the right conditions. Muddy underwater sediment and even high wind affect a sea leg's stability, so double-check these possible conditions before installing.
They can't be used in water with rocky bottoms, either. It reduces the safety and stability of the sea legs. 
Laws and Permits for Sea Legs
Although sea legs have supported pontoons since 1996, they're still an up and coming trend that's growing steadily. Check with your state and local authorities to inquire exactly what permits are needed. It's possible sea legs may not even be permitted where you live.
Avoid spending that much money or having to remove them. As always, it's always a good idea to double-check. If you're uncertain where to start, check with the United States Coast Guard to better understand laws and regulations. If you're still unsure, request a contact in your local area.
Sea Leg Insurance
You need insurance for practically everything these days. And you'll need insurance to cover your pontoon sea legs. Attached to your pontoon's bottom, they're not a permanent structure and may require a different type of insurance.
Check on your pontoon coverage while you're at it. Your current coverage may change with these additions. Your insurance company may need to know how your boat's being stored.
If you have questions, you can contact the United Marine Underwriters for guidance.
Featured Boat Care Product
Check Price on Amazon - Better Boat's marine polish cleans, polishes and protects against saltwater, rust, UV rays and more. Use a microfiber sponge kit for precise application and long-lasting shine. It works great on cars and RVs as well. 
Conclusion
Pontoon sea legs are a promising alternative to traditional lifts even though they're unusual and make your pontoon appear as though it could walk on water.
They might not work for every pontoon owner. But if they do, one thing's for sure: They'll not only protect your pontoon, they'll also be a great conversation piece!