7 Boat Accessories for Dogs You Might Have Overlooked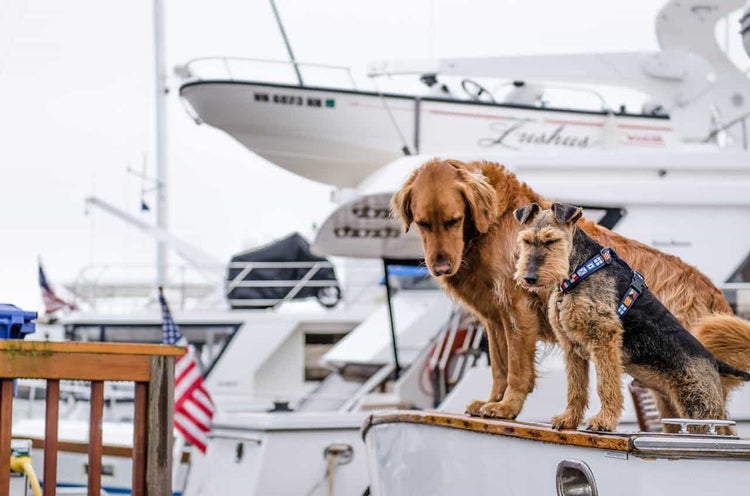 You're pumped about spending hot summer days on your boat.
And, of course, your best friend wants to go, too. I don't know about you, but my best friend is my dog. 
Before you let your dog hop on board, you need to plan ahead.That means you need the right dog-friendly boat accessories for their safety and your peace of mind.   
We've got you covered. This list of boat accessories for dogs has all the essentials on lock-down. They're way cool too, by the way. They're not just for health and comfort, they're also for playing around and having fun. After all, having fun is the main reason you're heading out on the water.
Featured Boating Product
Check Price on Amazon - Better Boat's boat soap cleans up all those inevitable spills, dirt, grease and grime that can happen. Use a garden hose and nozzle to rinse it all away for a shiny and slip-free finish.
With these seven suggestions below, you'll make sure the puppy-on-board experience is an enjoyable one.
The Boat Accessories Your Dog Needs
1. Water Bowl
Don't be one of those folks who think pets can just lap water up from anywhere. Natural bodies of water such as lakes, rivers and oceans can harbor harmful bacteria and other organisms that cause illness. You don't want your pup to get sick.
In this article by Dr. Mary Fuller, DVM, she discusses the dangers of letting your pet drink from natural water sources. It kind of freaked me out, so now I want to spread the word.
Of course, you might have already known about this. Either way, you need a way to keep water at the ready. But any old water bowl won't work. Simpler bowls are bound to topple, spill and cause a mess on deck.
That's why you need a specialized doggy water bowl for your boating expeditions. You need a bowl that can withstand choppy waters, unexpected turns, wake waves and high winds.
My Favorite: Buddy Bowl (Available on Amazon)
I think that the popular Buddy Bowl is a perfect fit for the boating lifestyle. There are options to suit any dog owner.
They're spill-proof and splash-proof to keep your deck dry.
Tiny puppy on board? Opt for the small-sized 32-ounce. There's a 44-ounce for mid-sized dogs, and a big 'ol 64-ounce for large breeds or boats with multiple thirsty doggies on board at once.
They're used on ride-a-longs by military and police K-9 officers.
They prevent pets from drinking too fast. Although rare, dogs can get water intoxication. They're more prone to this while out in the heat and sun all day long. This is even more common if they're swimming in (and accidentally ingesting) saltwater.
If you've got a good boat-friendly water bowl, your pup will have fresh water all day without worries. In the event that there is a spill, a chamois mop is an excellent way to quickly wipe away water.
2. Boat Ramp
If you've taken a larger dog on board your boat before, you know the pain of hauling a big dog onto the deck. But there's no need to strain your back every time you go out on your boat.
With a dog-friendly boarding ramp, our pups can easily step from the dock to the boat and vice versa.
My Favorite: PetStep Folding Pet Ramp (Available on Amazon)
My choice is the PetStep Folding Pet Ramp. It's portable and folds in half, which is great for cars, boats and other small spaces with limited storage.
It's multi-purpose and designed to reduce strain when getting your dog in and out of boats and other vehicles (you could even use it for help on and off furniture).
This one is especially good for boats since it has a rubberized non-slip surface. This means no slipping, no water damage and no problems with hosing it off quickly.
What else can you ask for in a dog-loading ramp for your boat?
3. Boat Ladder
The best part of boating for dogs is probably the swimming. They love getting wet and mucky. If you've got kids or anyone else on board who's going to be diving into water and splashing around, I'm betting that your dog won't be able to resist jumping overboard with them.
The question is: How can you get that water-logged dog in and out of the water?
If you've attempted this by hand, you'll know that it's uniquely difficult to hoist a big, wiggling, wet and slippery dog out of the water and back onto the boat's deck. Many an arm has been scratched up by doggy claws and many a back has been strained this way.
Answer: A pet boat ladder that's safe and reliable.
My Favorite:Paws Aboard Doggy Boat Ladder (Available on Amazon)
Check out this Paws Aboard ladder. It's slip-resistant, portable, durable, lightweight (easier to install/remove), easy to attach and remove and reduces possible injury (for you and Fido). Oh, and it's bright yellow (for high visibility).
With this ladder, your pup can easily clamor out and back into the boat without injuries or worries.
4. Life Jacket
For most of us, our dogs are part of our families. You wouldn't want your kids or your dogs to be without life jackets, would you? I didn't think so.
There are those who'd say, "hey, dogs can swim." Sure, most dogs can swim, but some are better built for swimming than others are.
Then there's always a chance that the winds, waves and currents will end up being stronger than expected, and even a strong-swimming dog will be at risk. Why take a chance?
In my book, here are the reasons why a good-fitting pet life jacket is absolutely necessary, and some questions to ask yourself if you're thinking about skipping this item:
Is your breed bred for swimming? Even if you think yours is, some individual dogs just plain don't like the water.
What if there's an accident and your dog is thrown overboard?
What if he accidentally falls overboard? If there's poor visibility, it may take time to find him.
A good vest will have handles for quick and easy grabbing.
Your trip will be worry-free knowing that your dog is always safe.
My Favorite
:
Outward Hound (Available on Amazon)
One popular choice is the Outward Hound series of pet life jackets. Look at why they're top-notch:
Front float keeps Fido's head above water (helps prevent water ingestion and going under)
Two handles (easier and quicker to grab)
Side buckles for better fit and release (easier to put on/remove)
Bright colors (better visibility)
Sizes available from extra small to extra large (no excuses not to buy)
This boating pet accessory is truly a no-brainer for your pet's safety and peace of mind.
5. Pet Potty
When your dog needs to go, it's a ritual that involves in-bred behavior and communication. So, it's not likely that they'll relieve themselves at all in the water.
You can always plan to dock or set anchor and walk your dog from time to time during your day of boating. Even so, it's a good idea to invest in a portable pet potty for your boat.
Having a specific place for your dog to do their business will be more sanitary, safe and comfortable than relying on docking at the right moment.
My Favorite:Pet Loo Portable Pet Potty (Check Price on Amazon)
Now, not any pet potty will do. Some are made more for apartments and houses and not for the movements and unpredictability of a boat deck.
Not only is pet waste smelly and messy, it can cause slipping dangers. You don't want that. 
So, let's look at some features you may need: safe, secure, clean and convenient. That's why my favorite option is always the one by PetSafe, which is known as the Pet Loo.
This thing's pretty cool. Pet-owning boaters will enjoy these features/benefits:
Great for travel and small places (bingo!)
Drains urine away from paws (no tracking)
Powder absorbs urine/controls odor (no bad smells)
Strong base for support (won't buckle)
Easy to clean (just dump and rinse)
Specially-designed tray prevents spills (perfect for active boating)
Tip: A portable pet potty is perfect for boating days but may require initial training prior to the first outing. Be wise and plan accordingly.
6. Dog Bed
We've established that you want your pup to be comfortable on your boat. That means they need a cozy bed to rest in that's both comfortable and cool.
It also needs to be water-resistant, easy to clean and really sturdy. Pet cots are nice but they can flip on boats. A better choice is a bed or mat, that won't slip.
My Favorite:Furhaven Pet Bed Crate or Kennel Pad Dog Bed (Available on Amazon)
I love this Furhaven option. It has all the features to make them great for naps on a boat. Check them out:
Indoor/outdoor (use at home or boating)
Water-resistant exterior (keeps pup dry)
Easy to clean (just wipe)
Inner foam core provides comfort and support (especially good for senior pooches)
Flat design stays put better (for those bigger waves)
What more could a pupper want in a boat bed?
7. Sunscreen
Last but not least, everybody needs sunscreen on the boat. But did you know that your dog needs some too? Pets can get sunburned, especially on their noses, ears and bellies. Pets that are hairless or have limited hair are at an even higher risk.
My Favorite:Warren London Premium Dog Sunscreen (Available on Amazon)
One popular pet sunscreen is Warren London Premium Dog Sunscreen. Here's why:
Natural aloe vera moisturizer
What's not to love about it? It's safe for pups and will protect them from harmful rays.  
By choosing the right dog boat accessories, your canine pals can enjoy boating and be safe. Your family can have fun on the water without extra worries. If your dog could talk, they'd thank you. Bark if you're ready to go, Fido!