Kayak Fishing Accessories to Launch Fully Equipped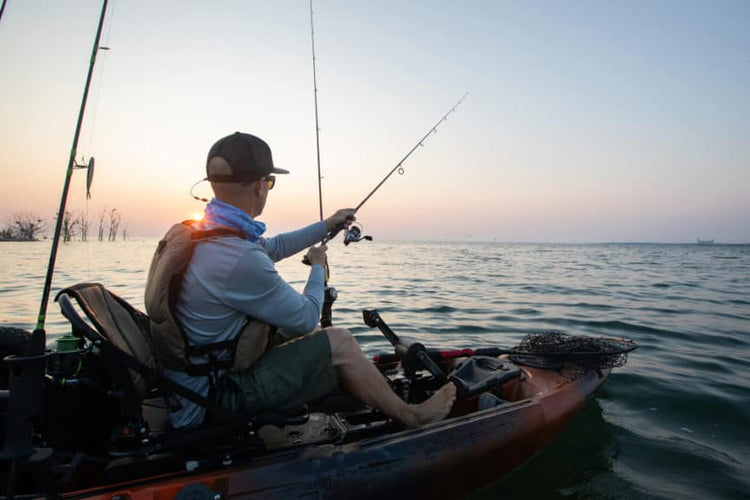 It's official: my kayak is my home away from home. Whether it's adventuring, finding a low-key swimming hole or merely spending time with friends and family, I've spent so many hours out on my fishing kayak that I've lost count.
Some of the best times kayaking for me, though, is fishing. Sure, every paddler knows you need a good seat. But you also need the right tools.
With limited space onboard and less time to spend fumbling around (potentially making waves), being well organized and equipped with essentials can make a more enjoyable kayak fishing experience.
Instead of futzing about, you can focus on the catch. That's why, for me, a collection of smart kayak fishing accessories are a must-have.
Listed below are just some I can't picture my life without.
Kayak Fishing Accessories to Launch Fully Equipped
It's the same way you need to have a great life vest or a cart to make the journey more convenient (or even a cooler to keep your drinks chilly). It's all part of what makes a pleasant paddling experience.
But what is it about kayak fishing accessories that make this more pleasant? I want to emphasize just how key kayak fishing accessories can be for your time out on the water.
Not only can it make things more convenient, but it can lead to better quality fish in a shorter amount of time. My life wouldn't be quite the same without these kayak fishing accessories and how they can change the way you cast off on the water.
The Essential Kayak Fishing Accessories
Before you even think of fishing on your kayak, these are the tools you most definitely need. Whether you own a sit-on-top or sit-in kayak, as you begin to build out your kayak for fishing, here are the number one items.
Hitorhike Fishing Rod Holder
Check price on Amazon
Kayak fishing accessories begin and end with rod holders. I appreciate this professional boat rod holder not only because of the economical price but for the universal fit which makes it a great match for a whole host of rods. It can be fixed onto almost any kayak out there.
It's made from eco-friendly material and comes with a life-long guarantee (not a bad combination).
Pelican Boats Rod Holder
Check price on Amazon
To be fair, there's no such thing as one perfect kayak rod holder, so I wanted to share another option I trust to get the job done amongst my other kayak fishing accessories.
At just a bit of a higher price point, this rod holder's 360-degree swivel feature makes it easy to follow your catch. It also has a latching ring to secure your rod, ensuring you can relax as much as you fish.
ONYX Kayak Fishing Life Jacket
Check price on Amazon
Who says your life vest can't go the extra mile? If you're on a kayak, you're definitely going to need all the space you can get.
Equipping yourself with this fishing life jacket is an easy way to store lures and hooks for easy accessibility in its numerous pockets. It'll make your life much easier out on the water.
It also comes with six adjustment straps, a high-foam back and breathable construction with a mesh lower back.
Universal Kayak Paddle Clip
Check price on Amazon
This might seem like a basic addition, but it's soon going to be your personal lifesaver when you're out on the water. Outfitting your kayak to be more customizable is a key part of the best kayak fishing accessories.
That's why a universal paddle clip, which allows easier access to your rod, does so much at such a low price. Secure, versatile and easy to help store your kayak paddles, a paddle clip is a must-have for me!
Garmin Striker 4 Fish Finder
Check price on Amazon
The last thing you want to do is to head out on your kayak only to come up empty! That's where a fish finder can help.
This model is a great piece of technology. And for the price, it offers an easy way to affix this finder to your kayak to help find fish in any body of water. It comes with "Clear V¼" scanning, a keyed interface and a way point map to help you navigate everything from brush piles to stumps and docks.
If you feel the need for a fish finger GPS combo, remember that most can be a bit bulkier and heavier for kayaks.
The Nice-to-have Kayak Fishing Accessories
Want to really take your kayak fishing experience into the next level? Once you have the essentials, consider the following kayak fishing accessories to truly kick the game up a notch.
Livewell Buddy
Check price on Amazon
A Livewell is a great option if you want to preserve your catch. That said, a lot of them are not made strategically to accommodate a kayak.
However, this Live Well Buddy literally floats alongside your kayak, making it the easiest way to store bait fish or your catch while leaving room onboard for all your gear.
If you're not releasing and want to come home with the bounty you catch, this is a great option!
Sunshine Fishing Catch and Release Net
Check price on Amazon
If you're looking to do some catch-and-release fishing, you're definitely going to need a net. I trust this product, specifically for fishing on a kayak, because of its size, weight and the fact that the clear soft netting won't disrupt fish in the area (they won't even see it).
It's a great option and stores easily on just about any kayak out there.
Mythic Lures Drift Master
Check price on Amazon
Sure, a kayak anchor might be effective, but it also runs the risk of keeping you in place for too long, potentially disrupting the fish in that same area.
Instead, a drift sock is a far better idea for serious anglers and this model is ideal. Proudly designed by anglers, for anglers, this drift sock is sturdy made with PVC Rip Stop material. It even features a handy design to make drainage a breeze.
It comes with a floating anchor harness rope, a collapsing cord and a 16-foot marine-grade rope that's UV-resistant.
Yak Attack Command Stand Bar
Check price on Amazon
I have a lot of friends who are avid fly fishers. They always scoff at me and tell me fly fishing just won't work on a kayak ... not enough space, not enough movement and you have to stay seated the whole time.
But this standing-assist bar is easy to install on most kayaks and allows you to pull yourself up by the bootstraps to comfortably stand. It comes with two Roro Grip paddle holders, two Might Mount bar clamps and a mesh carrying bag.
Featured Boat Care Product
Check Price on Amazon - After a day on the water, it's important to rinse away saltwater or freshwater particles. Better Boat's de-salt concentrate quickly and efficiently breaks down salt deposits on your boat, kayak or canoe as well as dive gear, driveways and vehicles.  
An extension rod handle combined with a mop head helps get to hard-to-reach places on the hull. Use it to flush engines after a day on the water.
Ready to Take Kayak Fishing to the Next Level?
When it comes to my time spent kayak fishing, I can't imagine my life without my rod holder or some of the other kayak fishing accessories I've mentioned today.
Think about it like this: if you had the chance to make fishing feel more relaxed (as it was intended to be), wouldn't you take full advantage of that?
These accessories are easy ways to make a big difference in how you fish. Trust me, once you buy them, you'll wonder where they've been all your life. The next time you hit the water you won't simply be fishing, you'll be fishing to win.