Safety Equipment List for a Pontoon Boat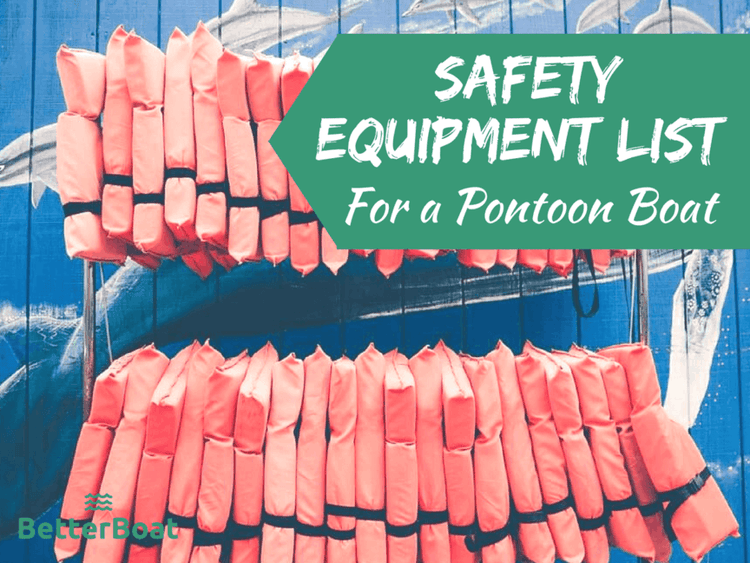 On some waters (like my local lake), I get checked by the local sheriff every single time I go out. Every time. They're always there.
On other lakes I go to, I've never seen law enforcement presence. But whether or not you're likely to get checked for safety equipment is not the issue. It's a matter of safety.
As your 'toon's captain, you're responsible for making sure everyone makes it back to the dock with all their limbs and head still attached. Boating safety is a group of habits.
You can get away with not practicing one or two of those habits for 10 or 20 or 30 years of boating, but at some point if you haven't developed the safety habit there's sure to be regret and injury.
For example, I see boaters out on the water without a PFD or even a life preserver every single time I go out. Are they likely to die on that trip? Heck no. Pontoon boats are extremely safe.
But we've all heard of the one random freak accident that occurred and someone was knocked unconscious and thrown out of the boat and drowned because they didn't have the habit of putting on a PFD.
Having the proper boat safety equipment (and even a boat emergency kit) on board every time you go out is a habit you have to ingrain in yourself so that when an emergency happens, you'll be ready.
Generally Required Safety Equipment
Registration and Numbering - Somehow the state convinces us all it's for our safety, but I think we all know it's really about taxes.
Properly-Sized PFDs for Every Passenger - Do not mess with this rule. Just get it done. I have about 16 PFDs even though my pontoon has a capacity of 11, because I don't know how many infants, kids and teens I'll have on board. Collect a good set of differently sized PFDs so that you have one that properly fits everyone on board. No excuses.
Functioning Fire Extinguisher - Some sheriffs will even check the expiration date or the charge to make sure it still has pressure, but either way you want to make sure you have one on board. Be sure it's a marine fire extinguisher and not just a regular one. In typical US Government fashion, the Coast Guard does not call this a simple fire extinguisher. They call it "Backfire flame control." Gotta have a confusing name or it isn't the government.
Noise-Making Device - This could be an air horn, whistle or bell, but you need some kind of noise-making device to signal another boat in case of emergency.
Downed Skier Flag - This is often skipped over but is very important. My dad knows someone who died because the boat was not using a downed skier flag and the skier was run over and killed.
Throwable PFD - This could be the ring-type throwable PFD that Gilligan had, or it can be a simple square throwable. Mine is a square type that sits between the captain's chair and the side of the boat, but we'll probably never use it because everyone wears a PFD on my pontoon.
Optional Safety Equipment (Required Only in Certain Regions)
Please note that some of this equipment is very important to have on your boat, but generally not required on every body of water.
Check your local regulations because each area has different needs for different safety tools on your boat. Especially if you're out in larger waters, some boat safety equipment is simply indispensable.
Functioning Navigation Lights (Red and green lights on the front of the deck. One white light on the highest point of the boat (on top of the bimini for a pontoon boat)
Battery Charger (for when the battery dies and you're stuck out on the water)
Bailing Device (kind of funny to require this for a pontoon boat since water just runs off the deck, but sometimes they ask for it)
Check Price on Amazon - Better Boat's air horn emits a blast that can be heard up to a 1/2 mile away. It meets U.S. Coast Guard requirements for boats up to 65 feet in length. Small and compact, it's easy to store on a boat, kayak, canoe or jet ski for use on the lake, river or saltwater bay. 
Now That's Handy!
I did your shopping for you. If you have a new pontoon boat and need to outfit it with all your safety gear, I created an Amazon shopping list of the products I bought or recommend for safety equipment.
Click on this link to see the Amazon.com pontoon boat safety equipment list.
Notice: While I do my best to provide accurate and helpful information on pontoon boating, you need to do your own research and find your boating laws to determine recommended and required equipment for your boat and boating location.